Mark Levinson No.526 preamplifier

The Mark Levinson No.526 is the first preamplifier designed by a new 12-person team led by Todd Eichenbaum, director of engineering at the Harman Luxury Audio Group's Engineering Center of Excellence (ECOE), in Shelton, Connecticut. Designed to fit the price niche between the company's least and most expensive preamps—the
No.326S
($10,000) and No.52 ($30,000)—the No.526 costs $20,000.
The new preamp is fully balanced from input to output, direct-coupled, and in key areas employs military-spec thin-film or tantalum-nitride resistors. While the top-of-the-line No.52's power supply is in a separate housing, the No.526 occupies a single case; nonetheless, it has things the No.52 doesn't: a DAC that can accept 32-bit data, a newer-design class-A phono circuit, a headphone output, a front-panel polarity switch, Harman's Clari-Fi digital-restoration module—which scans for file type (and thus degree of compression) and then uses existing data to guide it in restoring "waveform deficiencies"—and a defeatable, fourth-order, 80Hz high-pass output filter for use in a surround-sound system or with a subwoofer.
Harman's ECOE facility does only research and design—the No.526 is manufactured by Mack Technologies, in nearby Westford, Massachusetts. Besides having state-of-the-art tools and computer-driven machines for metalworking, surface mounting of individual components, wave soldering, and assembling printed circuit boards, Mack can track every circuit board they make, and organize the information into an easily retrievable database for service and quality control.
High Build Quality
The No.526's enclosure is made of 6000-series aircraft-grade aluminum. Inside, each function has its own printed circuit board (PCB): one each for the line-level amplifier, phono preamp, digital processing, and USB inputs. These PCBs are positioned to isolate their low-level circuits from the power supplies.
At the 2017 Consumer Electronics Show, Todd Eichenbaum removed a No.526's top panel to give me a tour of the circuit layout. First he pointed out a steel-shielded box just behind and running the full width of the front panel; as in the No.326, this box contains the power supplies and the mains transformer. Behind this box are, from left to right: a shielded tunnel for the mains wiring; the left channel's line-level circuitry; analog input and output circuitry; and the right channel's line-level circuitry. Control circuitry is centered at the rear of the preamp, with other circuits—including the phono stage, DAC, and Clari-Fi module—positioned above or below the line amplifier board.
Circuit Design
The No.526's left- and right-channel signal paths are fully discrete, mirror-imaged, and dual-monophonic. It has high-linearity switches for each of its six analog inputs (two XLR and four RCA, the latter including one phono input) and six digital inputs (one XLR (AES/EBU), two RCA (S/PDIF), two TosLink (S/PDIF), and one asynchronous USB Type B). The Offset function in the setup menu lets the user match the volume level of each input to the others. The No.526's remote control gives you complete control of its highly intuitive setup menu, and lets you select sources and adjust the volume.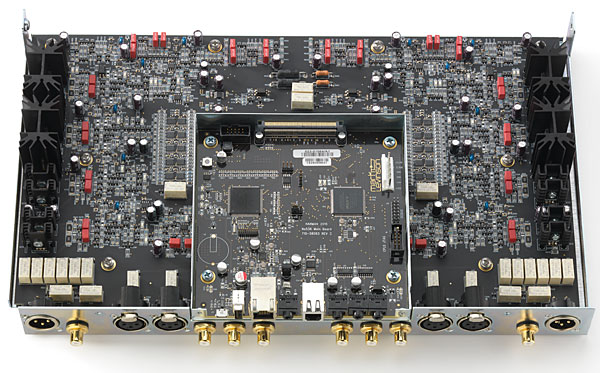 Harman calls the No.526's signal path Pure Path, a term used throughout the Mark Levinson line to describe their combination of Folded Cascode circuit topology—built with junction field-effect transistors (JFETs) and bipolar junction transistors (BJTs)—with a fully balanced, dual-mono, and ultimately direct-coupled signal path, intended to achieve high gain, low noise, wide bandwidth, and excellent linearity. Other design elements used in the No.526 preamp, including its R-2R ladder volume control—instead of a traditional potentiometer—are also described by Harman as elements of their Pure Path philosophy. Relays select different combinations of resistors so that the volume can be adjusted in precise increments of 0.1dB from 0 to –70dB.
The No.526's phono stage has discrete components and operates exclusively in class-A. Designed for optimal flexibility, it allows the user to select between settings for moving-magnet or moving-coil cartridges, the former offering five capacitive load settings and the latter offering three gain levels and ten resistive load settings. Also offered is an infrasonic filter switch, to reduce the audible effects of record warps and turntable rumble.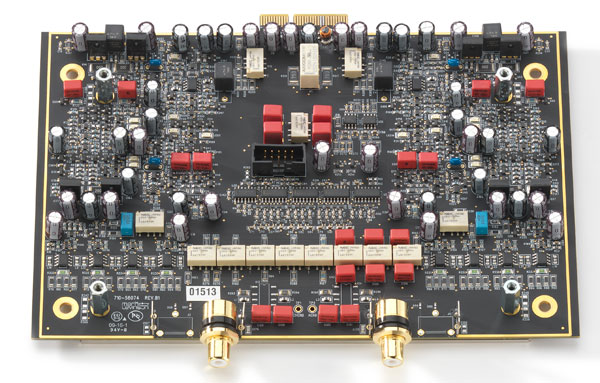 The No.526's DAC is identical to the one used in the No.585 integrated amplifier; for all the details, see my review of the No.585 in the December 2015 issue. Briefly, it uses a C-Media 6632A processor, a 32-bit ESS 9018K2M Sabre DAC chip, an all-discrete current-to-voltage converter stage, an antialiasing filter, and the ESS chip's proprietary jitter-rejection circuit. Like the No.585's, the No.526's menu lets you choose among three filter characteristics for digital streams with PCM content: Fast (steep) rolloff, the default; Slow (gradual) rolloff; and MPHAS (Minimum Phase), with steep rolloff of the high frequencies but a minimum-phase impulse response. The asynchronous USB Type B input for DSD has selectable low-pass filter values of 47 (default), 50, 60, and 70kHz. You can also toggle between DPLL bandwidth settings of Normal (default) or Wide. The manual advises using Wide only if you consistently hear dropouts or noise; otherwise, leave DPLL set to Normal.
Controls and Input/Output Interface
The No.526's front panel resembles those of other Mark Levinson preamps, including the No.52 and No.585: a central alphanumeric display flanked by large Input and Volume knobs, with a Headphones jack in the far lower left corner and a Standby button in the far lower right. Below the display are six pushbuttons, from left to right: Polarity, Setup, Enter, Display Intensity, Balance, and Mute. The No.526's setup menu is accessed via the Setup and Enter buttons, or via pushbuttons with identical functions on the handheld remote.
At the center of the rear panel, at the top, is a row of eight control connectors (see below). Below these are the Analog Inputs described earlier and a single row of six Digital Inputs: one XLR, two RCA, two optical, and one USB. At the far right are the main power switch and IEC power inlet. The two pairs of Main Outputs, RCA and XLR, can be individually configured for fixed output or output variable by the volume control, and/or output either full-range or high-pass filtered at 80Hz, 24dB/octave.
The control connectors are: Ethernet, for connection to a network; USB Type A, for updating the No.526's firmware; 3.5mm mini-jack, for an external infrared receiver, should the preamp be shut up in a cabinet; six-pin RS-232, for external control by a master control system from, say, AMX or Crestron; micro-USB, so that the No.526 can be recognized on a network; and one 12V input and two 12V outputs, to allow a remote signal to turn the preamp on and off. For daily use, the preamplifier has two operating modes, Standby and On; for long absences or lightning storms, it can be turned off entirely using a rocker switch on the rear panel.
The No.526 has no dedicated tape input or tape loop for monitoring tape recordings in real time. Eichenbaum explained that there is "not much call for that functionality these days, since the demise of three-headed analog tape recorders." To duplicate the tape loops found on earlier Levinson preamps, such as the No.326, he suggested a workaround: Set the No.526's XLR outputs for variable output, to drive the power amplifier(s) and speakers, and its RCA outputs for fixed output, to serve as a Tape Out. A separate RCA input could be assigned to receive the music signal from the tape head, but not to perform real-time monitoring of a recording.
Installation and Connections
My first step was to swap out my current preamplifier, a Bryston BP-26, to make room for the Mark Levinson No.526. The BP-26 sat in my wall rack on a roll-out shelf 24" wide by 16" deep—too shallow for the 19"-deep Levinson. Todd Eichenbaum, who'd personally delivered the review sample, pulled the shelf out all the way, and positioned the No.526 on it sideways, facing my listening chair, to give me and the remote control line-of-sight access to its front panel.
Together, we hooked up the No.526 to my source components. To the ML's balanced inputs and outputs were linked my Bryston BCD-1 CD player, BDA-3 DAC, and Mark Levinson No.536 monoblocks; the No.526's unbalanced inputs were joined to my Linn Sondek LP12 turntable, Day-Sequerra Reference and McIntosh Laboratories MR-78 FM tuners, and Nakamichi 600 cassette player. A Bryston BDP-2 media player was plugged into the No.526's AES/EBU DAC input.