Mark Levinson No.526 preamplifier Page 2
The No.526 is a modern preamplifier, and setting it up requires more than plugging in interconnects. Eichenbaum ran through its thorough Setup routine, leaving most settings at their factory defaults, including: Auto Off, which puts the preamp in Standby after 20 minutes of inactivity; Green Standby, which conserves more power by shutting down most of the circuits, the No.526 then reactivated by pressing Standby on the remote or front panel; Mute (–40dB); headphone impedance (High); output gain (Variable); 80Hz high-pass output filter (Off); phono infrasonic (rumble) filter (Off); Volume Control taper (Mode 1, which sets the adjustment increment to 0.1dB unless the volume knob is spun fast; and Gain Offset (0dB for each input). For the No.526's other inputs, Eichenbaum changed the settings to better match the needs of my system: cartridge type (Moving Coil); phono gain setting (High); resistive loading (100 ohms); PCM datastreams (MPHAS); DSD datastreams (70kHz).
I then assigned input labels to most of my source components and after a few weeks, I found –40dB of muting inadequate—with Mute on, I could still easily hear the radio. Setting Mute at –80dB produced dead quiet with all sources other than the tuner. I also switched the headphone amp's output impedance to Low, to give sufficient volume with my Koss Pro 4/AA headphones.
The power amplifiers I used in my auditioning represented three phases of the Mark Levinson company's evolution: from the beginning, under the direction of founder Mark Levinson and engineers John Curl, and Tom Colangelo, the ML-2 monoblocks; from the years when ML was owned by Sandy Berlin and Madrigal Audio Laboratories, No.27 (stereo) and No.334 (dual-mono stereo); and, from the Harman Luxury Audio Group era, the No.536 monoblocks (review to appear in the July 2017 issue). I began my listening with the 400W No.536es.
Sound
Fresh out of the box, the sound of the Mark Levinson No.526 won me over. Just as I had with Theta Digital's Prometheus class-D amplifier, I knew after only a few seconds of listening that the No.526's sheer clarity, startling transparency, liquid midrange, and ability to render brilliant dynamic contrasts made it different from other preamplifiers. It was a revelation!
I couldn't wait to hear how the No.526's phono preamplifier would work with my low-output Spectral Reference MC cartridge, mounted in a Linn Ittok tonearm on a Sondek LP12 turntable. I was not disappointed. When I played the direct-to-disc The Sheffield Track Record: Rock Instrumental Tracks for Audio Component Testing and Evaluation (LP, Sheffield Lab 20), I was stunned by the sledgehammer dynamics and freight-train sense of drive. Still, I thought, it might be a fluke—so I put on another Sheffield D2D recording, Dave Grusin's Discovered Again (LP, Sheffield Lab 5), and heard the same dynamics. Grusin's "Keep Your Eye on the Sparrow" was incredibly tight, full of driving piano chords strung together by a palpable bass line that couldn't be stopped.
The bass solidity and driving dynamics were just as evident in orchestral works—Erich Leinsdorf conducting the Los Angeles Philharmonic in Stravinsky's Firebird Suite (direct-to-disc LP, Special C.E.S. Preview Edition, 4/29/1985, Sheffield Lab 24). Again, the No.526 easily conveyed the spaces between instruments—and the width and depth of soundstage—that make this recording one of my favorites. A recording of Leonard Bernstein conducting the New York Philharmonic in Shostakovich's Symphony 5, in a 1959 concert in the Bolshoi Hall of the Moscow Conservatory (LP, Columbia Masterworks MS 6115), captures huge orchestral climaxes that contrast with much softer passages for solo instruments. On one of my all-time favorite LPs, Leinsdorf again conducts the LAPO, this time in excerpts from Prokofiev's ballet Romeo and Juliet (direct-to-disc LP, Sheffield Lab 8). I was enthralled by the rich orchestral timbres, silky strings, and intense, driving rhythms. Dance of the Knights was riveting, with snapping snare drum, woodwinds, and brass, each instrument sounding three-dimensional and occupying its own space, all on a wide, deep soundstage.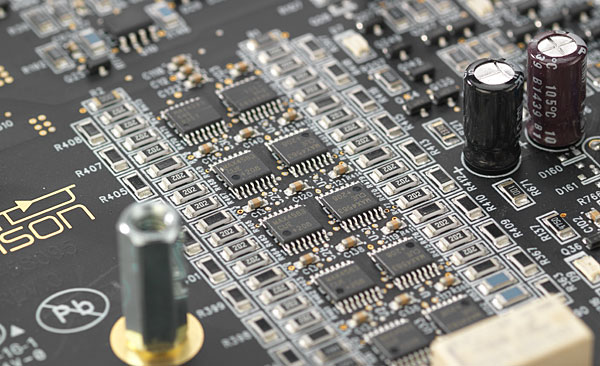 The combination of the No.526 and Mark Levinson's powerful new No.536 monoblocks produced rich, dynamic, utterly transparent orchestral sound from my LPs. I heard the same tonal balance when I connected the No.526 to my ca-1977 Mark Levinson ML-2s (50W class-A into 4 ohms), as well as the same bass impact, rich string sound, and richness of woodwind timbres—but not at the lease-breaking levels possible with the No.536. The ML-2s had unusually good pitch definition, making it easy for me to follow Brady Blade's bass line in Emmylou Harris and Buddy Miller's duet track, "The Maker," from Harris's Spyboy (CD, Eminent EM 25001-2). The No.334, from about 2003, had yet a different sound, with leaner upper bass, more open highs, and a deeper, wider stage.
The No.526 was also good at revealing differences among source components. My Day-Sequerra Reference 25th Anniversary Edition FM tuner had more extended highs, blacker backgrounds, and deeper soundstages than my 40-year-old McIntosh MR-78. Tuned to WQXR, a New York City classical station, the MR-78 had a smoother midrange response, slightly rolled-off highs, and an equally wide but shallower soundstage. As a result, the smoother but probably less accurate McIntosh provided a better source for background music than the Day-Sequerra.
The No.526 was equally able to reveal differences among DACs. As I switched between my Bryston BDA-3 and the No.526's own DAC while playing a recording, it was clear that the Bryston produced a richer sound, with more palpable deep bass with percussion and pipe-organ music—but the No.526's DAC had more open highs, and maintained the music's composure over a wider range of volume levels. I could most easily hear this when listening to the beginning of one of the late Wes Phillips's favorite recordings: "Deeper Well," from Spyboy. The Bryston BDA-3 captures the full weight and pressure of the sustained bass note, while the No.526's DAC better defined the note's limits, letting me understand more of the words Harris sings. These differences were subtle but intriguing. Both DACs have excellent sound quality, but those qualities differ; I could happily live with either.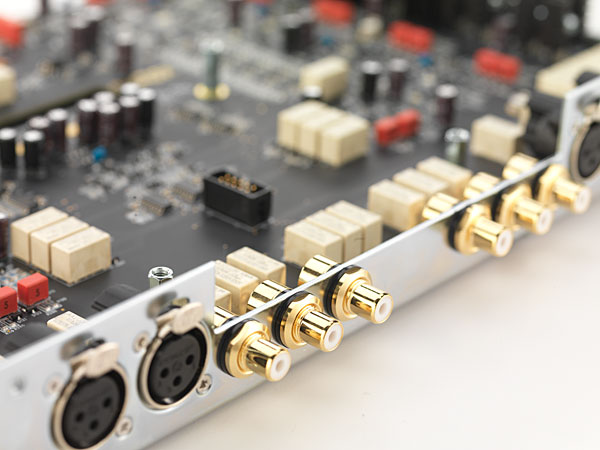 Driving my Revel speakers full-range (no subwoofer), the No.526's bass response was solid, tuneful, and palpable. The very low pedal note that ends pipe organist James Busby's performance of Herbert Howells's Master Tallis's Testament, from Pipes Rhode Island (CD, Riago 101), pressurized the room in a believable manner. The No.526's pitch definition was exemplary: I heard and felt the different pedal ranks during organist Jean Guillou's performance of his own transcription of Mussorgsky's Pictures at an Exhibition (CD, Dorian DOR-90117)—and with any of the amps, I could easily track the bass line in David Bowie's "Cat People (Putting Out Fire)," from the Cat People soundtrack (CD, MCAD-1498).
Similarly, the No.526 captured the timbres of solo male voices without emphasizing the midbass. José Carreras's soft, lyrical tenor sounded effortless and beautiful in the Kyrie of Ariel Ramirez's Misa Criolla, conducted by José Luis Ocejo (CD, Philips 420 955-2), while the sound of the chorus was rich in the sorts of differences that help individualize the singers.
Don Dorsey's "Ascent," from Erich Kunzel and the Cincinnati Pops' Time Warp (CD, Telarc CD-80106), is one of my favorite recordings for determining the openness of an audio component's highs, its dynamic range, and its transient speed. Performing on a synthesizer, Dorsey combines short segments of melodies, alternating with pounding chords and the soft sounds of triangles and bells. "Ascent" ends with a low rumble that blends into the Introduction of Strauss's Also sprach Zarathustra. The No.526 demonstrated extremely quick transient response, "jet-black" silences between the sections of "Ascent," and great pitch definition that let me discern when the last rumble of Dorsey's synth had become the first note of Zarathustra: the lowest C of the organ and double bass.
Comparisons
Comparing the No.526's sound to that of other preamps didn't take long. The dynamics, punchy bass, and slam of my Mark Levinson ML-7 ($4325 when new, ca 1980) came close to those qualities as exhibited by the No.526. And my Bryston BP-26 ($4495 when new, ca 2008) had a good bit of the No.526's soundstage depth and three-dimensionality. But neither older preamp consistently equaled the No.526's tremendous clarity, air, transparency, articulate transients, and freedom from midrange grain.
Conclusions
The Mark Levinson No.526 costs more than 15 of the 21 preamplifiers listed in Class A of the current edition of Stereophile's "Recommended Components." Yet most of those are line-stage preamplifiers only—and many would see their prices raised above that of the No.526 if equipped with phono stages and DACs of commensurate value (in some cases, the manufacturer's own onboard options). On the other hand, those who buy a pure line-stage preamp can then mix and match separate DACs and phono stages, based on their budgets and what sounds best in their system. I understand this—I own a standalone DAC, the Bryston BDA-3, that offers a variety of digital inputs, and other standalone DACs now come with built-in MQA modules that let them play the highest-quality datastreams from digital streaming services, and/or have HDMI inputs for processing DSD datastreams from SACDs.

In fact, Mark Levinson has just released a less expensive version of the No.526: The No.523 ($15,000) is a No.526 without its built-in DAC and Clari-Fi modules. But the No.526's built-in DAC makes a major contribution to its sound quality, performing as well as or better than many standalone DACs I've heard.
The No.526's qualities of design and manufacture let me be drawn into the music as never before. Its uncanny ability to convey music with drive and power while retaining all of a recording's detail and richness and exposing the individual characteristics, good and bad, of my source components, made it easy for me to differentiate among different DACs, FM tuners, and amplifiers. Its phono stage is the best I've heard in my listening room, providing a fullness of instrumental timbres from my LPs that was palpable, and its comprehensive set-up menu let me fine-tune its sound. I suspect that, with more time, I could have refined its sound even more. But I fear that my seven months with the No.526 is already too long an imposition on the manufacturer, so back to Harman it must go.
The No.526 is superbly engineered, with an intuitive user interface and outstanding sound quality, in the best tradition of Mark Levinson. With its many features, intuitive controls, customizability, textbook engineering, five-year warranty—and jaw-dropping sound, the No.526 is a preamplifier to die for. Strongly recommended, and without reservation.