Ayre Acoustics EX-8 Integrated Hub integrated amplifier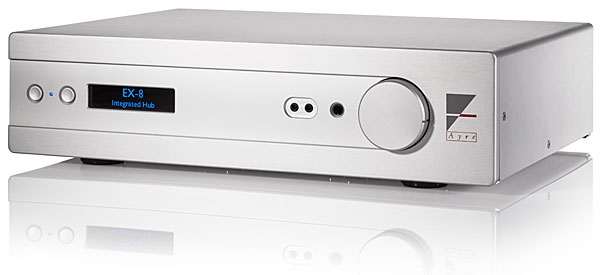 It's a high-end audio truism: Successful companies are founded by a creative engineer or entrepreneur with a vision. So what happens when the founder is no longer around? While Mark Levinson is an example of a brand that not only survived the exit of its leader but thrived, speaker manufacturer Thiel dwindled after co-founder Jim Thiel
died in 2009
, and eventually closed up shop. Colorado company Ayre Acoustics was faced with this problem when founder Charley Hansen passed away in
November 2017
.
What Thiel didn't have and what Ayre does have is institutional memory. As is often the case, Thiel's new owners wanted to start with a clean slate. However, that means that it is too easy to lose sight of what made the brand they purchased successful. In the case of Ayre that essential institutional memory is present in the person of Ariel Brown, who has been with the company since leaving engineering school more than 22 years ago. For many years Ayre's Principal Development Engineer, Brown is now Ayre's vice president and CTO, assisted by software engineer Brendan Boyle, who joined the company three years ago, also straight from college. Brown says that for better or worse he was indoctrinated in Hansen's way of thinking and design—"I only know the Charley way! Charley never wanted to introduce a product unless we had something new to offer with that product—'New–Better–Different' was his philosophy, every product had to be a step up from before."
Design
The EX-8 is the first in a line of five products, all continuing Hansen's "New–Better–Different" philosophy, all sharing the same aluminum chassis, and all intended to replace Ayre's aging 7-Series products. The base EX-8 has analog inputs only and costs $5950; the Digital Base module, with Toslink and coaxial S/PDIF and AES/EBU inputs, adds $1000; a Roon Ready Digital Base with a USB port adds another $700; and a fully loaded EX-8 Integrated Hub, with all the analog and digital inputs and an Ethernet port, which is what I received for review, brings the price to $7850. Functionally, the EX-8 appears to be a combination of Ayre's QX-5 Twenty Digital Hub ($9950), which I reviewed in September 2017, and their AX-5 Twenty integrated amplifier ($12,950), which Art Dudley reviewed in August 2015. So other than having one chassis instead of two, I asked Ariel Brown how had they produced something that costs $7850 instead of $22,900.
Brown replied that development of the EX-8 started in the summer of of 2016. The circuitry is still balanced throughout, the input and volume stages still use Ayre's complementary J-FET circuit, and the output stage is still Ayre's Double Diamond topology, with its wide open-loop bandwidth allowing zero global feedback. The maximum output power into 8 ohms is 100Wpc instead of 125Wpc, but there are no separate, costly heatsinks. Instead, the bipolar output devices—the same used in every Ayre amplifier since the original V-5 from 18 years ago—are bolted to the chassis' base. Further reducing manufacturing cost, hence price, most of the 8-Series products share the same six-layer circuit board, with large, low-impedance copper planes for the power supply. This can be stuffed differently for each product. Instead of the costly, no-holds-barred Variable-Gain Transconductance (VGT) volume system, with its stepper motor-switched resistors, the EX-8 uses a semi-custom motorized, triple-gang, carbon-film potentiometer from Alps, which had been picked out by Hansen a couple of years ago. Two of the gangs allow fully balanced control of volume—the EX-8 has a balanced input as well as two single-ended inputs—while the third gang acts as a position sensor, to allow the volume to be controlled by Roon over a network.

As well as the volume control, two front-panel buttons control input switching and navigation of the set-up menu. The buttons are duplicated on a plastic remote, which also allows the output to be switched between headphones and speakers. Like the displays in Ayre's top-of-the-line models, the OLED front-panel display times-out after 15 seconds to maximize the life of the module and reduce RF noise. There are four sets of analog outputs: one pair of speaker terminals, using the single-screw Cardas clamp and with no fuses in series with the output; balanced and unbalanced preamplifier/subwoofer outputs; a conventional single-ended ¼" headphone jack; and Ayre's innovative twinned 3.5mm headphone jacks for balanced headphones. Unusually, there is also a digital word clock output.
Continuing Hansen's policy of using US-made parts as much as possible, the circuit board, power transformer, and chassis are sourced from North American suppliers and the EX-8 is manufactured in the US.
Listening
Ayre recommends 100–500 hours of break-in for the EX-8. When first turned on, its balance was upfront. While the presentation warmed up over the next few days, the balance remained on the rather light side. Joey DeFrancesco's Hammond organ bass pedals in "The Way Young Lovers Do" from You're Driving Me Crazy (16/44.1 WAV file ripped from CD, Exile/Legacy 19075820041) had just enough weight to propel the song along, though the high-pitched saxophone duet that punctuates Van Morrison's vocal was projected a little forward of the speaker plane.
The EX-8 loved vocals. Whether it was Tierney Sutton's hauntingly beautiful reading of "Cry Me a River" (16/44.1 ALAC, from Desire, Telarc CD 83685) or Ella Fitzgerald's spirited romp through "A Night in Tunisia" (24/192 ALAC, from Clap Hands, Here Comes Charlie!, Verve/HDtracks 8356462), the women were in the room. And the men were well-served also. Triggered by reruns of the TV show House, I played Hugh Laurie's "Junkers Blues" (16/44.1 ALAC, from Didn't It Rain, Warner Bros. 0825646453764). The dyspeptic actor was in the room with me, though not so welcome a presence as the ladies. Palpable, yes, but the way in which the Ayre projected voices somewhat forward in the soundstage was a consistent aspect of its sound. With an overcooked recording, like Lady Gaga and Tony Bennett's "Anything Goes" (24/96 FLAC, from Cheek to Cheek, Interscope Columbia), it was too much of a good thing.
The amplifier proved to be a more synergistic companion to the KEF LS50s than to the brighter-sounding Wharfedale Diamond 11.2s that I reviewed last month. Nevertheless, the amplifier's treble was in good balance with its midrange. Anne Akiko Meyers's violin in Arvo Pärt's Passacaglia from her The Four Seasons: the Vivaldi album (16/44.1 FLAC, eOne Music EOMCD 7790) didn't sound too bright or brittle, and with the healthy recorded ambience on this track the Ayre threw a large, well-defined soundstage.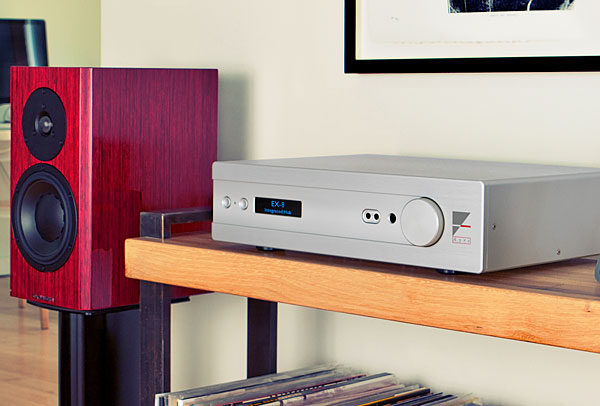 To get a handle on the Ayre's digital performance, I compared it with Chord's Qutest DAC ($1895), which I reviewed in the January issue. The Chord doesn't have an Ethernet connection but does have a USB port, so I could feed the same audio data from Roon Nucleus+ to the EX-8 over my network and to the Qutest via USB. Levels were matched at 1kHz and I used the Chord's Warm reconstruction filter, which I felt to sound best.
The Chord's presentation was more delicate, allied with a feeling that a little more recorded detail was being retrieved. The hall on the Pärt Passacaglia was a little better-defined, for example. However, while its upper bass was a touch warmer-sounding, the Qutest fell behind the EX-8's digital section when came to conveying the sense of musical drive with the Van Morrison track.
I've run out of space to discuss the EX-8's performance as a headphone amplifier. I will do so in a Follow-Up in the April issue, along with a comparison of the Ayre with the Cambridge Edge A integrated amplifier that Ken Micallef liked so much in our January issue.
Summing Up
I encountered two operational idiosyncrasies: First the EX-8 has less gain than a typical integrated; I tended to use the volume control between 70% and 80% most of the time with the analog inputs. Second, you need to aim the remote right at the front panel for the amplifier to respond. My usual lazy waving didn't work!
I used Ayre's EX-8 for almost all my serious listening from the summer through the early winter of 2018, and in all that time I only rarely felt I was missing something sound-quality-wise. For example, when I switched from the EX-8 to the combination of PS Audio DirectStream DAC driving a pair of Lamm M1.2 Reference monoblocks, the soundstage expanded and the low frequencies both extended a half-octave lower and sounded more authoritative. But that switch represented a system investment of $7850 increasing to one of $39,389. There should indeed have been an improvement in sound quality!
The EX-8 Integrated Hub is a high-end contender at a competitive price.