Van the Man
The dingy green-and-ochre poster on the subway-station wall, advertising events at Queens's Forest Hills Stadium, didn't draw attention to itself. But what else is there to do on a subway platform but look at posters? I looked at it. There, near the bottom of the left column, I read: "SEPT 12: VAN MORRISON AND WILLIE NELSON & FAMILY."
Van Morrison. In concert. In Queens.
I was torn. Van Morrison has released four of the best live albums evah! He also headlined what was perhaps the worst concert I have ever experienced. And Queens? Since 2000, when we left Santa Fe, I have grown to love my adopted city of Brooklyn. It has neighborhoods. Parks. History. Atmosphere. Culture. Four landmark bridges. Herb Reichert's Bed-Stuy bothy. But in Queens there's nothing but the dead and dying of Paul Simon's "little town." And Queens neighborhoods? Plop me down in Middle Village or Maspeth or Glendale or Jackson Heights or Long Island City and I'd have no idea where I was—they all look the same.
All four live CDs—It's Too Late to Stop Now... (1974, Exile/Columbia/Legacy), Live at the Grand Opera House Belfast (1984, Polydor/Universal), A Night in San Francisco (1994, Mercury), and Astral Weeks Live at the Hollywood Bowl (2009, Listen to the Lion/EMI)—have been in constant rotation since I bought them, as has How Long Has This Been Going On, his 1996 collaboration with the great English Hammond organist and singer Georgie Fame (Verve). Like Jimmy Webb's, Van's lyrics tell stories, and I'm a sucker for stories. When I hear the very first words of Astral Weeks' "Madame George"—"Down on Cypress Avenue / with a childlike vision leaping into view / click and clacking of the high-heeled shoe / Ford and Fitzroy, Madame George"—I need to know what's next to come.
The blue-eyed soul singer has always had great bands of A-list sidemen. His breakout hit album, Astral Weeks (1968), had Jay Berliner on guitar and the Modern Jazz Quartet's Connie Kay on drums; the Belfast Opera House album featured Peter van Hooke on drums, Mark Isham on trumpet and synths, and David Hayes on bass. As well as Georgie Fame, the guest artists on the San Francisco album include John Lee Hooker, Junior Wells, and Jimmy Witherspoon. And How Long Has This Been Going On features two great sax players, Pee Wee Ellis and Alan Skidmore. (I was privileged to jam with Skidmore one magic night in 1970, during which I learned a lesson: It's best always to play with musicians who are better than you—they'll drag you up closer to their level.)
But it was the Belfast Cowboy's 39th and most recent album, You're Driving Me Crazy (Exile/Legacy 19075820041), a collaboration with soprano sax player and Hammond organist Joey DeFrancesco, that triggered this prose poem. I'd been visiting Michael Fremer in deepest, darkest New Jersey—as I leave Brooklyn on the Verrazano Narrows Bridge I hold my breath, and I don't inhale again until I'm safely back in God's Own Borough—and as I was about to leave, I mentioned that I'd just read Mikey's review of the LP. He pressed on me the CD.
Recorded live in a Sausalito studio in just two days with DeFrancesco's quartet—Michael Ode on drums, Dan Wilson on guitar, Troy Roberts on soprano and tenor saxophones—every track laid down to Pro Tools at 24-bit/96kHz in one or two takes, this is the best live Van Morrison gig that never was.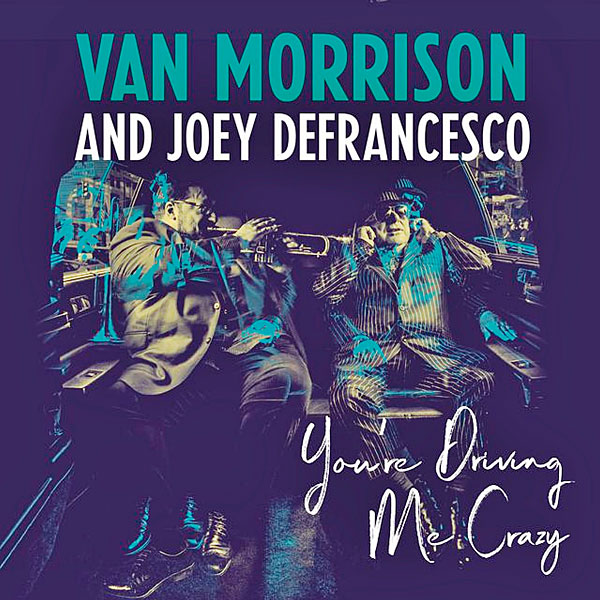 Every track shines, but even though the tempi are virtually identical, the reworking of "The Way Young Lovers Do" on Crazy is less frenetic than the original on Astral Weeks, more laid-back and open-sounding than the Hollywood Bowl re-creation. The key in all three versions is A minor, but the half-century-older Van sings in a lower register, digging deep into the lyric in a way that wasn't possible for either his callow 1968 self or his mature 2009 persona. The ostinato on twin soprano saxes is so right—and while this bass guitarist resents a Hammond's bass pedals being used to lay down the music's foundation, DeFrancesco's left foot gloriously swings the 12/8 time signature. Only musicians at the top of their game and supremely sure of themselves can play this loosely individually yet keep their ensemble tight as a nut.
So shall I venture into Queens in September for Sir George Ivan Morrison, OBE,'s gig at Forest Hills Stadium? I just don't know if it will be worth it. Possibly the worst concert I ever attended was when Morrison played in Brighton, England, in the early 1980s. I remember, perhaps incorrectly, him being backed by what turned out to be the superb Belfast Opera House album band, but whatever: the main man sat noodling at a keyboard while a guitarist sang the songs. Even the first time I saw Van Morrison live, in London, England, in 1965, on a tour to promote the first single from Van's band Them, "Baby Please Don't Go" b/w "Gloria," was embarrassingly bad. The bass player had too short a lead—every time he moved to the front of the stage, he unplugged himself from his amp.
Brooklyn's motto is "Fuhgeddaboudit!" Perhaps not: It's gonna be a coin toss, Sir Van!—John Atkinson