Wilson Audio Specialties WITT loudspeaker John Atkinson July 1996
John Atkinson wrote about the WITT in July 1996 (Vol.19 No.7):
Every time we assemble "Recommended Components," there are loose ends that bother us, bother the readers more, and bother the manufacturers most of all. Where to put the $8888/pair Wilson WITT speakers in the April listing was a case in point. Tom Norton's January review (Vol.19 No.1, p.177) was almost uniformly positive, but when I asked him if the speaker should go into Class A, along with the similarly priced B&W Silver Signature and Thiel CS7, he shook his head. "It doesn't do quite enough for me," he explained. Martin Colloms, co-author of that review, was less reticent: "Wilson's most completely balanced design to date," he raved, adding that the WITT was "undoubtedly a full-range Class A component at a wholly realistic price."
I "solved" the impasse by putting the speaker into high Class B and asking Mark Goldman of Wilson Audio Specialties for a further pair of review samples. "Better than that," said Mark, "I'll bring a pair out with me from Utah and set them up in your listening room."
And so he did, carefully explaining what he was doing as he zeroed-in on the WITTs' optimal positions by listening to how the room affected the sound of his voice. Fig.1 shows the resultant averaged in-room frequency response measured at the listening position: a slight excess of bass and mid-treble, but amazingly flat overall. For serious listening I used my usual Mark Levinson digital and Linn Lingo analog front-ends; amplification was Mark Levinson No.38S and No.333, with a Meridian 518 "digital volume control" also seeing service; speaker cables were MIT MH-700 CVTs.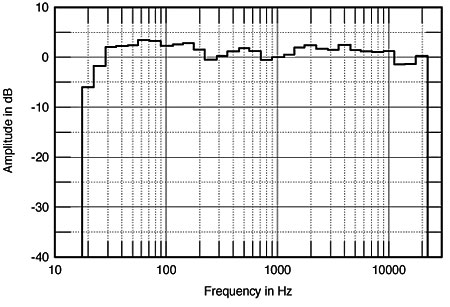 Fig.1 Wilson WITT, spatially averaged 1/3-octave response in JA's room.
When I had auditioned the WITTs in Martin's listening room, I had been bothered by a residual "cupped-hands" coloration. I couldn't detect any of this character in my own room. But Tom's description of the WITTs' sound was right on: a huge soundstage, a superbly palpable midrange, a rather laid-back treble, and a noticeable bottom-heaviness, with a somewhat restricted low bass. While TJN had commented on how loud the Wilsons went without sounding stressed, I became increasingly enamored of this aspect of the speaker's sound. There was a freedom from grain and strain that allowed me to hear deep into the recorded soundstage and allowed the speakers to get out of the way of the music. Without listening fatigue, my music sessions tended to last a long time.
The Puppy Paws ($320/eight) are essential to get the best from the WITT. With them, the bass was the tightest I have heard in my room, kickdrum appropriately punching the air while bass guitar attack wasn't blurred by reflex boom and sogginess. And did I say that the soundstage was huge? It was. And that the speaker is superbly transparent? It is.
Now that I've heard the WITT for myself, I have to conclude that it crosses that magic border: This is a true Class A loudspeaker.—John Atkinson