Tekton Design Enzo XL loudspeaker
The CD era was well underway. Rudy Giuliani was about to sweep the crack hoes and squeegee humans off New York's garbage-filled streets. Disney was conquering Times Square. It seemed the perfect time for artists and audio weirdos like myself to go underground. Seeking economic sustainability, I hunkered down in my Seaport bunker and started a little business called Eddie Electric. I found a 23-year-old Japanese business partner named Ryochi who was dealing in big-E Levi's, bubble-back Rolexes, and antique Abarth cars. He was my Seaport, New York–Akihabara, Tokyo connection.
Ryochi had dropped out of school at 16 and had already saved a gillion dollars in vintage $100 bills. Together we imported Tango audio transformers and Black Gate capacitors. To avoid trade deficits, Eddie Electric exported vintage amps and loudspeakers made by Altec, Marantz, and Western Electric.
One day, I forced Ryochi to come with me to Sound by Singer. I wanted him to meet Dave Wilson, of Wilson Audio Specialties, and experience the newest version of Wilson's famous WAMM loudspeaker. Every New York audio scribe and hi-fi aficionado was there. The hors d'oeuvres were pretty good, and so was the WAMM sound. When the pony show was over and we were walking to the subway, I asked Ryo what he thought of the demonstration.
"Giant robots are no fun!"
Ryochi taught me a lot about how to listen to and judge components: not by how I think they should sound, but how they make me feel while listening to my favorite music. Unfortunately . . .
Thinking—and especially that ol' Checkered Demon, critical thinking—happens all the time while I'm writing a review. It happened more than usual while I was listening to the new Tekton Enzo XLs. But this time, thinking was good. Why? Because, while playing music through these 4'-high, five-driver, three-way black monoliths, I didn't just have judgmental thoughts—I had vivid dreams and sensuous memories too! All of which mixed and ran together in the most wondrous and delightful ways.
When I played my first record through the non-broken-in Enzo XLs, I experienced mostly thoughts: Can these Enzos really be as good as they already sound? Are they truly as neutral as I think I'm hearing? And they cost only $2100/pair? Doubt and skepticism rattled my brain. Not to mention that, while I was listening, I kept remembering those early days of the first superbig (and superexpensive) high-end speakers—the days when giants ruled the listening room: Wilson WAMMs, Apogee Scintillas, Magnepan Tympani IIIs, Infinity IRSes, Duntech Sovereigns.
The new Enzo XLs were not only designed by Eric Alexander, founder and president and chief of everything at Tekton Design, LLC—they were also built by him at the Tekton Design facility in Orem, Utah. When I listened to that first recording, I did have one very noticeable feeling: envy. I envied Eric Alexander. He must have had so much fun creating these speakers. I've always wanted to design a great loudspeaker and share it with the world. But alas, designing even an enjoyably good speaker is nearly impossible. After countless tries, I realized that I simply do not have the wide-ranging talents necessary to design even a merely decent loudspeaker. Alexander, on the other hand, appears to have been born to engineer speakers.
Alexander has been designing loudspeakers full time for more than 20 years. Like your humble prattler, he began as a wrench-twirling drag racer. Also like me, he believes he has a gift for "visualizing physics." Most important, Tekton's president shares my nagging desire to figure out what exactly is that stimulus that tells us, when we can't see the musicians, whether we're listening to live or recorded music. Every time I walk down a street and hear, through an open window, the sound of someone playing a piano, I am amazed at how instantly, without any thought, my brain declares it to be a real instrument and not a recording of one. The big question is, what clues does my brain use to tell me it's live? I always speculate. I swear I can picture those tense wavefronts pushing out through the open window. But what is it? Greater volumes of pressurized air? Microdynamics? I don't know, and I wish I did. Fortunately, it sounds as if Eric Alexander is working on our collective behalf to figure it all out.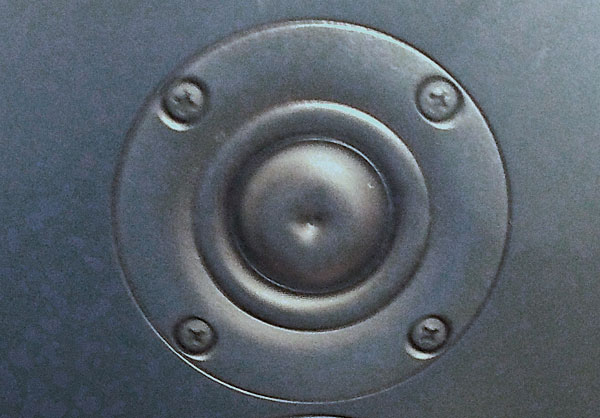 Description
Each Enzo XL has three SB Acoustics 1" ring-radiator tweeters and two 10" Eminence paper-cone woofers loaded with two 4" front-firing ports. Collectively, these pressurize a lot more air than do most popular hi-fi loudspeakers. The Enzo XL's specified sensitivity of 96.5dB/W/m is almost 10dB higher than that same majority. Speakers this sensitive usually do microdynamics well.
My review samples came in basic Satin Black. Eric Alexander offers three other stock finishes, plus a wide range of optional custom paints and veneers that can make these towers, 48" high by 11.625" wide by 15.125" deep, look as suave and deluxe as those $100,000/pair Class A models you see on the covers of audio magazines. Optional cloth front grilles are also available.
Listening and still thinking . . .
Without desire or plan, I grabbed a strange and (for me) very difficult LP from 1962: Money Jungle, featuring the unusual trio of Duke Ellington, Charles Mingus, and Max Roach (United Artists UAS 5632). Piano, bass, and drums are all close-miked and mixed in dense, up-close-to-everything early stereo. This record is freaky because I always feel as if I'm sitting not in the audience but right on the edge of the stage. But, to producer Alan Douglas and engineer Bill Schwartau's credit, instrumental tone is almost perfectly right on. I can never quite follow the off-kilter musical threads, but every time I play Money Jungle, I simply wallow in piano and bass tones. Through the Enzo XLs, Ellington's piano and Mingus's bass caused me to speculate about what tape recorder was used. Sometimes, but only with the most vivid recordings, I swear I can feel the magnetic tape as it contacts the recorder heads. The well-broken-in XLs felt like clean magnifying lenses. They took me off the stage and into the recording studio. I couldn't follow the music much, but my brain was measuring the distance from the mikes to the piano's hammers.
Still in my Listen-and-Learn-About-Bartók period, I put on my newly acquired copy of his Sonata for Two Pianos and Percussion, with pianists Wilfrid Parry and Iris Loveridge (1957 mono LP, Westminster XWN 18425). This work of raw modernist invention begins quietly and innocently on pianos, but soon enough is knocking walls down and throwing bricks. The exact opposite of easy or distracted listening, it's a goose-bumping mind twister that's not for the lame or the faint of heart. Imagine walking into a dreamy death dance between two pianos, a snare drum, and timpani. Through the Tektons, the bass tones were tangibly and enjoyably deeper, more natural, more expansive than any I had before experienced at home. Metal snares and drumhead skins sounded sharp and vivid. The pianists' right-hand notes were vibrant and percussive in an easy, natural, musical way. Starting, stopping, and forward momentum were exemplary, but it was the well-balanced tonal precision of the Enzo XL that pulled me into this spectacular recording. For me, this work is about temporal space. I wasn't just hearing the music, I was feeling it—and time-traveling back to Europe ca 1937. Thank you, Béla; thank you, Westminster Records; and thank you, Eric Alexander.
Suddenly, I realized that, not since my Dynaco A50 college days had I had a loudspeaker in my chambre modeste that could go really low in the bass, as the Enzos were doing. It made me want to celebrate and binge on E. Power Biggs or Sly and Robbie. Instead, I put on "Thousand Island Park," from the Mahavishnu Orchestra's Birds of Fire (1973 LP, Columbia 31996). My first thought was How easily I have let myself become satisfied without that sensuous and gloriously tactile bottom octave. The Enzos didn't just play Rick Laird's bass notes—they let me feel them. The XLs didn't present to my brain the idea of bass, as all of my small speakers do—they massaged me with expanding wavefronts. There was something unique and extremely natural about the way the Tektons projected bass energy into the room. They got not only the tone, the attack, and the decay, but the plucked-string pulling-up emphasis of the bass player's art. The Enzos did an especially good job of connecting me to the humans making the music.