Analog Corner #306: Phasemation, DS Audio, Audio Research, Clarus Page 2
So, let me
not
be the first to write that this $2750 cartridge and equalizer is everything the other guys have said it is. Remember: you don't need a phono preamp. You just need the included equalizer.
The DS-E1 CR cartridge weighs 8.1gm and features an aluminum cantilever to which is attached an elliptical stylus. It tracks between 1.6gm and 1.8gm—1.7gm is recommended—and offers 24dB or more of channel separation.
The DS-E1 EQ equalizer fits in an approximately 8" × 2 ¾" × 6" aluminum chassis and outputs about 500mV. Aside from the front-mounted On/Off switch, the only adjustment is a switch mounted on the rear panel that lets you choose a single 6dB/octave rolloff filter starting at 30Hz or dual 6dB/octave filters at 50Hz and 30Hz.
Magnetic cartridges are velocity-sensitive devices, as are cutter heads. Optical cartridges are amplitude-sensitive devices, so, in place of the usual RIAA equalization network, the DS audio equalizer attempts to flatten response based on how the amplitude-sensitive device "sees" the (mostly) velocity transducer-cut record. (I refer those who are interested to Keith Howard's outstanding explanation published in 2009.)
I've got the DS-E1 mounted on the Sorane TA-1L arm, a $1900 arm that seems to be the "go-to" Jelco replacement now that Jelco is gone. The TA-1L can be ordered with the Gem Dandy PolyTable, reviewed on AnalogPlanet. This arm-turntable combo sells for $4775; that seemed a more appropriate match for the DS than mounting it on a $50,000 arm on a $150,000 'table or an even costlier one, review coming up.
The same records used for the Phasemation PP-2000 review produced a sonic picture that was surprisingly similar in key ways. The plasticky sound was completely gone and the low-frequency balance was "in the pocket"—not at all overemphasized.
Going from a line-contact to an elliptical stylus means you lose some transient resolution and detail, but not as much as I expected, perhaps because the optical cartridge is so fast and remarkably transparent. Because it doesn't rely upon a magnet-based generator system, there's no back-EMF hysteresis to slow things down.
The vibes on the Bobby Hutcherson record sounded similar to "the bell toned sustain (and) addictively sumptuous and physically round" quality the Phasemation PP-2000 produced. The transient was somewhat softer, the sustain not quite as generous, but the event's transparency was remarkable, and I don't use that word lightly.
This $2750 transducer solution produces all the optical technology benefits without the additive distractions that I heard in the original, far more costly version.
Rather than revisiting more records I already mentioned, consider two sonically superb new Yarlung Records releases: Yuko Mabuchi Plays Miles Davis, Volumes 1 and 2 (Yar45588-171V/Yar45591-171V) recorded in concert to tape in 2018 using AKG C24, C12, and Schoeps M222 vacuum-tube microphones.
A pianist "playing" Miles seems counterintuitive, but the dynamic Ms. Mabuchi pulls it off. She covers five Miles tunes (three from Kind of Blue) and adds three originals, one of which references other Miles compositions.
Talented trumpeter JJ Kirkpatrick has a tough assignment. He's got to not play Miles and try to stay in the background, which he does both musically and sonically. He's way back on the utterly transparent 3D soundstage. The DS puts him there.
Yes, this is in some ways "audiophile fare," but it's really good audiophile fare; I recommend it. It demonstrates well the DS-E1's astonishing transparency, image solidity, and three-dimensionality, its superior speed, freedom from mechanical artifacts, full frequency response, and top-to-bottom timbral believability. Applause is where the original DS I auditioned turned "plasticky." Not here.
Whatever the elliptical stylus gives up in detail and transient resolution is more than made up for by the rest. If $3000 is your cartridge-replacement price point, you should consider this, whatever your musical tastes. You can then sell your current phono preamp and buy records, more new records! At the very least, at this price point, the DS-E1 is a must audition before you buy anything.
Audio Research Reference Phono 3SE
I reviewed the original Reference Phono 3 four years ago in Analog Corner #255 (footnote 3). The fully balanced, full-featured hybrid design incorporates a FET input stage, six 6H30 tubes, and a hybrid tube/solid state power supply and costs $13,995. The upgraded 3SE costs $17,000. If you own a 3, the SE upgrade will cost $3000. Could it be any more fair?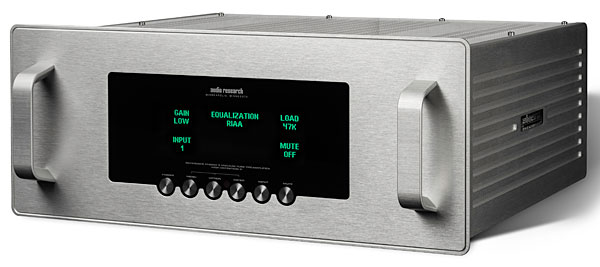 The upgrade consists of unspecified new internal components and a wiring change. That a wiring change could affect sonics seems to drive some people I encounter in Facebook audiophile groups absolutely bonkers. Let them use their lamp cord and be happy! Other than the parts, wire, extra $3000, and "SE" noted on the back panel, nothing's changed. Well, there's the sound. Now, I wish I could assemble the system I used four years ago, and the original Ref 3 was still here so I could compare the two directly, but I can't.
It's said that sonic memory is short, but four years later I delude myself into thinking I recall the original Ref 3's distinctive sonic qualities. Plus, I was able to compare the SE to the Ypsilon VPS-100/MC-20L SUT phono preamp and to the more recently acquired CH Precision P1/X1, both of which cost about three times as much.
Before comparing, I just listened to many records, including the original "Living Stereo" and Analogue Productions reissue of the Reiner/CSO Pictures at an Exhibition (LSC-2201) and Vol.1 of the aforementioned Ravel Complete Orchestral Works (Daphnis et Chloé), which through the SE was dazzlingly open, transparent, and spacious on top with string tone and texture and choir vocals that produced unmeasurable sensory chills—or I must have imagined them. The top was so open
I ended up loading both the PP-2000 and the Ortofon Anna D at 50 ohms. I then played the same program through the Ypsilon and then the CH. I concluded that the upgrade, like the original Ref 3, "gets the instrumental harmonic structure exactly right." But now the top end is even more open and especially transparent—not all that different, much to my surprise, from the solid state CH Precision. The CH, though, is drier and less timbrally generous. Just the way it is.
The Ref 3, as I recall it, was bloomy and generous in the lower midrange/upper bass, but only slightly. That coloration seems to have been eliminated, producing a faster, cleaner, more transparent sound with greater midbass control that's more like (gasp!) great solid state (though of course with both ARC versions having FET front ends, there already was some of that).
The bottom octaves might now be better controlled—I can't be sure—though the solid state CH easily wins the bass dynamics and extension wars, and the Ypsilon still scales greater overall dynamic peaks and spatial generosity; Pictures made that obvious.
At $14,000, the original Ref 3 was a must-listen. At $17,000, the improved Ref 3SE is, too. It seems to me that for owners of the original 3, the $3000 upgrade is well worth doing, but without making a direct comparison I can't be sure. I'll be curious to read (if there's a manufacturer's response) whether the sonic improvements I heard comport with what Audio Research thinks it has achieved with the upgrade, or if I'm just blowing smoke.
I'll conclude with this: If you were sitting here listening to Ravel's La Valse, as I am now, through the Ref 3SE, I know you'd be having a damn fine time. You'd be having an even finer time if you were listening through the Audio Research Reference Phono 10, but that's going to cost you!
The Clarus CPB-2 Duet Power Block
I saw this compact, two-outlet, high-current power conditioner, intended for power amps or subwoofers, at the 2019 Florida Audio Expo. Clarus/Tributaries President Joe Perfito ran me through what's inside (footnote 4). Although it's inexpensive ($1250), it seemed well-engineered and is claimed not to limit current, so I was curious to hear what would happen if I installed it (with a matching Clarus AC cable—the Clarus Aqua, which costs $549 for 3', although they sent a 12' version that costs $1849) in place of the $9500 AudioQuest Niagara 7000 and the $5400 NRG Dragon AC cables I use with the darTZeel NHB-468 monoblock amplifiers. The AudioQuest system made a major sonic improvement over the previous costly cords and power conditioner I'd been using, especially in terms of transparency.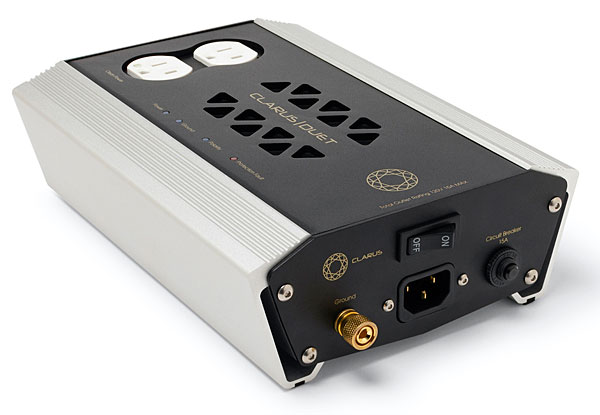 The modules inside the Power Block feature a noise-reducing low-pass filter (up to –49dB, 100kHz–6MHz) rated at 30A and utilizing a proprietary technology that Clarus calls "C-Core." Thermal Metal Oxide Varistors protect against surges. LEDs indicate whether the cables and/or wall jack are properly grounded and in phase. No nonsense.
Is it fair to put such a modestly priced accessory in such a costly system? If cables and power conditioners have no sonic effects, why not? (I hear the hate chorus I regularly read in online forums: "They don't. Without double-blind ABX tests, you will imagine they do," or, even more infuriating: "You'll make it up to sell advertising." As if I sell advertising.)
Many manufacturers of costly electronics (though not all!) know that AC cables can have a major effect on the sound of their products, but most hesitate to put their choice in the box and tack the cost onto the final price. Most figure it's better to leave the cable choice to the buyer. That's why they include low-cost black rubber AC cables. And let's be clear: Good-sounding products will sound good with the supplied cables. They just can sound better.
I broke in the Clarus Duet for a week on my living room system for an AnalogPlanet story using my Music Reference RM-200 Mk2 fully balanced hybrid amplifier—an outstanding Roger Modjeski (RIP) design. When the Clarus Duet was used, the system produced quieter backgrounds and somewhat reduced a layer of "haze" probably caused by high-frequency hash. (Sorry, I didn't measure.) It also didn't limit dynamics. Had I auditioned the Duet for a review in that system, I'd say it's $1250 well-spent dollars for a modest though notable sonic improvement, plus the surge protection is an additional benefit.
Downstairs, I replayed some of the ERC Ravel and listened to pianist Ellis Marsalis's final recording, For All We Know (Newvelle NVN-0004), featuring his son Jason on vibraphone, beautifully recorded at Esplanade Studios in New Orleans. It's part of a 4-LP New Orleans set Newvelle just released that I highly recommend.
The Niagara power conditioner with the NRG cables provide major sonic benefits over plugging the monoblocks directly into the wall and compared to other power conditioning I've had in my system. When I replaced the AudioQuest combo with the Clarus combo, which costs about 10× less, and played the same tracks, there was an easy-to-hear diminution in transparency and especially transient precision. You can't measure vibrancy, but it can be heard, and the system took a bit of a hit there too: a positive aggressiveness was reduced, and the sound become more laid-back and timid. Macrodynamics were not notably diminished, but microdynamics were.
I remember once doing an AC cable swap for a totally skeptical electronics manufacturer. He had been enjoying the sound of his mega-powered amps when I swapped out the AC cables I was using for the ones he packed in the box. A minute in, he looked at me and said, "It's gone!"
I get into fights online with flat-earthers who claim that AC cables and power conditioners can't possibly affect sonics because, well, they just can't, and because well-designed power supplies have their own filtration systems. My experience tells me that they are the ones selling "snake oil."
The Clarus Duet worked very well in the more modest system, but it was outclassed by the much more expensive AudioQuest. The well-made, technically sound Duet might prove effective in your system.
But if you don't at least try upgrading from the stock black-rubber cables that come with most gear—even with expensive electronics—and add a power conditioner as well, you'll never know if you're unlocking your system's full potential. You probably aren't. Please don't listen to the snake oil salesmen!
---
Footnote 3: Audio Research Corporation, 6655 Wedgwood Rd. N, Suite 115, Maple Grove, MN 55311. Tel: (763) 577-9700. Web:
audioresearch.com
Footnote 4: Clarus Cable, 6448 Pinecastle Blvd., Suite 101, Orlando, FL 32809. Tel: (888) 554-2494. Web: claruscable.com