TechDAS Air Force Zero turntable Page 2
The Zero can accommodate two 9"–12" tonearms mounted on
massive
titanium armboards drilled for your choice of arms. The review sample was supplied with two standard titanium armboards drilled for the
Graham Elite
and
SAT CF1-09
tonearms.
Easy to use, little required maintenance
Once the dealer setup was accomplished, the Zero was practically maintenance free for the six months it spent in my listening room. You turn it on by turning a single knob, and then a screen tells you if air is required and where. The easily activated pump with attached air hose lets you "top up" the feet as required with four tire-like air valves located behind a front plate. Occasionally topping up the air in one of the feet was the only maintenance the Zero ever required.
Place a record on the platter, choose the speed, activate the vacuum hold-down, and in a surprisingly short time, the 'table locks in to the right speed (and tells you so on the screen), and you're good to go. Very good to go.
I attended the Zero's North American debut at The Audio Salon in Santa Monica in April 2019 a few days before AXPONA, and as I wrote, I went there a skeptic and left believing I'd heard the best vinyl playback I'd ever experienced, beginning with a level of background silence I'd never before heard, nor had anyone else in attendance. When the stylus kisses the record, there's a natural nothing. There is energy in the stylus/vinyl exchange, which the best turntables minimize. The Zero, performing like an enormous drain for unwanted energy, seemed to eliminate it completely.
Look at the measurements produced by both the shaknspin and the oft-used PlatterSpeed app. Both sets of measurements are what you might expect from a direct-drive turntable including maximum relative deviation low pass filtered of ±0.02%. That's impressive to look at but more impressive to hear.
Weight, gravitas, and the Air Force Zero sound
Regardless of arm (Elite with optional tungsten armwand or SAT CF1-09) or cartridge (X-quisite ST, Lyra Atlas Lambda SL and Etna Lambda SL, or TechDAS TDC01 Ti), all of which I am familiar with in other contexts, the Air Force Zero put its sonic stamp on all associated gear. You may say that it should have no sound of its own for that price, but in the analog world—digital, too, for that matter—every link in the chain has a sonic character, which to me is not the same thing as an amplitude-based coloration. The Zero let through each cartridge's timbral and dynamic character while imparting its own unique and immediately recognizable weight, sledgehammer "slam," ultragenerous sustain and decay, and the blackest backgrounds I've heard a turntable produce.
I listened first to the TechDAS TDC01 Ti. I heard the long, sticky bass sustain and muscular bottom-octave control and attributed it to the cartridge, but later I heard that unmistakable quality with the other cartridges even as they maintained their own character.
In a recent webinar, Bernie Grundman talked about cutting Dave Brubeck's Time Out for Classic Records from the original three-track tape. (It's now on Analogue Productions—APPJ 8192-45—pressed from the same metal parts.) I've been playing this record in one pressing or another since the early 1960s.
The first two bass drum kicks, drenched in added EMT-plate reverb, produced decisive, emphatic force and communicated Joe Morello's intent to set off the tune with a bang that I'd never noticed before. After those first two kicks, you could hear him ease off the pedal. The bass sustain that followed the attack lingered more noticeably in the reverb. Morello's cymbal work was richer and fuller, with more wood and somewhat less brass sparkle, making it sound more natural and less hi-fi. The snare sound, too, had more nuance and natural detail. The Zero lingered on everything, producing gravitas and richness on piano and saxophone on a recording I'd always thought sacrificed instrumental solidity for reverb-drenched effect.
I wondered: What would the finger snaps sound like on Elvis's sinewy take on "Fever"? (Elvis is Back, Analogue Productions AAPP-2231, sat on the shelf next to Time Out, so no mystery where that idea came from.) The finger snaps were slower—almost suspended in time and far fleshier than I expected from long familiarity. Bob Moore's bass lines took on added attack weight and longer-lingering sustain, and Buddy Harman's ricocheting bongo hits sounded fuller and richer, almost like larger conga hits. At one point, Elvis sings "fever!" followed by two familiar kickdrum exclamation points; each produced depth-charge thunder.
I had a visitor recently who owns a very good stereo. He wanted to hear Lou Reed's "Walk on the Wild Side" wherein Herbie Flowers plays two bass lines: one on double bass and the other an octave and a third higher on electric. I'd not played this on the Zero, but oh man! The "sticky" double bass below and the light but precise electric above produced through the Zero a "Walk on the Wild Side" the likes of which I'd never before heard. I followed that up with what I knew would be an awesome kickdrum sound from the "Porky Prime Cut" UK edition of Squeeze's "Tempted" from East Side Story (AMLH 64854). It was beyond-expectations, slamming good. The next day, my visitor called and said, jokingly, in reaction to what he'd heard, "I hate your f...king guts."
Chasing the Dragon recently released an ambitious and meticulously recorded, produced, and packaged five-LP edition of the Bach Cello Suites (Chasing the Dragon VALLP014), most of which is performed by Justin Pearson, principal cellist of the National Symphony Orchestra. It includes two versions of the 3rd suite, one with the piano accompaniment written by Robert Schumann. (Robert Schumann wrote accompaniment for all six, but wife Clara is thought to have destroyed the others; somehow the 3rd survived.)
The church recording (to analog tape) in five sessions in two venues, using a pair of omnidirectional microphones, is sonically spectacular in its lifelike instrumental timbres and 3D spaciousness. The Zero's presentation of this recording, compared to the rendering produced by the SAT XD-1, demonstrated the Zero's special mid to mid-low frequency weight, power, and drive and its unique ability to slow down the notes—something that works to benefit Mr. Pearson's workmanlike, somewhat light-hearted reading compared to János Starker's more brooding, powerful, and gravity-bending performances—either the late-'50s mono version for EMI reissued by the Electric Recording Company (ERC 33CX1656) or the Mercury box reissued by Analogue Productions. The notes float by in one reading and tear your heart open on the two others. I'd played and enjoyed the mono ERC on other turntables, but the Zero's "stop time" presentation created an unmistakable, well-defined small studio space in which Starker appeared more convincingly than I've ever heard from this vintage mono recording, produced by attack certainty, sustain generosity, and prodigious decay into a black that digital reproduction, for all its extended dynamic range, for some reason can't produce.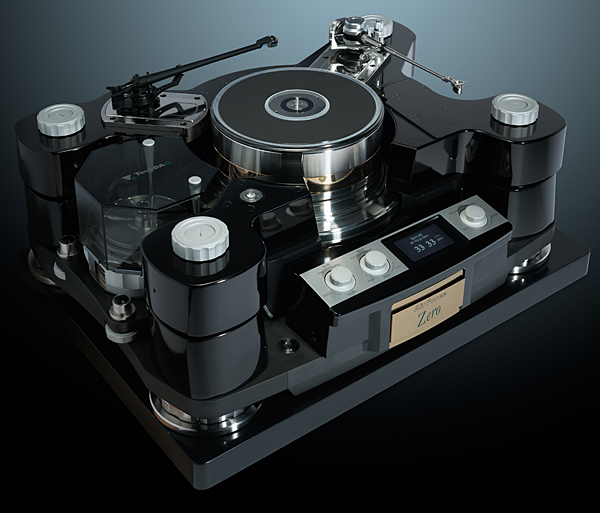 IMPEX's mono reissue of Frank Sinatra's Columbia Records swan song Sing and Dance With Frank Sinatra (IMP 6036) is a "must have" for any Sinatra fan. Originally a 10" record, it is reissued here as a 12" with additional tracks. Sinatra pivots from faded teen idol crooner to hip, swinging sophisticate. You can feel in these performances how Frank unfolds his newfound rhythmic abilities. He's creating a new Frank live as he leans into the microphone and lets it rip. Through the Zero, the added weight and grip helped create a presentational ease and certainty that resulted in a serene listening experience, on this old recording and on every record I played, even on hard rock and heavy metal records. The Zero's stillness and certitude helped deliver every musical genre's full weight and meaning, minus the distractions created by less precise reproduction.
Conclusion
It may seem contradictory to note that a turntable with a base price of $450,000 has a recognizable sound, but if you get to hear the Air Force Zero under conditions commensurate with its performance capabilities, you'll quickly understand that it's not contradictory at all. The turntable is recognizable because no other turntable, or none that I've yet reviewed, so effectively sinks unwanted and extraneous noise while passing the musical goods with effortless ease, often in the most subtle and nuanced ways. The AF Zero is not a flashy-sounding "show off" turntable.
The Zero is the most speed-consistent belt-drive turntable I've reviewed, and with its air-bearing platters and air suspension, also the quietest, best isolated, and most inert, with stable sonics, quiet, and exceptional detail resolution with no added grain or unnatural, mechanical edge definition. The Zero was also trouble- and hassle-free for six months and as much fun to use as it was to hear.
Let's just add it up: $450,000 for the base turntable. Add $50,000 for the tungsten top platter. Add $52,000 for the HRS stand, $14,250 for the Graham Elite arm, and an extra $9000 for the titanium armwand. That comes to $575,250.
Just to play records? Yes. Just to play records. Add another $50,000 or so for the SAT CF1-09 second arm and then go buy a few cartridges.
For those who can afford such an extravagance, I say, why not? And while you're at it, feed the hungry.