Lyra Etna MC phono cartridge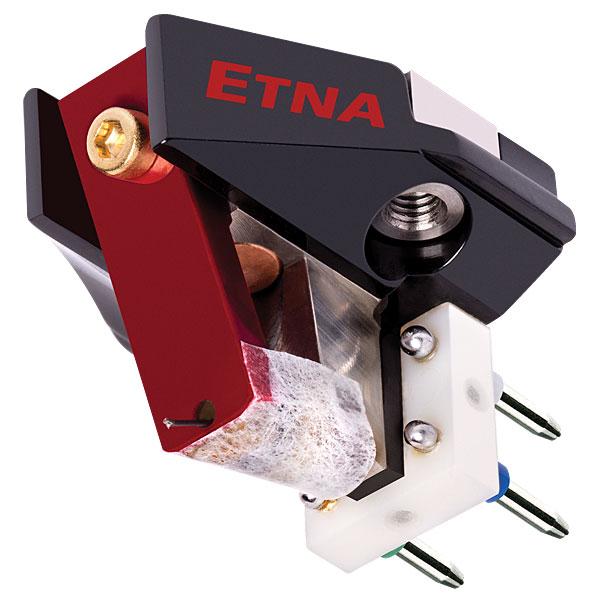 Is the high-performance audio industry stagnating? Are designers simply repackaging the past? Cynics claim so, but to me it seems that making that case gets harder by the day, as a parade of veterans continue to produce their best work.
I'm talking Dan D'Agostino's Momentum power amps and preamp, Dave Wilson's XLF and Alexia loudspeakers, Jeff Nelson's Boulder 3050 monoblocks, and the seasoned pros who produce Constellation electronics: John Curl, Bascom King, Peter Madnick, and Demian Martin. Harry Weisfeld's new VPI Classic direct-drive turntable with its JMW Memorial 3D-printed tonearm is another obvious example of an audio veteran raising the bar; yet another is Roy Gandy and his Rega Research team's RP8 turntable.
The latest Lyra cartridges, designed by Jonathan Carr, raise more bars: the Atlas, introduced in 2012, and now the Etna, first shown to me at the 2013 High End Show in Munich last May, and a review sample of which arrived the following fall.
Enter the Etna
Befitting its volcanic name, what there is of the Etna's body—just a front plate—is bright red, as is the cartridge's packaging. But the Etna isn't about packaging or paint. Rather, Jonathan Carr has produced yet another innovative cartridge design—his second in as many years. The Etna replaces the discontinued $5995 Titan i, though calling the $6995 Etna a "replacement" is a bit of a stretch. That $1000 difference alone is more than most vinyl fans spend on a cartridge in the first place—or, for that matter, on a turntable and cartridge.
Still, the Etna costs $2505 less than the $9500 Atlas—and by any definition, $9500 is serious coinage. These prices are crazy—until you listen. Then they're merely high, but understandably so, as in, "If I could afford one, I'd buy it."
The Etna is neither a dumbed-down Atlas nor a modified and upgraded Titan i. Rather, Carr began with a blank computer screen (or sheet of paper, or whatever he uses), and taking what he'd learned from designing the Atlas, Kleos, and other post–Titan i cartridges, he imagined the Etna, using as many Atlas parts as was economically feasible.
Both the Titan i and Atlas are machined from solid billets of titanium. However, to contain costs while still taking advantage of the Atlas's asymmetrical construction and resonance-tuning technologies (footnote1), Carr instead begins with a far smaller core structure of solid titanium machined to have nonparallel surfaces, to inhibit internal reflections, over which he tightly locks an asymmetric, mirror-black, anodized-duralumin outer assembly augmented with rods of bronze and stainless steel to control resonances, Ö la the Atlas. According to Carr, machining only the Etna's core from titanium, and the rest from duralumin, stainless steel, bronze, etc., provides the benefits of solid titanium at lower cost.
This assembly is pressure-fitted together into what Lyra says is a "solid, void-free structure, which is comprised of multiple materials and complex internal shapes." Lyra claims that such constrained-layer construction "dramatically reduces [the] resonant signature of each of the individually employed materials," the result being a "far more neutral-sounding body structure than otherwise possible, while the high body stiffness benefits transients, dynamics and resolution."
Like the Atlas, the Etna has a yokeless dual-magnet system, a cantilever rod of diamond-coated boron, and a Lyra-designed, line-contact stylus with varying radii. The stylus's major radius is 70µm, its minor radius 3µm. The block of the stylus measures 0.08 by 0.12 by 0.5mm, and is mounted in a slot machined into the front of the cantilever. And, like all Lyras going back at least 13 years, to the Helikon, the motor is integrated into the cartridge's body via a wire suspension, which is held in place by a tiny screw in a threaded hole machined into the body.
Lyra is the only company I know of that does this. Other manufacturers glue or otherwise affix assembled "motors" within a preassembled body of wood, metal, or plastic. The advantage of Lyra's body is that it more efficiently shunts out of the cartridge and into the headshell any excess vibrational energy that the cartridge's internal damping system has failed to dissipate, before it can be reflected back into the system and be converted into an electrical "echo" of the initial signal. This reflected energy is not heard as an actual audible echo, but rather as a quality of tonal softness or rhythmic vagueness that other companies often "tune out" with cartridge bodies made of resonant materials.
The Etna includes the asymmetric design Lyra first used in the Atlas, but instead of offsetting the front magnet carrier and securing screw, here these and other components are displaced so that no materials or spaces separate the cantilever assembly from the headshell, to create between them a rigid, direct path along which vibrational energy can be drained.
A narrow mounting area that couples more tightly to the headshell further aids in controlling and efficiently transferring unwanted vibrations to the tonearm. Both the cantilever assembly's contours and those of the titanium are shaped to produce a mounting system of two knife-edges (first seen in the Lyra Kleos) that focuses maximum pressure on the joint area to achieve the equivalent of a cold weld. The rigidity of this mounting system is said to far surpass that of the Titan i.
The Etna shares the Atlas's high-efficiency, X-shaped former and coil arrangement. The X shape allows each channel to operate with greater independence, and is claimed to result in better tracking, channel matching, and separation, as well as lower crosstalk.
Lyra's research into the X-coil formers used by other cartridge makers led to a shape that Carr claims produces greater efficiency than those other X-coil systems and Lyra's own square-coil formers. But rather than using all the gain in efficiency to greatly increase the Etna's output voltage, Carr allocates some of it to reducing the amount of coil wire to 78% of the amount used in the Titan i. Even so, the Etna's output voltage is 12% greater than the Titan i's.
The double-layer coils, wound of 99.99997% pure copper on a chemically purified, high-purity iron former, have an impedance of 4.2 ohms and an inductance of 11µH . Using the CBS test record, the Etna's claimed output voltage is 0.56mV at 5cm/s, zero to peak 45° modulation.
Lyra claims that its New Angle technology, used in the Atlas and Etna, pre-biases the position of the signal coils so that, during playback, the vertical tracking force (VTF) perfectly aligns them with the front and rear magnets. This is claimed to equalize discrepancies in vertical and horizontal compliance, to allow the coils to move with equal ease in all directions for what Lyra claims are wider dynamics, greater resolution, and better tracking.
---
Footnote 1: See my review of the Lyra Atlas in the
May 2012 issue
.