Listening #129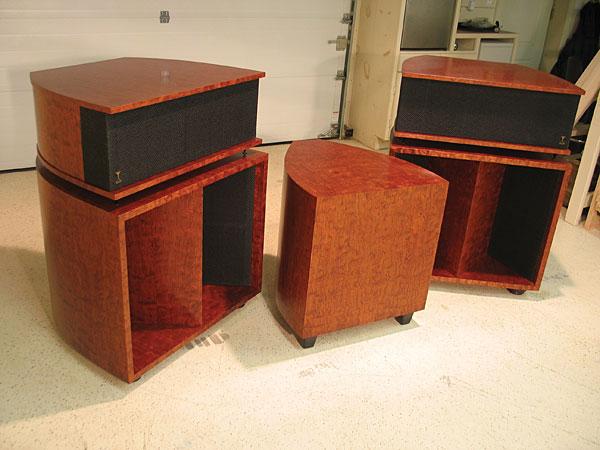 Volti Audio's Vittora, a borrowed pair of which now sit at the far end of my listening room, is a great loudspeaker
and
, at $17,500/pair, a seriously great value. After a few weeks with the Vittora, I find myself convinced by the naturalness, momentum, and force that it found in every record I played: This is surely one of the finest horn-loaded speakers made in the US.
The Vittora is designed and built by Greg Roberts (footnote 1), a longtime audio enthusiast who bought his first pair of Klipsch La Scala loudspeakers when he was 14. (He has owned a number of pairs of Klipschorns in the years since, having settled on an especially nice-looking set from 1967.) A woodworker by training and a homebuilder by trade, Roberts began, in 2001, to offer his services as a commercial restorer of Klipsch's "heritage" products: the Klipschorn, the Belle Klipsch, the La Scala, and the Heresy. In time, restoration turned to modification, as Roberts developed a midrange horn and other components to improve the performance of classic Klipsches that hadn't always been built to perfectionist standards. Not long after that, Roberts decided to incorporate what he'd learned into a completely new, if unabashedly Klipschian, loudspeaker of his own design. Thus, over several years, did Volti Audio and the Vittora loudspeaker come into being.
The Vittora is a three-way, fully horn-loaded loudspeaker in two enclosures per channel, both made entirely of Baltic birch plywood. The bass cabinet is a single-fold bifurcated horn in which a rear-facing woofer fires into a splitter that, according to Roberts, took considerable time to develop—as did the shape of the bass horn: "The size of the mouth is a big determinant for lower bass: It is what it is," he says. "But I found that upper bass was something I had control over, and I used cheap OSB [oriented-strand board] to build multiple prototypes." The result is a design in which the sides of the enclosure—and thus one surface along each of two paths—are curved. The high-sensitivity, 15" bass driver has a stiffly suspended paper cone—Roberts estimates its Q as approximately 0.3—with a free-air resonance in the neighborhood of 40Hz.
The cabinet's curve is repeated in the sides of the upper enclosure, which houses the Vittora's midrange and treble horns, both of which are derived from Roberts's modifications of Klipschorns. The rectangular midrange horn, made of plywood and bendable hardwood, has a tractrix flare, and is driven by a 2" compression driver (a BMS 4592) with a phenolic diaphragm. The elliptical treble horn is made of composite and is driven by a 1" compression driver with an aluminum diaphragm. The two horns fit side by side, the latter secured in an opening that Roberts designed into the former.
The upper enclosure also contains the Vittora's crossover network, which is user-adjustable for treble output: By substituting different preassembled resistor modules—which work within the Vittora's capacitor- and autoformer-based network to create different L-pad configurations—the owner can suit room or taste by raising or lowering the tweeter's output across its operating range, from 6kHz up. The crossover network is accessed through a panel on the back of the upper cabinet, and the resistor modules are connected with integral gold-plated spade lugs, making soldering unnecessary. Roberts says that the bass portion of the crossover also includes an adjustable contour filter—a notch filter, really—that helps flatten out a known response peak.
The Volti Vittora is built in a shop—as opposed to a garage, a driveway, or somebody's mother's basement—solely dedicated to the production of loudspeakers and loudspeaker components, and which Roberts has equipped with state-of-the-art power tools and an air-filtration system. Cutting and shaping are done with high-tech European table saws and bandsaws. Wooden parts are bent to shape in a vacuum-bag system—also used to apply veneer—and catalyzed polymer finishes are applied in a separate, room-sized spraybooth. The build quality of my review pair, finished in bosse cedar, equals that of the finest American loudspeaker cabinetry I've seen, DeVore Fidelity and Thiel Audio included. Roberts makes his own wooden cabinet feet, and even irons and applies his own vintage-style grillework—it all contributes to one of the best-built audio products I've had in my home. Forgive the ham-fisted cliché, but even my wife, who was at first put off by the idea of a speaker that takes up more space than a front-loading clothes-dryer, was impressed.
It rained. Of course.
Janet was also impressed with Vittora's sound, going so far as to call it the best horn speaker she's heard. But that's getting ahead of myself—before any listening got done, Greg Roberts and I had to get the Vittoras through the door, which meant that we uncrated them in my driveway. It rained. Of course.
The crates themselves were well made, each containing a single channel's bottom and top enclosures, separated from one another with sheets of sturdy foam. Carrying inside the 60-lb top enclosures wasn't too terrible, but the 127-lb bottom enclosures gave us a spot of trouble on the way up to my porch, especially as the enclosed stairway is 31" wide and the uncrated enclosure's depth (its smallest dimension) is 29". A few knuckles were scraped that day, a few curses cursed.
Once inside, the setting-up was fairly easy. Roberts shares my preference for using felt pads on the bottoms of his loudspeaker feet (provisions exist for those who endure in preferring spikes), so the heavy lower enclosures were easy to slide on my hardwood floors. The upper enclosures are fitted with spikes, the points of which correspond with dimpled discs atop the bottom cabinets; fitting together the two enclosures is a two-person job, but neither person need be terribly clever or strong, merely possessed of good depth perception. (I scarcely filled the bill.) In order for me to have the complete Vittora experience, Roberts also brought a matching sample of its optional subwoofer ($2900 without its corresponding Marchand amplifier/crossover), beautifully finished in the same bosse-cedar veneer. That said, we began our fine-tuning and our first few hours of listening without it.
The Vittoras
Bass extension with the Vittoras alone (Greg Roberts says they reach down to 50Hz, in-room) was superb from the get-go: The bass horn loaded the room exceptionally well, with no egregious dead zones. Our work was confined to selecting the optimal distances between the speakers and the front and side walls; we noted, without surprise, that when those two dimensions were too similar, bass notes lost some of their distinctness of pitch and clarity. Our best results were had with the cabinets only a few inches from their respective sidewalls, and with about 26" between the back of each cabinet and the wall behind it. A gentle to moderate amount of toe-in was preferred, the handed enclosures arranged so that their treble horns were on the outside edges of the midrange horns.
At the far end of my room, driven by the 25W Shindo Corton-Charlemagne amplifiers, the Vittoras sounded nothing short of wonderful. Their trebles were smoother and altogether softer than those of my metal-horned Altec Valencias, while their bass range had the same touchtone, vintage magic: a little less sharp and a little more colorful than the Altecs, and just as big, just as full of impact and nuance and feeling.
---
Footnote 1: Volti Audio, PO Box 544, Fairfield, ME 04937. Web:
www.voltiaudio.com
.