Listening #129 Page 2
Thus it was with slight skepticism that I assented to hooking up the Vittora subwoofer, whose downfiring 18" driver is installed in an uncommonly solid enclosure measuring 27" tall by 24" wide at the front and 6" at the rear, and driven by an outboard Marchand MB42 300W amplifier ($1500). The Marchand, which works off a line-level signal (my
Shindo Masseto
has only one pair of outputs, so we used a pair of Y-connectors), includes adjustments for crossover, damping, and phase. The subwoofer is also available in a front-firing version.
Once it was dialed in, the Vittora sub did, in fact, enhance some recordings. It allowed the orchestral bass drum in Itzhak Perlman's recording of Berg's Violin Concerto, with Seiji Ozawa and the Boston Symphony (LP, Deutsche Grammophon 2531110), to sound a bit more menacing, and made the stage seem larger during the climaxes it punctuates. Precisely the same could be said of the Peter Pears and Benjamin Britten recording, with the London Symphony Orchestra and Chorus, of Elgar's The Dream of Gerontius (LP, London OSA 1293). And piano LPs and CDs, in a general sense, gained in scale and presence. Roberts had brought with him a copy of Don Byron's Bug Music (CD, Nonesuch 79438-2)—a great album that I hadn't heard before—which was also suited by the sub.
That said, at the end of the day, literally and figuratively, I didn't feel as though I needed the Vittora subwoofer—I didn't really miss when it wasn't there. I thought the sound of the Vittoras alone was beautifully balanced, and more than eminently satisfying in terms of bass volume and power. Don't take the "50Hz" thing too literally: The Vittora had much more bass than that specification suggests.
Letting it bleed
On the evening of the Vittoras' first full day here, with the subwoofer removed from the mix for the time being, I played the Rolling Stones' Let It Bleed (CD, ABKCO 80042) somewhat more loudly than my usual listening habits dictate—and, at a more moderate volume, Berlioz's Les nuits d'été, featuring the remarkably beautiful voice of Régine Crespin, accompanied by Ernest Ansermet and L'Orchestre de la Suisse Romande (LP, Decca/Speakers Corner SXL 6081). Both sounded, in their own ways, more compelling than usual. With the former, the Vittoras allowed Charlie Watts's drumming to sound as forceful as it should—in which regard the Vittoras were in a very small class of speakers I've had in this room, next to my Altecs and not a whole lot else—while also sounding utterly clean and free from harshness: a blessing. On the Berlioz, the Vittoras did nothing less than prove themselves the elusive ideal: loudspeakers with the musical strengths of horns—Crespin's dynamic nuances throughout "Sur les lagunes" were breathtaking, as were the plucked double-bass strings behind the second verse—that were both free of egregious colorations and capable of casting a beautifully deep, convincing stereo image.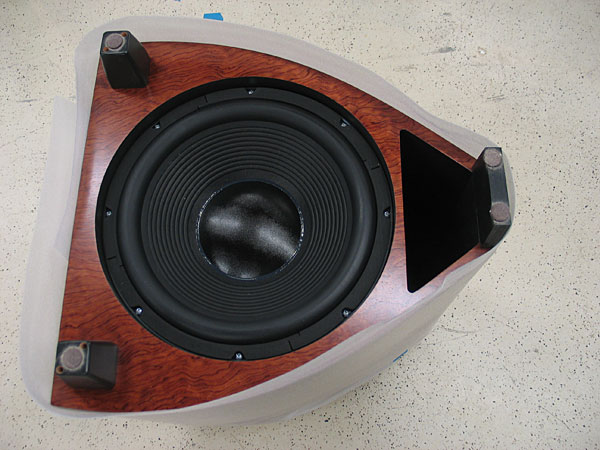 The next day, I remembered to try through the Vittoras an even better-sounding recording of a similar song cycle: Britten's Les Illuminations, with Heather Harper, Neville Marriner, and the Northern Sinfonia (LP, Angel S-36788). That, too, sounded wonderful, with the big Voltis doing a remarkable job of portraying the delicate manner in which Harper's voice traced line after challengingly chromatic line, and giving a very good sense of the positions of the string players behind her. The Vittoras did an equally good job with a very different record, one that I hadn't listened to in a very long time: the eponymous debut by the B-52's (LP, Warner Bros. BSK 3355). One could argue that only a horn—and only an LP—can honor the style of guitar playing found in this recording: heavy-gauge strings, generally set up with high action, struck with considerable force, and amplified with minimal distortion and maximal reverb. The Vittora also gave fine, impactful realism to other sounds in this recording (I'm thinking: bongos), but Ricky Wilson's decidedly electric guitar playing stood out.
These experiences reminded me that listening to a speaker such as the Volti Vittora—and the old Altec Valencias, too, of course—is like hearing your favorite musicians take off the three or four heavy overcoats that you didn't know they'd been wearing all that time: Suddenly, the music is unencumbered. Alive. The musicians drive, passionately, through the music; tempos aren't faster, of course, but they sound it, because there's more muscle behind each note. The Volti Vittora was like bugs without the amber.
Another isolated example: In "Lime-Tree Arbour," from Nick Cave & the Bad Seeds' The Boatman's Call (WAV file ripped from CD, Mute/Reprise 46530), there are a couple of moments—most notably after the words "It flows through life like water"—when organist Cave switches from a steady fill to a brief rhythmic pattern of staccato chords. Listening through the Vittoras, that nuance caught my attention as never before—not as some superficial sonic detail that this product thrust at me louder than some other, but as an integral and ultimately exciting part of the musical landscape. A very small thing. But horn speakers find dozens of such small things every minute—so many that the music gains back a lot of the dynamic texture and interest that are otherwise lost.
Nor were such observations limited to popular music and jazz: The scherzo from Vaughan Williams's Symphony 5, with Sir John Barbirolli and the Philharmonia Orchestra (LP, EMI ASD 508), was also scooted along by the Voltis, the big speakers following the notes with all due briskness—and force, both subtle and unsubtle. And the sheer physical tension communicated by the timpani in the Herbert von Karajan/Berlin Philharmonic recording of Brahms's Ein deutsches Requiem (LP, Deutsche Grammophon 2832 006) was electrifying, especially at the climax of the second movement.
Value?
Which finally brings us back to the subject of value. I suppose I'm qualified, if not obliged, to make two sorts of comments: general observations regarding the ratio between a product's asking price and the apparent cost of its design and manufacture, and personal observations on the ratio between that price and the quality of its sound. In fields—woodworking among them—in which I have useful experience, I can say whether a thing is priced fairly or not, relative to the cost of its making; but when it comes to sound quality, my value judgments are restricted to personal opinion—as are yours. Thus, if, from the technological sanctuary of his parents' house, an audiophile has outwitted every professional manufacturer by transforming a spool of RadioShack wire and an empty Quaker Oats carton into the cheapest and best-sounding loudspeaker of his own experience, I offer both my congratulations and my assurance that that is an opinion to which he is entitled. But I'll endure in reserving the right to remain uninterested in hearing the thing, if only to avoid stealing from that modern-day Tesla the pleasure of sniveling that he is underappreciated, only because the press is too corrupt to declare his genius. (I'm very considerate that way.)
And so to the first question: As a mere product, is the Volti Vittora a good value? Considered in the light of its cost of manufacture, the answer is an unambiguous and enthusiastic yes. Even though $17,500 is the highest price yet applied to this loudspeaker—which continues to evolve as a commercial product—it is still a bargain, given the time, materials, and techniques that have gone into it.
The other question remains: Relative to the competition, is the Vittora a good value on the basis of its sound? Considered as a music-playback device, I endure in thinking that the Vittora is an exceptional value. There are other excellent loudspeakers that perform in a similar manner and cost considerably less, chief among them DeVore's Orangutan O/96. But to find another new speaker that delivers this combination of scale, impact, openness, freedom from overt distortions, and sheer, consistent listenability, one must spend considerably more than $17,500—or so experience tells me.
I'm impressed with this loudspeaker. So have been any number of visitors to my home during the Vittoras' stay here. Though for the most part these have been garden-variety music lovers, one is a member of the audio industry who imports and distributes a number of expensive products, including high-sensitivity speakers. I know and like this man, and I know that he genuinely admired the Vittoras.
I first heard the Volti Vittora at an audio show. If nothing else, therefore, it seems we finally have an answer to a heretofore rhetorical question: Why do we need so many audio shows? Today, I'd say it's to give as many people as possible, in as many places as possible, a chance to hear products such as this, whose absence from my home I already mourn.