An Integrated Amplifier Shootout: Ayre Acoustics EX-8 vs Cambridge Audio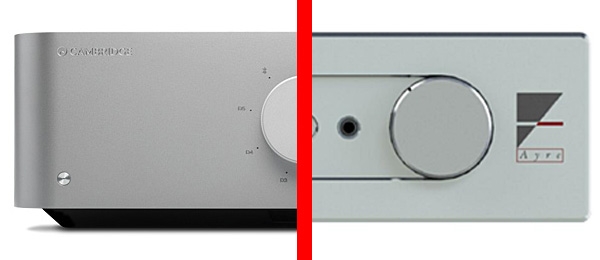 In our February 2019 issue, when I reviewed a
new integrated amplifier
from Colorado-based Ayre Acoustics, I concluded that "the EX-8 Integrated Hub is a high-end contender at a competitive price" (footnote 1). In that review I promised a Follow-Up in which I would compare the EX-8 with Cambridge Audio's Edge A integrated amplifier, which Ken Micallef had
positively reviewed
in our January 2019 issue (footnote 2). While I'd enjoyed my time with the EX-8, I'd found its balance rather on the light side, and that it projected voices somewhat forward on the soundstage. KM had commented that the Edge A had produced some of the best soundstaging he'd heard: "deep and wide, with excellent retrieval of micro- and macrodetail," and had concluded that it brought to the party "speed and swiftness . . . clarity, spaciousness, good tone, and solid drive."
As the Edge A has a USB input, I could feed them the same digital data from my Roon Nucleus+ server, using an Ethernet connection for the Ayre and a USB connection for the Cambridge (footnote 3). Speakers were my long-term references, KEF's LS50s, and levels for the two amplifiers were matched at 1kHz. (As I matched levels, an operational problem raised its head—both remotes changed both amplifiers' volumes, but to different degrees—so I used the front-panel volume controls.) The amplifiers weren't too different in power delivery: my measurements showed that, into 8 ohms, Cambridge's Edge A offered 145Wpc and the EX-8 105Wpc, but that into 4 ohms the EX-8 maxed out at 125Wpc, the Edge A at 230Wpc.

"Solid drive," wrote KM of the Cambridge. I had to agree. Once this hot-running amplifier had warmed up, the Edge A reproduced the bass guitar and kick drum in "The Paper Trench," from Admiral Fallow's Tree Bursts in Snow (24/44.1 ALAC, Nettwerk 067003727250), with more apparent extension than did the Ayre. The synth bass in "Gorgeous," from X Ambassadors' VHS (16/44.1 FLAC, Interscope/Tidal—props to Roon 1.6's revised Radio function for finding this track), was a little lighter in weight through the Ayre than through the Cambridge. Even so, the EX-8's low frequencies were as well defined as the Edge A's—the tolling of the bell in the piano's left-hand register in Liszt's arrangement of Solemn March to the Holy Grail, from Wagner's Parsifal, on Daniel Barenboim's On My New Piano (24/48 MQA FLAC unfolded by Roon to 24/96, Deutsche Grammophon), reinforced the music's majesty.
How about the way in which the amplifiers presented recorded space? On the late David Wilson's recording of David Abel and Julie Steinberg performing Brahms's Violin Sonata 1 (24/176.4 AIFF, Wilson Audiophile W-8722), Steinberg's piano was a little farther behind Abel's violin with the Edge A than it was with the EX-8. However, the Ayre's sound was just a tad more—I don't like this descriptor, but a better one eludes me—organic. While the Cambridge's soundstage was very well defined, even with what sounds like a recording made with spaced omni mikes, the Ayre's imaging was more palpable, the images of acoustic objects sounding more "solid," a touch more fleshed out, more "organic."
I had a good time with both of these amplifiers. Each offers a different balance of strengths. Both are listed in Class A of the Integrated Amplifiers category of our "Recommended Components." Neither has a phono stage, but both have analog and digital inputs and headphone outputs. (The Ayre offers balanced as well as conventional single-ended headphone drive.) The Ayre's front-panel screen usefully displays track information with network-sourced content, and incoming sample rate with its other digital inputs; other than its concentric volume and source-selector knobs, the rather Bauhaus-looking Edge A lacks adornment. The Cambridge is a sonic powerhouse; the Ayre is more subtle in its presentation, and less comfortable with low-impedance loudspeakers. Designed in England but manufactured in China, the Edge A costs $5000. The equivalent version of the Ayre—ie, with a USB port but no Ethernet port—costs $6650, the difference in price reflecting the fact that the EX-8 is made in the US. You pays your money, you makes your choice.—John Atkinson
---
Footnote 1: The basic EX-8 with analog inputs costs only $5950; as reviewed, with a full complement of digital inputs, including USB and Ethernet, it costs $7850. Ayre Acoustics, 6268 Monarch Park Place, Suite B, Niwot, CO 80503. Tel: (303) 442-7300. Web:
www.ayre.com
.
Footnote 2: The Edge A costs $5000. Cambridge Audio, Audio Partnership Plc, Gallery Court, Hankey Place, London SE1 4BB, England, UK. US: Cambridge Audio USA, 1913 N. Milwaukee Avenue, Chicago, IL 60647. Tel: (877) 357-8204, (312) 636-4817. Web: www.cambridgeaudio.com.
Footnote 3: For logistical reasons, my sample of the Edge A was not one of the two that KM and I had written about in January. The new sample's serial number was HT C10972 6853 0013.