Clearaudio Reference Jubilee record player Page 2
Following the manual, I arranged three dime-sized aluminum pads in a loose triangle on my Ikea Aptitlig bamboo board; the Reference Jubilee's three adjustable spiked feet fit into the dimpled pads. I squeezed three drops of supplied bearing oil into the Jubilee's ceramic bearing shaft, then fitted the upper magnet bearing through the hole in the stainless steel subplatter, securing it with a supplied collar then tightening it with an Allen wrench. (The collar is a placeholder of sorts.) I gently lowered the subplatter over the ceramic bearing shaft. The larger POM platter slid easily over the upper magnet bearing. I then mounted the drive belt and attached the AC power cord.
A quick spin using the RPM app on my iPhone showed the Reference Jubilee running at 33.45, about a third of a percent fast. Stylus drag may slow it just enough to make it perfect, or maybe it's already perfect and the app's calibration is slightly off. Anyway, it isn't much.
The spindle on this 'table is thicker than most; in fact, it's the thickest I've encountered. With almost every record, a gentle push was needed to force the record down over the spindle. A tight spindle fit should benefit playback a little, if it has any effect at all, but it could make records with small spindle holes difficult to play, and it could lead to long-term spindle-hole wear.
Garth Leerer and his Musical Surroundings team premounted the Jubilee MC cartridge to the Universal tonearm. I eased the tonearm into the 'table's base, adjusted VTA with a small grub screw, checked cartridge alignment with my Dr. Feickert Analogue Universal Alignment Protractor, then set the VTF. I've left out a few minor steps, such as placing the cover over the exposed motor/O-rings. Overall, though, setup was easy.
Listening
My former 'table, the Kuzma Stogi S/Stabi S—informally called "the pipe bomb"—consisted of a heavy brass tripod plinth, a metal platter, and aluminum tonearm. It possessed ample weight and good drive, and it produced a big soundstage. The Kuzma Stabi R, my current reference, adds the benefits of a heavily damped, mahogany-framed aluminum plinth and a colossal aluminum/ acrylic platter. It endows music with great stability, low-end gravity, immense scale, and occasionally a dark presence.
The Reference Jubilee sounded nothing like this. In fact, it sounded like nothing ever heard here in my urban listening salon.
The Reference Jubilee's sound combined vivid detail retrieval, forceful dynamics, a delicate, refined top end, and a translucent midrange. Levels of resolution, clarity, transparency, and trueness-to-source left me vinyl-shocked and thinking, "So that's what's on this recording?" The effect was startling.
Records as close as family produced music with unexpected corporeality, memory-inducing chills, and senses-altering surprises, more than I realized was possible with reproduced music. Records surrendered their secrets, their inner lives, their time-secured, soul-charged beauty.
I didn't just hear more music; I heard more life force, a deeper recorded experience. The Reference Jubilee, Universal Tonearm, and Jubilee MC cartridge combined staggering detail, energy, and forward-flow allied to a 3D stage that was large, deep, and transparent. The music it made was profound and life-affirming.
This is the quietest turntable I've ever heard. Silences weren't black—nonexistent. They were simply the empty space surrounding the musicians. Music reproduced via the Reference Jubilee became a reverential thing.
I pulled out my early '60s British Parlophone Beatles' pressings. The physicality and tonality of Ringo's drums, Paul's bass, Lennon and McCartney's harmonies, Harrison's bristling guitar tones, and the sense of the four Liverpudlians rocking hard in the cavernous Abbey Road Studio 2 was human, rich, real, riveting.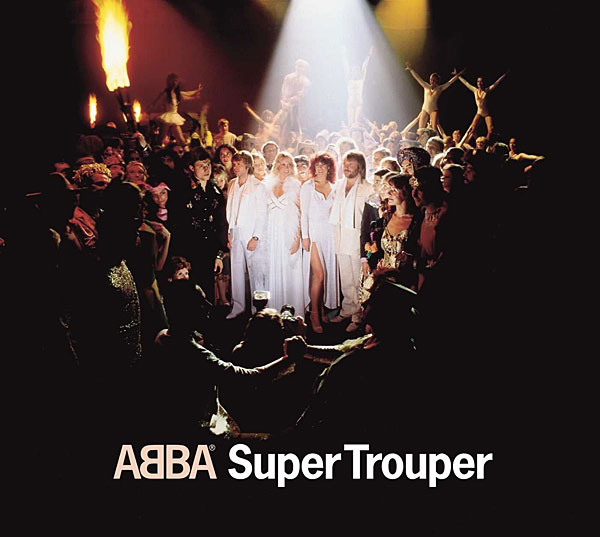 Dynamics were exhilarating. Tempos were steady, with plenty of PRaT. The presentation was not specifically warm. When I played ABBA's "Super Trouper," from the album of the same name (LP, Atlantic SD 16023), it sounded large and lush. The innovative electric bass of Mike Watkins was as fat, deep, and generous as I could have hoped for. Nearly everything played on the Reference Jubilee was lightning fast.
The Clearaudio portrayed music with lifelike scale on a large soundstage, but the characteristics that defined it, that most set it apart, were its concentrated drive, pacing, punch, visceral drama, and sonic density. Well-recorded music had flesh, blood, skin, hair, and authority, gelled into a whole.
I return to the idea of "sonic density," a phrase I first heard from my Stereophile brother-in-arms Herb Reichert. The Reference Jubilee created full, physical, breathing life forms in my listening room.
Playing a favorite record, Miles Davis's 1958 mono, Relaxin' with the Miles Davis Quintet (LP, Prestige PRLP 7129), the musicians were spooky, lurking in Rudy Van Gelder's studio. Seeming alive, but enhanced by vinyl's time-engraved presence, each individual breath and inner pulse was profoundly realized. Microdynamics yielded subtle changes of human pressure, from Miles's and Trane's lips on their horns to Paul Chambers's fingers on his bass's strings; Philly Joe's handling of sticks and Red Garland's touch on piano were real and natural, each small shift at once subtle and overwhelming. The Reference Jubilee turntable and Jubilee MC cart got me closer to Miles's Great Quintet's collective genius than I've ever been.
The Clearaudio didn't make bad recordings good. The 2012 release Melody's Echo Chamber (Fat Possum Records FP1279-1), by French musician Melody Prochet, is pleasing, hip, modern psychedelia. It was probably recorded on a laptop with plugins, though the drums sound real. The record has a nasty sheen like plastic stretched across your ears. Those plastic nasties were in full evidence through the Reference Jubilee.
But records I cherish proved even more cherishable. On well-recorded, musically expressive LPs, every subtle emotion was exposed. Returning to Relaxin', Miles's visceral trumpet, Trane's slurred tenor, and the tough, hardcore walking lines of Paul Chambers's acoustic bass pressurized my room physically and emotionally.
It was the same on records by Air, The Master Trio, and on Steely Dan's "Green Earrings" from The Royal Scam (ABC Records ABCD 931). As I listened to this album for the first time in 46 years, the Clearaudio revealed that Bernard "Pretty" Purdie laid his cutting snare drum two-and-four whack! slightly ahead of the beat while stamping his bass drum and tom figures dead center. Purdie's magic is what makes this music groove hard, in two directions. The Reference Jubilee expressed that magic in my room.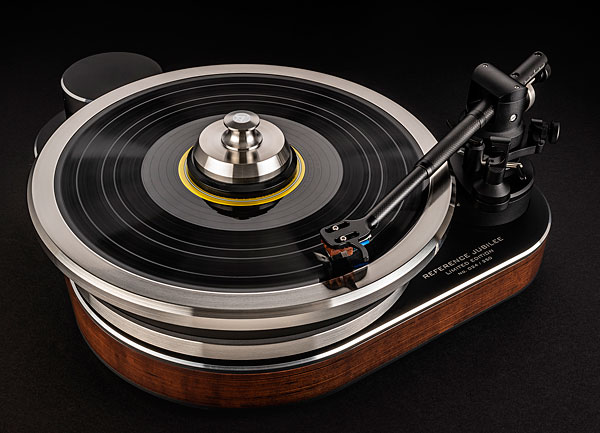 Conclusion
Who is the audience for this turntable, I asked Garth Leerer? "Any serious music lover or audiophile," he responded. "This is a final turntable. Obviously, at 30 grand, it's not cheap, but in the world of high-end turntables, it's in the more affordable category—right? There are turntables now from $50 to $500,000."
I say this turntable is for anyone who has ever laid vinyl to platter. Sure, the purchase may impoverish you, ruin your marriage, make your children stop talking to you, and cause your dog to disown you. But every time you spin a record on the Clearaudio Reference Jubilee, your joy will be complete. I promise