Rudresh Mahanthappa: The Time Is Now Page 2
The turning point came in 2005, when he again traveled to India, this time to Chennai, on a commission. He spent time with Kadri Gopalnath, who played Mahanthappa's instrument, the alto saxophone, but in a style that was decidedly non-Western. Gopalnath employed microtones derived from the Carnatic music of southern India. After Mahanthappa made another trip to India on a Guggenheim grant, he felt ready to record with Indian musicians. The result was
Kinsmen
, his collaboration with Gopalnath, released on Pi in 2008 to widespread astonishment and praise. Two dissimilar musical cultures, both prioritizing improvisation and energy, meet and commingle organically. Mahanthappa visits ragas and quarter tones, and Gopalnath visits bebop and the blues. They whip all these ingredients into wild eight- and four-bar exchanges and wailing, extended joint ventures.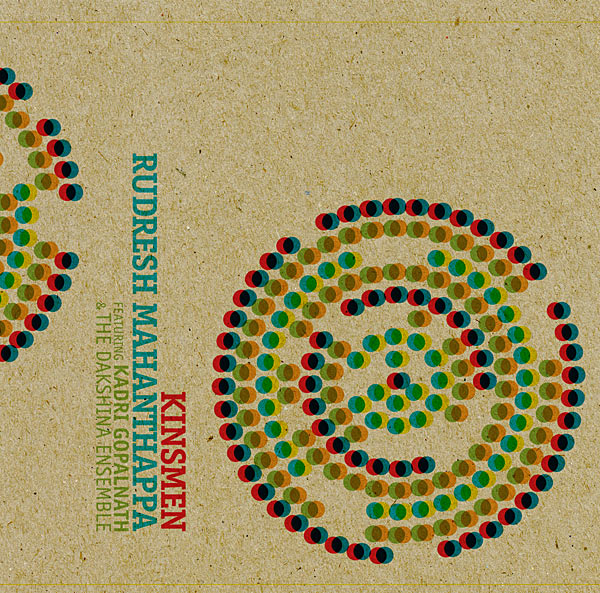 Kinsmen was important, but it was a one-off project. Around the same time, Mahanthappa formed another ensemble that drew deeply on his Indian heritage, a trio that continues to the present day. Indo-Pak Coalition is two Americans with roots in the Indian subcontinent (Mahanthappa and guitarist Rez Abbasi, born in Pakistan), and a third American, Dan Weiss, who studied for 20 years with tabla master Pandit Samir Chatterjee. Their album Apti (Innova, 2009) expanded upon the cross-cultural explorations of Kinsmen. (They released a second album, Agrima, in 2017, available as a digital download or double LP from Mahanthappa's website (rudreshm.com) and from HDtracks.com.)
Mahanthappa has said that the Indian aspects of these projects are now "all part of my musical DNA." He may have come late to it, by a circuitous route, but he got there. Another part of his DNA that he was late to access was American Songbook standards and the pop music of his youth. He says, "There was a part of me that always wanted to record standards. But when I was younger, I guess I had a certain agenda, certain ideas and energies that I wanted to get out there in the world. I didn't want to be just one more saxophone player doing 'Now's the Time' [Charlie Parker's bebop classic]. I felt like I had a perspective that would not come across effectively if I played 'I'll Remember April.'"
It took Mahanthappa a long time to record with Indian musicians, and it took him even longer to record "I'll Remember April." But there it is, the seventh track on Hero Trio. When you hear it now, it is unclear why he had once feared that such a song would not allow his "perspective" to "come across effectively." The perspective on "I'll Remember April" is radical and personal. It opens with a commanding bass announcement from Franáois Moutin and violent drum detonations from Rudy Royston. Then Mahanthappa fires quick blasts that soon run together into long spilling arcs. It is a rush when Gene de Paul's time-honored melody clarifies out of abstraction. Mahanthappa hits "I'll Remember April" hard then spins off it for free, blistering runs, then returns to the song with fervent embellishments.
In our present jazz era, it is common for albums, especially those by younger musicians, to contain all or mostly all originals. But skilled players far outnumber gifted composers. Mahanthappa analyzes the problem this way: "A lot of new players today are coming out of academic settings. There is a kind of unspoken checklist of things you're supposed to do. One is compose. Everyone puts 'composer' in their title now." Mahanthappa's exclusive preference for recording original music was understandable in his first 15 albums. He was defending a unique aesthetic position, and he was an accomplished composer. But Hero Trio opens new vistas. It turns out that "I'll Remember April" does not limit jazz creativity. The opposite is true: The song provides a base pattern embedded within Mahanthappa's own vast design. He can glance off the form, using it as a touchpoint, a known frame of reference, one resonant with historical associations.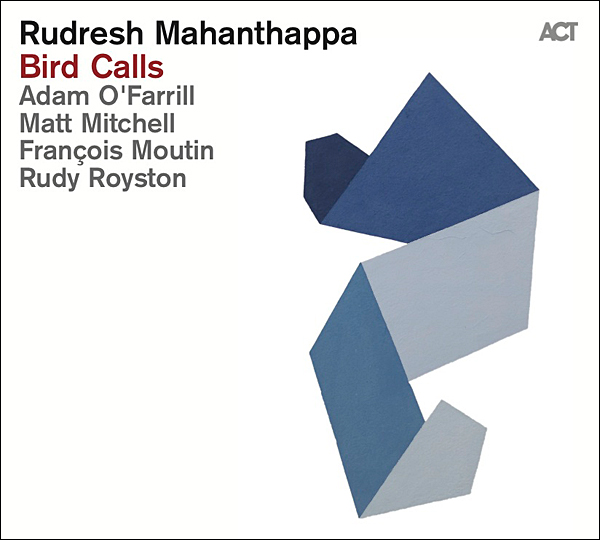 The other covers (if "covers" is the term for such unbridled acts) also lead to inspirations of memory. "Ring of Fire," with a new beat in the third measure, is the most surprising choice, but Mahanthappa says Johnny Cash was vital to his childhood. Charlie Parker was vital from his adolescence onward. He made a widely praised Parker tribute in 2015, Bird Calls, on the ACT label, but at that time he was still committed to recording his own material. Bird Calls has music motivated by, not composed by, Parker. The decision to record three Bird tunes on Hero Trio is significant. (Besides "Red Cross," the others are "Barbados" and "Dewey Square.") Mahanthappa burns these iconic themes into the air then repurposes them in his own vivid timbre and energy. Perhaps the piece that is most literally a cover is Ornette Coleman's great lament, "Sadness." Mahanthappa's version is faithful, concise, and passionate.
Mahanthappa has played with Moutin in various settings for more than 20 years. His association with Royston goes back to 1991, in Colorado. But until the new album, they had never played together as a trio. The saxophone trio with bass and drums is one of the foundational formats in jazz. Trios led by Sonny Rollins, Ornette Coleman, Joe Henderson, Joe Lovano (and, more recently, J.D. Allen) are important examples. Mahanthappa, with a few brief, minor exceptions, has bypassed the format—until now.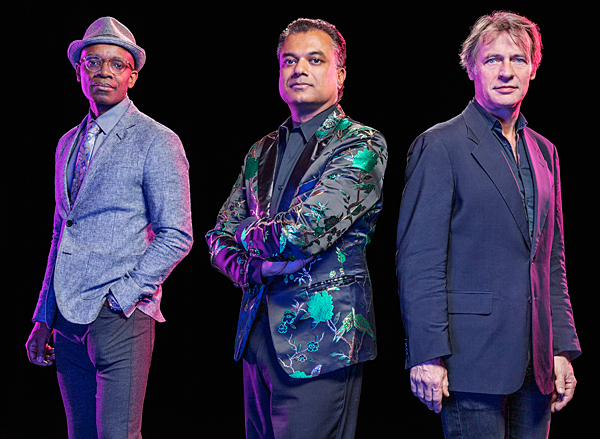 Moutin and Royston are extraordinary on Hero Trio. Their aggression establishes drama, even before Mahanthappa enters. Moutin reminds you of David Izenzon with Ornette Coleman. Izenzon was the first bassist who proved that it was not only okay, it was levitational, for a bassist to play so many notes, to become a semi-autonomous whirlwind of energy within a jazz ensemble. Mahanthappa says, "I always wanted to make a classic saxophone trio record. And I always wanted to make an album of music that was not my own. I realized that now was the time, for both. François and Rudy and I are so connected. Anything you play with them sounds fresh."
He explains how, in live performance, the three of them developed a system of cues: "I play a melodic figure that cues a particular bass line, a certain groove. And the idea is that we can vibe on that for a while and then I'll start playing a tune, a standard, and everybody will kind of fall in. Then I'll cue another bass line. Let's say I have six or seven of these cues. You can play a whole set of standards that are bridged together by these grooves. It works really well live. It's very organized but it sounds sort of stream-of-consciousness. It puts an original light on standards. The challenge with this album was, 'How do you capture that spontaneous thing that happens live on a studio recording, a five-minute track?'"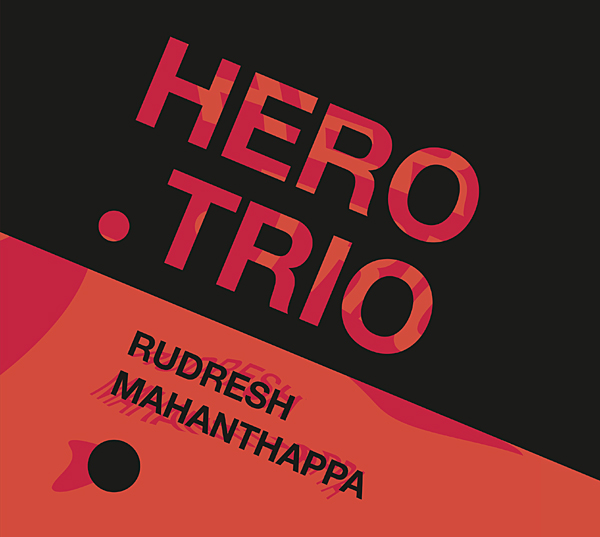 "I Can't Get Started" shows how the trio meets this challenge. A quick melodic flourish from Mahanthappa, repeated twice, indeed cues a groove, an ominous, slow ostinato from Moutin. Then Mahanthappa floats in over the groove. He is playing the alto saxophone, but the sound comes from so far east of Boulder that he might be playing the double-reed shehnai of India. His wavering, hypnotic lines suggest distant ancient ceremonies and processionals. A song by Ira Gershwin and Vernon Duke is transformed. The transformation could only be imagined by someone who grew up in the presence of the American Songbook, was sent on a mission by Charlie Parker, ventured outside of Parker, then returned to where he started, on a passage that included a stop at an all-night concert in Bangalore.
"I Can't Get Started" is the closing of a circle. Ideally, it would have been a live album. (Surprisingly, Mahanthappa has never made one.) He says, "The original plan was to play a club somewhere for maybe four nights and record everything and then figure out what the record should be." For various practical and logistical reasons, the plan was abandoned. Hero Trio was recorded by engineer David Amlen at Sound on Sound Studios in Montclair, New Jersey, within long walking distance of Mahanthappa's home. The upside (as is often the case when weighing the pros and cons of live vs studio recordings) is the sound. Sonically, the album is dynamic and visceral. You are close enough to Mahanthappa's alto saxophone to reach out and touch it. The mix by Liberty Ellman brings the bass and drums far forward—appropriate given the centrality of Moutin and Royston to this trio's impact.
You can't talk to a jazz musician in mid-2020 without inquiring about how the global pandemic has affected their life and work. Mahanthappa says, "This was supposed to be a big touring year for me. I had some major stuff lined up, including a long tour with a project for the Charlie Parker centennial." (It involved an all-star band co-led with Terri Lyne Carrington and was called "Fly Higher: Charlie Parker @ 100.") "Of course, everything got cancelled. But I'm doing okay. I've been teaching at Princeton for four years now, so I'm less dependent on income from touring. My wife is a therapist, and she has been able to do that from home, by Zoom or whatever. Her field is actually one that ramps up in times like these. I'm more concerned for all my good friends and colleagues who rely mostly on performing. I'm glad that a lot of organizations have mobilized to help."
When told that many musicians report an unprecedented availability of practice time while sheltering in place, he speculates, "They must not have young children." (He has a son and a daughter, ages 7 and 4.)
"I imagine the trio will probably do a bunch of touring to support the new album in 2021." We can only hope.