Paradigm Reference Studio 20 v5 loudspeaker Page 2
The recording that best illustrated the Paradigm's midrange and HF harmonic integrity was "My Funny Valentine," from trumpeter Don Ellis's
Out of Nowhere
(CD, Candid 29032). The integration of the harmonic and dynamic envelopes across the trumpet's range created the most startlingly lifelike reproduction of the instrument's sound that I'd ever heard in my listening room. While the recording was playing, my 11-year-old daughter's best friend, who has heard many expensive speakers in my listening room, entered the room to exclaim, "Wow, those are great speakers!" Ultimately, I found the recording frustrating—the Paradigms excelled at revealing ambience, and
Out of Nowhere
has none. It didn't sound as if a trumpet was being played in a room—there was no room sound at all. A lesser speaker would not have revealed that.
At the lower end of the audioband, I particularly liked how the Paradigm reproduced solo double bass, whether Ed Schuller's opening solo on pianist Anat Fort's A Long Story (CD, ECM 1994), or the many solos Dave Holland intersperses throughout his Extensions (CD, ECM 1410). Both basses sounded woody, warm, and fast. As for electronic bass, my acid test is the rapidly ascending and descending bass-synthesizer lines in Spaceship, from Philip Glass's Einstein on the Beach, in the recording by Michael Riesman and the Philip Glass Ensemble (CD, Nonesuch 79323-2). Through the Reference 20 each note was clear, clean, warm, and thundering, with no trace of overhang or blurring.
The Paradigm passed the Lady Gaga test for high-level dynamics with flying colors. It was very easy to analyze the sophisticated envelope and filter patches of the driving bass synth in "Government Hooker," from Born This Way (CD, Streamline B001573-092), even as the speakers strainlessly pushed 98dB out into my large listening room. And when I played "Vrooom," from King Crimson's Thrak (CD, Discipline 41323 2), at similar volumes, I found it easy to differentiate between the lines of Tony Levin's Chapman Stick and Trey Gunn's electric bass, even though they're in the same register and have similar timbres. The only coloration I heard was a slight thickness in the Paradigm's upper bass that reared its head with rock recordings that have a prominently mixed bass guitar, or a bass drum with a lot of energy in that region. However, I didn't notice it at all with acoustic jazz or classical recordings—and even when it did appear, it didn't detract from the musical experience.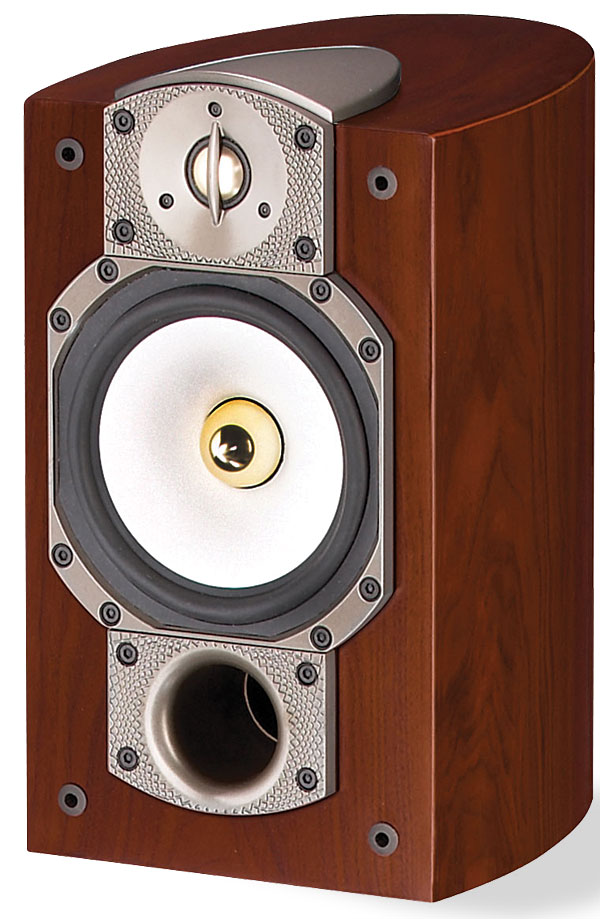 The coherent transient integrity of the Studio 20 gave jazz and rock recordings with a lot of percussive motion a sense of natural groove or togetherness. As I listened to "Song of the Morrow," from Colin Walcott's Grazing Dreams (CD, ECM 1742), his sitar was biting, with extended harmonics, perfect transients, and linear and continuous low-level dynamics. But I primarily focused on the other members of Walcott's group. From my notes: "The perfect interplay of Dom Um Romao's delicate percussion overlaying Palle Danielsson's warm bass foundation created a coherent, singular instrumental entity." Moreover, the speaker's near-perfect articulation of rapid transients mated well with modern chamber music. Louis Andriessen's Worker's Union, from Bang on a Can's Gigantic Dancing Human Machine (CD, Cantaloupe 21012), features the rapid-fire, hocketing-like interplay of various subsets of the chamber group. The Studio 20 v5s preserved all timbres, with no blurring or overhang.
I eased into a late-night listening session with my friend Mark Flynn, the drummer of my jazz quartet, Attention Screen, to share some wine and turn him on to some music and good sound. I cued up "Fruit Forward," from Attention Screen's Live at Merkin Hall (CD, Stereophile STPH018-2). As soon as the first note of bassist Chris Jones's opening solo sounded, Flynn said, "Jonesy!" His lifelong friend and musical collaborator's signature bass timbre and phrasing were obvious before the second note had sounded: Jonesy was with us in my living room. One reason for Mark's visit was so that I could give him his turntable-warming present (with his purchase of a new Music Hall turntable, Mark has only recently joined the vinyl regime): an original pressing of the New Tony Williams Lifetime's Believe It (LP, Columbia PC 33836). Williams was Mark's mentor; I didn't show him the album cover, but at the first three notes of bassist Tony Newton's "Snake Oil," his eyes beamed, and a big smile stretched across his face. During an interlude in which Williams plays a rhythmic solo over Alan Pasqua's clavinet vamp, the Paradigms let the drummer's entire kit explode with thundering, detailed, delicate shadings without any blurring or smear, and at a fairly high volume level. These can't be bookshelf speakers, I thought.
We ended the evening by cracking open a sealed copy of my favorite classical work, George Crumb's Makrokosmos III: Music for a Summer Evening (LP, Nonesuch 71311), for two amplified pianos and two percussionists. We listened to the third and fourth movements in the dark. Each delicate, crystalline percussive nuance of the four performers emerged from ambient blackness on a wide, deep stage; and in the final movement's boisterous climax, the dramatic envelope of the ensemble sent chills up and down my spine.
Comparisons
I compared the Paradigm Reference Studio 20 v5 ($1398) with the Epos M5i ($899), the Monitor Audio RS6 Silver ($1200 when last available), and the Dynaudio Excite X12 ($1200). (All prices per pair.)
The Epos M5i sounded a bit thinner than the Paradigm in the lower midrange, but had excellent detail and ambience in the midrange and highs. However, the Paradigm was more refined, revealing more subtle details of microdynamics. Through the Epos, high frequencies were also a bit more ragged; the midbass, although very clean, wasn't as deep, and high-level dynamics weren't as dramatic.
The Dynaudio Excite X12 had a warmer midbass than either the Paradigm or the Epos, but also a detailed and ambient midrange. The Excite X12's highs, however, were silkier and more laid-back than the Studio 20's—but the Paradigm had superior dynamics at both ends of the audioband.
The Monitor Audio RS6 Silver had a detailed midrange and extended high frequencies, but its highs, especially sibilants, were more prominent than the Paradigm's. However, the RS6's mid- and lower bass were the best of the group in terms of clarity, extension, and dynamic slam.
Summing Up
Whenever I listen to a revision of a Paradigm speaker I'm already familiar with, I expect to hear an improvement, but one more evolutionary than revolutionary. With the v5 iteration of its Reference Studio 20, Paradigm has surprised me. This detailed, dynamic bookshelf model has a naturally coherent integration of the midrange and high frequencies that I found intoxicating—it may have set a new benchmark at its price for stand-mounted speakers. I enjoyed my revealing and involving listening sessions with these speakers, and was reluctant to disconnect them and start my next review. They touched me that much.