Louis Armstrong: A Man and His Horn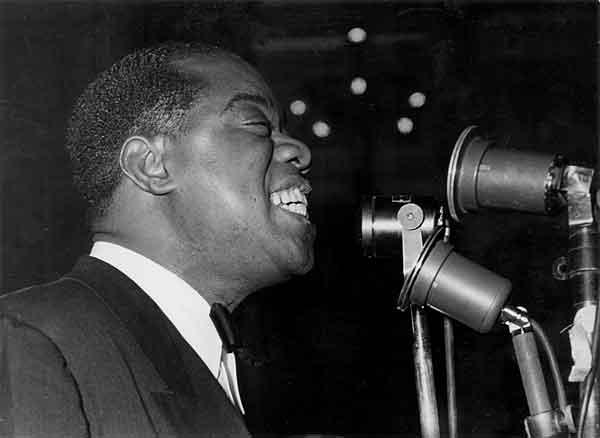 He was a victim of his own success. From 1925 to 1929, when he was in his mid-20s, Louis Armstrong changed the world of jazz music forever with his Hot Five and Hot Seven recordings, and his solos in tunes like "Cornet Chop Suey," "Potato Head Blues," and "West End Blues." Almost immediately, however, he was faced with a question: Now what?
Like all great artists, Armstrong was immediately and forever asked to outdo his own masterpieces, to top himself creatively. No artist in any medium, including the Beatles, can stay on the cutting edge forever. For Pops, who moved the needle early, there was nowhere to go but . . .
The first answer was to front a big band. But after WWII, keeping a big band on the road became a losing economic proposition. Also, jazz was changing, as what came to be known as bebop, and stars like Charlie Parker, gained influence and paying customers. But bebop was not the only stream of the music to return to the small-ensemble format. In 1947, in a story recounted in Ricky Riccardi's excellent liner notes for Columbia and RCA Victor Live Recordings of Louis Armstrong and the All Stars, a new, limited-edition, nine-CD set from Mosaic Records, publicist Ernie Anderson got Armstrong's manager, the notoriously tough Joe Glaser, to agree to book Armstrong and a small group into Town Hall. Louis Armstrong's All Stars, his second great small ensemble, was born.
The Mosaic set (not available as high-resolution downloads) was assembled with that reissue label's usual care and attention to detail in both the sound and the packaging. Perhaps best of all, it gives the listener the unusual perspective of being the band's every-night, front-of-house sound guy. Within 11 years, from that date at Town Hall and a previously unreleased Carnegie Hall show, both from 1947, through shows at the Concertgebouw in Amsterdam (1955), the Vieux Colombier Club in Paris (1955), a late-night session in Milan (1955), and work at the Columbia Records Studios in Los Angeles (1956), where some of Armstrong's "live" recordings were made, to the Medina Temple show (previously released as The Great Chicago Concert 1956) and Armstrong's appearances at the Newport Jazz Festivals of 1956 and 1958, you're able to hear his band develop and change. (Mosaic is also offering the Newport sets on a separate set of four LPs pressed at RTI, in Camarillo, California.)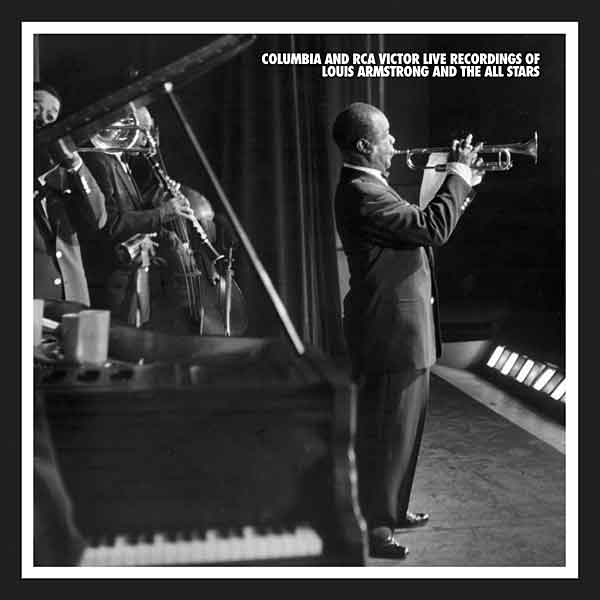 According to co-producer Scott Wenzel, the earliest recordings in this set, the Town Hall and Carnegie Hall shows, had sonic problems. "The Town Hall show came from French RCA, who had dubbed the acetates onto tape and, in the early '80s, used them for a release that came out on their Jazz Tribune series. We used the master tape made for that record.
"The Carnegie Hall show had been mislabeled as 'Satchmo at Symphony Hall,' and so it layed dormant in the vaults there for years," Wenzel says. "At one point during the show, [trombonist] Jack Teagarden says, 'We are swinging it here at Symphony Hall,' so that may have been where the problem started. Being from December 1947, it's all on acetates. In 1952, whoever was working at RCA Victor lovingly transferred these discs to ¼" tape. My sense is that they were trying to find an LP's worth of material, but it never happened.
"It did need a lot of work. Andreas Meyer, our engineer, as we were transferring the tape, either old edits would pop out, or the tape would break and he'd have to splice it back in again. There were things on both shows from '47 that could not be salvaged, either because they were only half performances or there was something drastically wrong with the sound. All of that is noted in the discography that's included in the book; if a track is listed as 'unissued' in italic type, that means it exists but could not be used."
The musical treasures in the Carnegie Hall set are many. "Big" Sid Catlett's drum solo in "Steak Face" (disc 2, track 9) shows how rhythmically vital the All Stars were from the beginning. Clarinetist Barney Bigard's performance in the standard "Body and Soul" (disc 2, track 7) is breathtaking.
The sound quality of much of the material recorded after the two 1947 shows improves dramatically. These later sessions were recorded and produced by the great George Avakian, a longtime Armstrong friend whose library of recordings now resides at the New York Public Library. Avakian was famously not a believer in releasing live albums warts and all. Some of Armstrong's best-loved albums, such as Ambassador Satch and Satchmo the Great, are products of live recordings, Avakian's splicing and after-the-fact studio recording.
"George was a master at editing, and he did not like bass solos," Wenzel says. "He took out a lot of [All Stars bassist] Arvell Shaw's solos, but we were able to find them. Some of his solos had been taken off the original tapes and put on separate reels, and Andreas had to match them up again. George's attitude was 'Live, schmive!' He wanted it to sound good. He wanted to have something that was presentable, and in many cases he had to go back into the studio. There's a lot of things that he did at the Los Angeles studio, Columbia Studios, where [on the tape] he says, either to the engineer or Louie, 'Now don't forget, we're in Italy now, man.'"
After the thrill of hearing the band's development over the years, the biggest draw of the Columbia and RCA Victor Live Recordings is that, of a total of 163 tracks, a whopping 75 are released here for the first time. With this much new material, the hope, of course, is that a previously unheard gem or two pops out, and on that point, this mountain of live Armstrong does not disappoint. Although a number of rehearsal tracks recorded with Leonard Bernstein and the New York Philharmonic in July 1956, at the now-demolished Lewisohn Stadium, in New York City, are fascinating, it's an after-hours show in Milan on December 20, 1955, at the Teatro Leonardo da Vinci—a mix of previously released and unreleased tracks, all supervised by Avakian—that is particularly inspired, the tempos running at least a step ahead of the usual gait.
The three instrumental takes of "Tiger Rag" are almost comical, they're played at so breathless a pace. On all three, drummer Barrett Deems is like Gene Krupa with his finger in a wall socket, and on this greatest of all jazz crowd pleasers, Trummy Young's famous trombone slur, which begins every verse, is so forceful it almost breaks your neck. The take of "Royal Garden Blues" from this show features what has to be called the All Stars lineup of Pops's All Stars: clarinetist Edmond Hall, pianist Billy Kyle, and Young, Shaw, and Deems. This entire session was recorded beginning at 1am, after the show for the public, and the sextet, missing singer Velma Middleton, were emphatically all on the same page, pulling together in a fast, crazily swinging, immensely fun take on an old Armstrong chestnut that blows away the three other versions (two from 1947, one from 1956) heard on this set.