Jadis Orchestra Reference Mk.II integrated amplifier Page 2
One evening, I armed myself with a few good recordings—including Robert Silverman's CD of Rachmaninoff's Piano Sonatas 1 and 2 (
Stereophile STPH019-2
), and Sir Adrian Boult and the New Philharmonia's spectacular performance of Vaughan Williams's Symphony 4 (LP, EMI ASD 2375)—and sat down to determine whether or not the Orchestra Reference inverted signal polarity. Repeatedly, I listened for a short time, then got up from my chair and swapped red for black on both channels, then sat back down and listened some more—yet every time I got up to make the change, those bastard musicians would immediately play louder or softer than they had while I was seated. After nearly an hour of this nonsense, I formed the impression that God was mocking me for wasting my time, and I abandoned the chore. I'd gotten the impression that the Orchestra Reference does
not
invert absolute polarity, but I don't really know. Ask John Atkinson.
Listening
My first impression, gathered while driving the Orchestra Reference's auxiliary inputs with Shindo Laboratory's Aurieges Equalizer Amplifier (ie, phono preamp) and using the Jadis to drive my very sensitive Altec Valencia speakers, was that this humblest Jadis integrated sounded a lot like the Jadis I-35. The sounds of both amps were characterized by a full but reasonably explicit bottom, a richly colorful midrange, and a sense of grand spatial scale. More important, both displayed reasonably good musical drive and excellent musical timing: When I used the less-expensive Jadis to play the title song of Procol Harum's Broken Barricades (LP, Chrysalis ILPS 9158), I was impressed by how well it portrayed Gary Brooker's nuanced phrasing as he sang "the presses are empty / the editors, torn," and by the manner in which the Jadis put across the always-scintillating drumming of the late B.J. Wilson. And on a fine new reissue of the LaSalle Quartet's recording of Beethoven's String Quartet 15, Op.132 (LP, Deutsche Grammophon/Speakers Corner 2530 728), the realistically sweet timbres left me with the aural equivalent of a sugar high—yet not an overdose.
But the sound of the Jadis was more than a mere tone feast. Just a few bars into the first movement of the Beethoven quartet, the Orchestra Reference made no secret of its dynamic expressiveness, owing to an apparently greater transient speed than I recall hearing from its more expensive stablemate. And the steady, stately way in which the Orchestra played the melody and chorale-like harmonies of the Molto adagio was further testament to its superb musical timing.
The Orchestra Reference's take on Eric Dolphy's Out to Lunch (two 45rpm LPs, Blue Note/Music Matters ST-84163) was no less engaging. First and foremost, the amp's musical performance was flawless: Each of the five selections on this beautiful, challenging album unfolded with good momentum and clarity of pitch and timing—the timing especially critical to performances such as these, in which multiple rhythmic streams sometimes flow past the listener's ears at the same time. With this record it also seemed that the Orchestra Reference had a fuller, weightier bass range than the more expensive I-35: Tony Williams's floor tom had excellent power and body in the angular "Straight Up and Down," and the same could be said of Richard Davis's double bass, although the sound of the latter left me wishing for greater clarity and, even more so, a little more texture.
Similarly, the Orchestra Reference allowed Ron Carter's double bass to be the real star of Gerry Mulligan and Chet Baker's Carnegie Hall Concert, produced by Creed Taylor (CD, CBS ZK 40689). Especially in the extended take on "My Funny Valentine," Carter's pitch, pacing, and tone were taken to their apparent limits by the Jadis, which rose to the occasion with equal measures of control, weight, and beauty. Again, I wished for a bit more texture, a little more string and wood—qualities that aren't lacking in my EL34-powered reference amps, the Shindo Corton-Charlemagne monoblocks, or in other low-power EL34 amplifiers of my acquaintance. Those impressions endured throughout Mulligan's baritone-sax solo: The Jadis was musically nimble, easily following his counterpoint to Baker's distinctly full-bodied trumpet solo. The sound of Mulligan's horn was sufficient in texture, but only just so; I admit to a fondness for excess in that department, and I left the table very slightly hungry.
Strangely or not, the Jadis also directed my attention to the bass lines—electric this time—that Gerard Love plays throughout Teenage Fanclub's wonderful Songs from Northern Britain (CD, Creation/Columbia CK 68202). Don't get me wrong—the Orchestra Reference wasn't bass heavy in the least; it was about as perfectly balanced an amp as I've ever heard, and did a consistently good job of letting Norman Blake's crisp/chunky/jangly guitar sound crisp/chunky/jangly. In the extreme.
Throughout those recordings and others, the impression endured of the Orchestra Reference Mk.II sounding appropriately full and weighty—qualities that didn't come at the expense of its treble range, which was satisfying but nonfatiguing with well-made recordings. When the Jadis was asked to play something overly bright—eg, the bluegrass chestnut "Sawing on the Strings," from The David Grisman Rounder Album (LP, Rounder 0069, footnote 2)—it gave an honest but not ruthless account of overcrisp sibilants and zingy note attacks, while still providing decent amounts of timbral flesh and blood. And the Orchestra's musical strengths endured: It nailed how Todd Phillips's double bass propels this performance and serves as the melodic and harmonic anchor for every fast-arriving chord change. Thus the Orchestra Reference was exposed as no mere euphonic happy-lens: It let me hear the technical flaws in this recording, even as it let me enjoy it. A nice trick.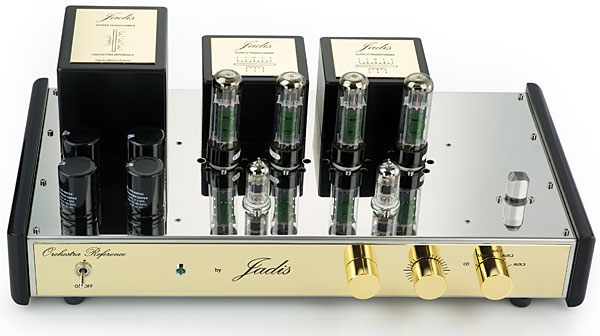 One Saturday morning, while still using the Jadis to power my Altec Valencias, I was compelled to play "21st Century Schizoid Man," from King Crimson's In the Court of the Crimson King (CD, Discipline Global DGM0501), at a mildly excessive volume level. The results were enjoyable, and I was again impressed by the Orchestra Reference's colorful way with timbres both acoustic and electric. But although its sound contained a good helping of drive and momentum in the temporal sense, that combination of speakers and amp seemed to lack a measure of sheer oomph. I switched over to my DeVore Fidelity Orangutan O/96 speakers and found that, perhaps counterintuitively, this combination produced a more powerful sound overall. Through the Jadis-DeVore combo, there was less contrast, less sculptural "relief," in the texture of Ian McDonald's sax, and Greg Lake's electric-bass lines didn't turn on quite so small a dime. But in virtually every other respect this combination was superior, and even seemed to allow the chaotic ending a greater increase in loudness than had the Altecs. For whatever reason, the slightly less sensitive DeVores allowed the Jadis to work more effectively and efficiently, to the pairing's sonic and musical advantage.
The combination of Jadis amp and DeVore speakers was also capable of far subtler dynamic contrasts—distinctions resolved sufficiently well that no more than two or three revolutions of the record were required to hear the greater levels of nuance in the late Claudio Abbado's 1969 recording, with the Vienna Philharmonic, of the Haas edition of the 1877 version of Bruckner's Symphony 1 (LP, London CS 6706), as compared with another Bruckner 1 in my collection: It was a contrast between incandescence and indifference. Throughout the Abbado recording, the Jadis reminded me of its beautifully realistic timbral colors—the oboes and flutes in the Adagio were exquisite—and of its generally excellent sense of forward momentum. Its performance with this record was also typical of the Orchestra Reference's spatial character in general: Those woodwinds weren't set quite as far back as through other amps—including what I recall of the Jadis I-35—which indicated a good but not exceptional degree of imaging depth. By the same token, center-fill information wasn't as present or as finely focused as with the most spatially accomplished electronics. But the Orchestra Reference's sense of scale was, as suggested earlier, very satisfying overall, with the ability to sound big without sounding merely puffy.
Conclusions
Though identifiably tubey in a very good way, the Jadis Orchestra Reference Mk.II didn't press all of my EL34 buttons. The amp's sound was richly colorful and beautifully balanced, with very good musical drive, but a little short on the glorious (some might say excessive) texture I hear from my very favorite EL34-based power amps: that almost stringy quality the breed brings to small-scale classical and jazz recordings in particular. Yet the Jadis wasn't completely lacking in that department. In the long run, I could live with the Orchestra Reference Mk.II quite happily, especially given a great phono preamp to use with it.
I started near the bottom and worked my way down. It sounds like a stray lyric from a song by the Replacements, but it's an accurate if not terribly clever assessment of my history with the product line of Jadis S.A.R.L. of Villedubert, France. For me to continue on this trajectory, Jadis will have to come out with something—a phono preamp, maybe?—that offers even greater value for the dollar (or euro).
That would not be easy; for a (mostly) tubed integrated amplifier of this performance level to sell for under $5000 is noteworthy. Unsurprisingly, much of the Orchestra Reference's direct competition would seem to be Asian, perhaps the most noteworthy example being the Line Magnetic LM-518IA integrated ($4450), reviewed by Herb Reichert in the October 2015 Stereophile. I lack the opportunity for a direct comparison, but that doesn't prevent me from remarking on the joys of being blessed with such good choices.
Do try them all—but rest assured that the Jadis Orchestra Reference Mk.II is extremely unlikely to disappoint the music-loving, tone-loving audiophile who owns a pair of reasonably sensitive, easy-to-drive loudspeakers. Strongly recommended.
---
Footnote 2: A pity that Grisman's only less-than-good-sounding album is musically one of his very best!