Harbeth Monitor 30.2 40th Anniversary Edition loudspeaker
Everything sounds like what it's made of.
I'm known for saying that, and to me, it's obvious: box speakers with dome tweeters sound like box speakers with dome tweeters. I can hear their tweeters calling to me when I'm in the next room, making a phone call. I can hear their boxes hissing and groaning even after I turn off the stereo. Many a day, I think Edgar Villchur, inventor of the acoustic-suspension loudspeaker and the dome tweeter, ruined audio, and that audiophiles will never stop denying how artificially colored the sounds of domes and cones in boxes really are.
One person I think might agree with this view is Alan Shaw, Managing Director—he took over from founder Dudley Harwood— and chief engineer of Harbeth Loudspeakers, in West Sussex, England. I believe that Shaw will understand, because he singlehandedly fashions speakers that, despite their emphatic old-school, boxy look, sound less like cones and domes in boxes than any others I know.
I have long respected Harbeth speakers for their natural, uncolored sound, but this was my first opportunity to study closely the model I most admire: their biggest two-way speaker, the Monitor 30.2 40th Anniversary Edition ($6495/pair).
First days
Listening to Guo Ya-zhi and his small orchestra on their Sorrow of the River (CD, M•A Recordings M074A), I noticed how enormous and powerful the large drum sounded. My mind's eye noted the color of its skin and measured its diameter. I heard the drum's energy emanating in waves that exposed the volume of the recording venue. I perceived the flow and force of air moving through the suona (a Chinese double-reeded horn), and the speech-like utterances of the guzheng (a Chinese zither). I was pleased by how explicitly each instrument was described. Ya-zhi's music made me happy—only his notes were sorrowful.
I noticed a text from my friend Sphere: "Have you removed the grillecloths from the Harbeths?" Then another: "You must! Strong bass makes the 30.2s' logos rattle against the enclosure." I texted back: "You're kidding me—right?"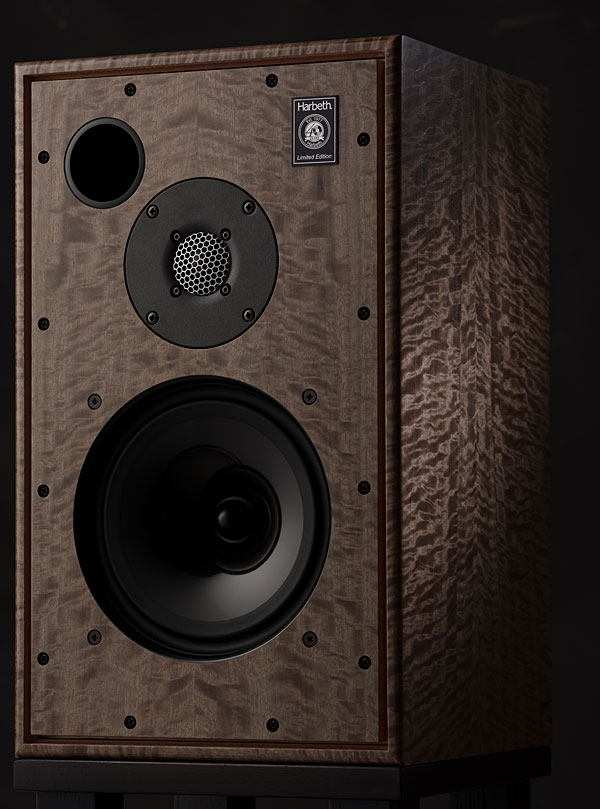 Amused, I restarted the first track of Sorrow of the River and watched closely. The sound of the large drum shook the logo on the grille. It didn't rattle, but its wiggling made it shimmer in my bunker's dim light.
When I tried to remove a grille, it wouldn't just pop off: Its metal frame was fitted tightly into deep grooves between the baffle and the front edges of the speaker's side panels. After a futile struggle, I grabbed the fabric with my fingers and pulled. Both grilles came off. I listened again. The music I'd just enjoyed now sounded not only different, but a little discomforting. Nonetheless, I continued listening with the grilles off for a few days. Then, still frustrated with what I was hearing, I wrote to Alan Shaw: "What's up with your grilles?" I told him I thought the M30.2s sounded better sorted and more balanced with the grilles on. "Am I bonkers?"
Shaw's reply was interesting: "We recommend that the grille remain fitted during the life of the speaker and so, obviously, I've taken the grilles' effect into account. If you listen with them off, then you will hear about 0.5dB more 'tweet' and a rather different type of bass, because the bass tuning will have been altered by a couple of dBs or more. You may, of course, like that, but it's not a condition I can comment on as I did not design the speakers that way."
From that day forward, I left the Monitor 30.2s' grilles on. I listened to them in the nearfield as they sat on 24"-high TonTräger stands about 3' from the front wall, 6' apart, and 6' from my listening position, toed-in to directly face me, their tweeters precisely at the level of my ears. In those positions, the dual-mono pink noise from John Atkinson's Editor's Choice (CD, Stereophile STPH016-2) sat solidly between the Harbeths like Yosemite's El Capitan. Dispersion was good in both the horizontal and vertical planes. Casual listening revealed no cabinet or port noises; however, when I played the warble tones on Editor's Choice and laid my hands on one speaker's side panels, I felt only a moderate pulse in the 200–250Hz range. But strangely, sitting with my head less than 18" from the port in the upper left corner of the speaker's front baffle, I heard a distinct drop in energy between 80 and 100Hz, followed by a rise at 63Hz.
Description
Harbeth Audio's website explains that the Monitor 30.2 40th Anniversary Edition is an electrical and cosmetic refinement of their Monitor 30.1 ($5499/pair and up, depending on finish), which remains in production and is itself an update of the original Monitor 30, described by Harbeth as "a refinement of the classic BBC LS5/9 loudspeaker." The Monitor 30.2 40th Anniversary Edition is upgraded with WBT NextGen binding posts, British-made polypropylene crossover capacitors, and what Harbeth describes as "40th Anniversary ultra-pure OFC internal cable." Visible differences include a restyled tweeter grille, front and rear badges proclaiming limited-edition status, and its exclusive Silver Eucalyptus veneer.
The Monitor 30.2 is a well-crafted, elegantly proportioned speaker with a ported cabinet. Hidden behind the speaker's fabric grille is a 7.9" bass-midrange drive-unit with a cone made of Harbeth's proprietary Radial2 polymer, and, under a layer of Harbeth's new protective gauze, a 1" soft-dome, ferro-cooled tweeter from SEAS. The braced and damped cabinet is made of thin layers of MDF. The Monitor 30.2 measures 18.1" tall by 10.9" wide by 10.8" deep and weighs 25.6 lbs. The speaker's specifications include a frequency response of 50Hz–20kHz, ±3dB, a nominal impedance of 6 ohms, and a sensitivity of 85dB/W/m.
Listening
It was one of those late fall days when 5pm feels like 9pm. I was visiting an old friend who had a new shiny expensive hi-fi. He drank single-malt. I drank strong coffee as he played three well-known audiophile LPs that, in a blind test, I would have sworn were high-resolution digital files. All three sounded the same: instruments and voices had a pure but surreally glowing ghostliness, like the look of the hologram of Elvis in Blade Runner 2049. The music felt mechanical. Bloodless.
I told my friend the sound was amazing.
Back home, I poured hot cider, turned the lights way down, and put on the title track of Miles Davis's Bitches Brew (2 LPs, Columbia CS 9995). The shiniest components in the room were the Silver Eucalyptus–veneered Harbeth M30.2s. My AMG turntable and Koetsu cartridge were barely visible in the darkness. The PrimaLuna ProLogue Premium amplifier and preamplifier were silhouettes displaying forests of radiant tubes. Miles, too, was a silhouette, 5' tall, his trumpet flashing rays of brass-colored light. Miles and his electric band felt tangibly there—unlike those ashen phantoms from my old friend's shiny new system.
After Bitches Brew I played Clifton Chenier's Black Snake Blues (LP, Arhoolie 1038) and was surprised—it seemed that Chenier and his Cajun band were trying to generate the same type of musical energy field as Miles and his fusion band. More remarkably, I could hear (and see in my mind's eye) Felix James Benoit's kick drum—its skins, its diameter, the footboard's beater striking the rear head. My mind's eye was simultaneously next to the accordion's bellows and the bottom front of the kick drum—maybe even inside it. Concurrently, and big as life, the Cajun master was singing close to his microphone; he and his squeezebox could hardly have sounded more tangibly real or alive.