Cambridge Audio Azur DacMagic D/A converter Manufacturer's Comments
Manufacturer's Comments
Editor: Thanks for the very thorough set of metrics testing you gave the Cambridge Audio Azur DacMagic.
Increasingly, today's audiophile demands performance, flexibility, and value. As Sam Tellig described and JA's measurements bore out, the affordable DacMagic is a highly precise yet versatile external D/A converter able to breathe new life into aging CD players and upgrade the audio performance of DVD players, all the while engaging newer entertainment devices such as Internet streamers, and even adding extra intensity to computer games.
At home, I connect an Airport Express to my DacMagic and run the balanced output signal into my Cambridge Audio 840E preamp's balanced inputs. Now I can wirelessly stream my iTunes library, podcasts, and Internet radio selections into my main system—sweet indeed!
Keep up the great work!—John Bevier and the entire Audio Plus Services–Cambridge Audio gang
Editor: Thanks for the excellent in-depth review. There were a couple of points that we thought were worth commenting on that may be of interest to your readers.
The DacMagic does exhibit very strong attenuation of jitter from all input signals due to our Anagram ATF upsampling and reclocking algorithm. However, as you have touched on, the USB interface itself inherently carries a much higher level of jitter than S/PDIF/TosLink, as the audio data have to be inserted into a TDM stream according to a 12MHz clock nonsynchronous with the audio. Also, with USB audio 1.0, you are limited to 16-bit/44.1kHz or /48kHz transfer only.
As you've found, the DacMagic can normally attenuate the interface jitter very effectively, but it is true that if the incoming jitter is sufficiently large, it can become outside the timing window that the ATF is able to totally reclock.
In particular, we've found that, with laptops, using battery power results in very good total correlated jitter similar to TosLink or S/PDIF (<200ps or lower at 44.1kHz, and with about the same noise floor), but using the typical switch-mode PSU with the same laptop can result in 3000–3500ps of jitter.
See, attached, some Miller Jitter Test graphs from our own QC suite. TosLink/S/PDIF performance (fig.3) is generally below the measurable limit with the J-Test with 16-bit data; a USB using a battery-powered laptop (fig.1) is not far off. However, a USB using a laptop powered by its PSU is somewhat worse (fig.2); this is probably what you were measuring in that particular USB jitter test.
Fig.1 DacMagic, Jitter @ 44.1kHz using a Laptop USB powered by battery, total correlated Jitter (ref. 2.08dBV into 8k ohms) = 149ps (DC1 Channel), 151ps (DC2 Channel).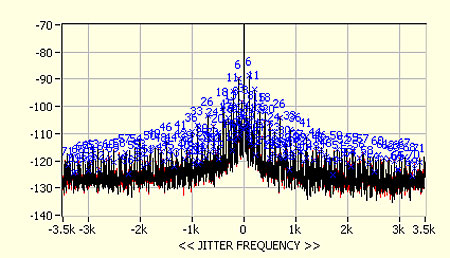 Fig.2 DacMagic, Jitter @ 44.1kHz, using a laptop USB powered by power supply, total correlated jitter (ref. 2.07dBV into 8k ohms) = 2794ps (DC1 Channel), 2828ps (DC2 Channel).
Fig.3 DacMagic, Jitter @ 44.1K using Toslink through a CD player (passthrough), total correlated jitter (ref. 3.57dBV into 8k ohms) = 124ps (DC1 Channel), 122ps (DC2 Channel).
Also, as you can see, the noise floor when using the PSU is higher, as you found yourselves—although, again, this is actually due to the source rather than the intrinsic resolution of the DacMagic's USB interface or D/A conversion. Interestingly for USB transfer, it appears to be like the old (halcyon?) days of analog and the "front end first" doctrine.
Digital audio is certainly not a panacea (not that I need to tell you that!), and products like the DacMagic can do only so much, especially via USB. If the source is pretty good, the DacMagic can make it even better; if the source is not so good, the DacMagic can do only so much!—Matthew Bramble, Technical Director, Cambridge Audio