Book Review: Make More Noise! Page 2
Many bands continue to play the straight-ahead rock styles associated with punk. The A-Heads, the Expelled, and Vice Squad are examples. From there, it's a short distance to heavy metal; the all-female rock band Girlschool took that step. "Take It All Away" is one of several songs in the collection that was a pleasant surprise to me. I tend to react to the words "heavy metal" with eyes rolling and a grimace, but this is a fine track. It's time for me to listen to more Girlschool, I think. Like all good compilations,
MMN
broadens one's horizons.
What hooked me then, when these bands were new, and also now, were bands that took the chance to go off in more unusual directions. Jazz and funk, for example, were influences. Rip Rig + Panic are at their most accessible here, with "You're My Kind of Climate." Weekend's (footnote 2) "Drum Beat for Baby" has a lovely cooljazz-ish vibe, reminiscent of sitting in a pre–COVID-19 French cafe. Weekend was formed by Alison Statton after Young Marble Giants split up (footnote 3). Weekend's album La Variete is a fabulous blend of genres. Lora Logic, formerly X-Ray Spex's saxophone player, mixes jazz, post-punk lo-fi, and girl-group harmonies in "Brute Fury."
Like their male counterparts, musicians often switched bands. Drummer Palmolive moved from the Slits to the Raincoats. "No One's Little Girl" was a single from the Raincoats' 1984 third album, Moving, on which they keep the riotous joy of their earlier music but with slightly more refined playing. They also add Middle Eastern rhythms. Song, album, and band are musts to listen to.
Alongside the Raincoats, Tracey Thorn was one of the most prominent figures in Indie DIY music; Thorn is present here with two songs, one from her first band, The Marine Girls ("A Place in the Sun"). There's also a solo single, "Small Town Girl," which shows that music could be gentle and yet still be powerful. The same can be said of Liz Fraser's voice in the Cocteau Twins, a band that went on to make several albums of gloriously dreamy music.
Taking that to its logical conclusion is "It's a Fine Day," by Jane. It's a haunting song, consisting solely of Jane Lancaster's voice, which manages to sound pure and pretty and yet faintly frightening: When I listen to it, an image of a Carrie-like figure forms in my brain, but then maybe that says more about me than it does about this superb song.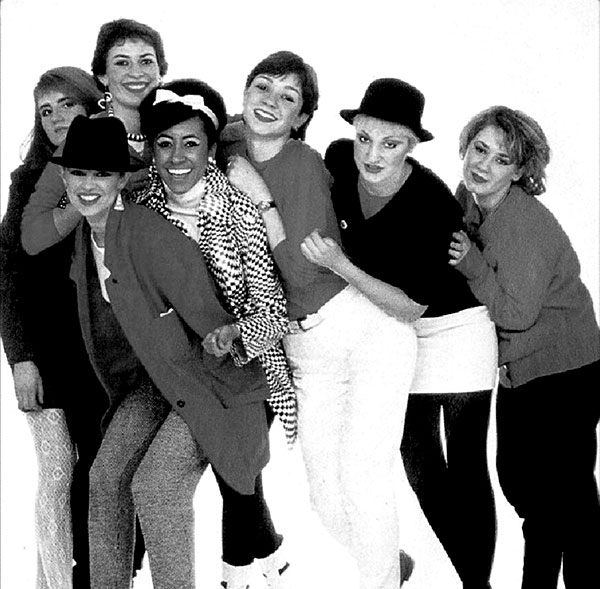 Experimentation was rife; musicians raided the music vaults for ideas. Formed in 1979, 2 Tone Records fused 1960s ska with punk and gave a massive shot of adrenalin to British music. 2 Tone is represented here by the Selecter, the Bodysnatchers, and Rhoda Dakar with the Special AKA.
Pauline Black, the singer of the Selecter, has a great voice, is intelligent and articulate, and possesses an impeccably cool fashion sense. 2 Tone managed to fuse fun and dance with songs that spoke directly to the experience of British youth of the '70s and '80s. Special AKA's "The Boiler," and Ova's more punk-oriented "Self Defence," show no fear of singing about quite disturbing issues.
Sometimes, though, the referencing of past pop was just pure fun. There are a number of truly great cover versions of classics, including the Slits' B-side to "Typical Girls," a version of "I Heard It Through the Grapevine." The Delmonas offer their take on Mel Torme's "Comin' Home Baby," which is cool with a capital C—another nail in the "year zero" myth. Many of the bands in this set will be filed under post-punk, a category that's hard to define, as the influences and styles were so diverse. That may be a weakness, but it's also a strength. Such a nebulous label gave women (and men) room to explore, adapt, and play different styles. Guitars, for example, aren't only used for straight-ahead rock; they also play reggae rhythms and funk—or psychedelic, with feedback, as on Miaow's "Belle Vue" and Strawberry Switchblade's "Go Away." Other bands, including Yazoo (known as Yaz in the US), started to use synthesizers in their music.
What links these varied artists (other than being women) is the time and the place. The music has a political element, sometimes overt but often as the politics of the everyday, of what's going on in life—and one thing that was going on then was a flowering of talent as women started bands and made their own music.
The design of the set's packaging sits well with this theme, with a knowing nod to Russian Constructivist art, simultaneously playful and serious.
Although the package is built around the concept of women in UK music, it would be a mistake to think that it represents some kind of unified movement. At a book launch for her autobiography, I asked Viv Albertine, guitarist for the Slits and one of my musical heroines, if there was a feeling of solidarity between them and bands like the Raincoats. Smiling, she replied that she wished there had been, but back then there was only rivalry, both wanting to be the better band.
And yet, these were women who had been affected by campaigns for women's equality, especially the more recent ones. British society was changing. Punk had included some women from the start, but at first punk was nihilist, aggressive, and mostly male. Rock Against Racism (and its offshoot Rock Against Sexism) challenged its conservatism, but all was not enlightenment. In October 2020's Punk Girl Diaries Blogzine #3, Lesley Woods, former lead singer and guitarist of the Au Pairs (represented here by "Diet") and another of my heroines, talked about punk being an inspiring cultural phenomenon but with a dark side, which included racism, sexism, and drugs.
The women on Make More Noise made great music in that environment. We should be grateful they did because, as this collection shows, the music they created is diverse in its style and unified in its quality. Included also is an enlightening essay by Lucy O'Brien (footnote 4) plus notes on each song, making this a box set truly worth having. The noise made here is exhilarating, exciting, and wonderful. I cannot recommend this collection highly enough. Treat yourself, or someone else, to it.
Make More Noise is available at amazon.com and other online sellers.
---
Footnote 2: Not to be confused with Weeknd.
Footnote 3: Although not included in the box set, this is a band worth exploring.
Footnote 4: Author of the excellent She Bop: The Definitive History of Women in Popular Music.