Wharfedale Diamond 10.1 loudspeaker
A while back, I received an e-mail from The Kid (Stephen Mejias): "I've been listening to and enjoying the Wharfedale 10.1 loudspeakers ($350/pair) for a couple of months. I wrote about them for my
March
and
April
issue columns, but they are good enough for a complete review. Are you interested?"
Hmm . . . so The Kid is now assigning me equipment reviews? "Sure, why not?"
The day after the Wharfedales arrived, The Kid sent me another e-mail: "Have you unpacked them yet? They are so pretty!"
That they are, Kid.
Description
Normally, you'd expect cosmetic compromises in a bookshelf speaker costing only $350/pair. Not with the Diamond 10.1—its curved cabinet is made from laminations of MDF that re bonded using an adhesive that's cured (ie, hardened) using radio-frequency energy. Wharfedale also claims that the 10.1 is constructed with fairly elaborate bracing, to increase its rigidity and thus reduce resonances; a front baffle of composite material, finished in piano black, further controls resonances. The looks of this sexy little beast suggest a price much higher than $350/pair. It blended quite nicely with my décor, and, as I recall, is far more attractive than its predecessor, the Diamond 9.1, which I reviewed in November 2005 and which also cost $350/pair.
Both of the Diamond 9.1's drivers have been replaced for the Diamond 10.1. The new mid/woofer has a 4.9" (125mm) cone of woven Kevlar, a nylon-filled homopolymer chassis with an oversized flange, and, in the cone surround, diamond-pattern ribs intended to smooth the acoustic rolloff. The 1" (25mm) soft-dome tweeter has a metal phase corrector and is claimed to offer smooth, clear reproduction of the high frequencies. The two reflex ports on the 10.1's rear panel (in the 9.1, they were on the front) are intended to reduce the effects of distortion. Electrical connection is via two offset pairs of terminals to allow bi-wiring and easy cable dressing.
Wharfedale USA's Walter Schofield told me that one of the keys to the 10.1's design is the company's vertically integrated manufacturing facility [in China]. Middle vendors are eliminated—each component of the speaker is made from raw materials in-house. The intended result is a cohesive, organic sound quality and performance, and an appearance well above the speaker's price point. The Diamond 10.1 is the first Wharfedale speaker to be voiced by European speaker designer and one-time reviewer Peter Comeau.
I mounted the Diamond 10.1s on my Celestion Si stands, which are loaded with lead shot and sand. Although Wharfedale makes no specific recommendations about listening with the speakers' grilles on or off, I slightly preferred their sound with the grilles in place. Although I heard a hair more detail without the grilles, the sound was more natural and coherent with them on.
Listening
The Wharfedale's rich, uncolored midrange reproduced all vocal recordings with a sense of holographic verisimilitude. The title track of Joan La Barbara's Shamansong (CD, New World 80545-2) features some shimmering overtone chanting. Through the Diamond 10.1s, the balance of each overtone of La Barbara's glistening fundamentals was pure, pristine, and silky. In a more conventional singing style, Norah Jones's cover of Joni Mitchell's "Court and Spark," from Herbie Hancock's River: The Joni Letters (CD, Verve B0009791-02), was rich and vibrant—the smoky, chesty quality of this alto's lower ranges had a presence and weight that I'm used to hearing only from much larger speakers. And Anat Cohen's voice-like clarinet, on her Poetica (CD, Anzic 1301), had a silky, woody quality, with every low-level dynamic articulation intact.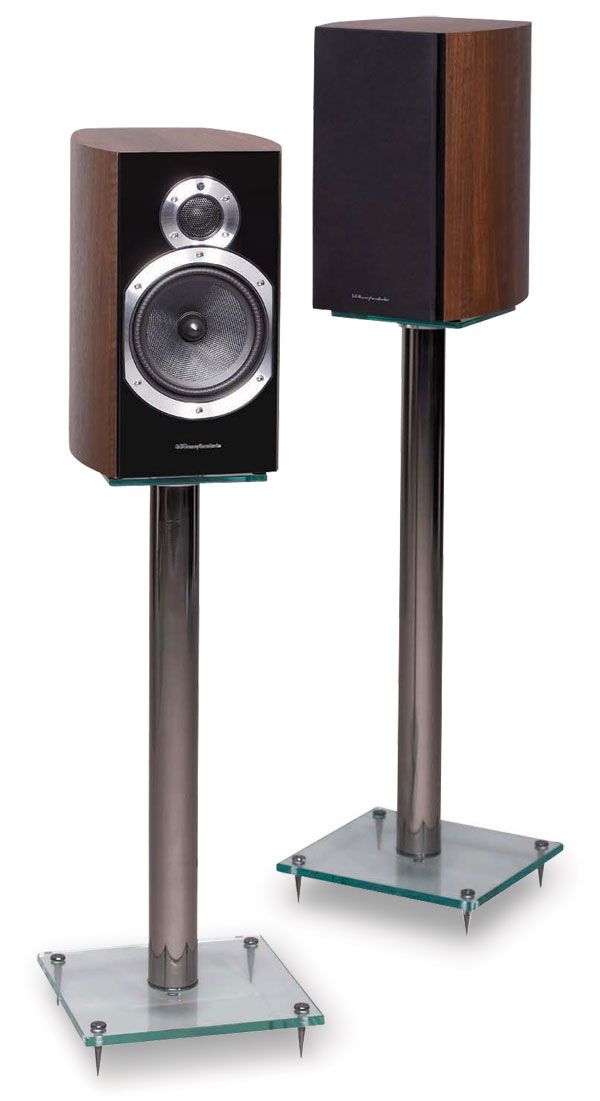 The ability of the Wharfedale to unravel midrange detail gave an extra layer of realism to well-recorded acoustic pianos. In "Free Above Sea," from Jack DeJohnette's Oneness (CD, ECM 1637), Michael Cain's warm, airy piano had a noticeably long decay in a recording in which a lot of space is used as a textural tool. I got a believable sense of various recording venues with the Diamonds. Listening to "Salt Peanuts," from Miles Davis's Steamin' (CD, JVC VICJ-60128), I found myself focusing on the air in Rudy Van Gelder's studio in the short, silent passages between Philly Joe Jones's solo drum fills.
Speaking of Miles Davis, the 10.1's ability to perfectly integrate the high frequencies with the midrange with no trace of alteration in the harmonic structure of instruments made me want to listen to lots of trumpets. Every well-recorded trumpet I heard—from Davis's solo in "Surrey with the Fringe on Top," also from Steamin', to Ron Miles's herky-jerky cornet fills in "Moe Hawk," from Jenny Scheinman's 12 Songs (CD, Cryptogramophone CG125), to Liam Sillery's angular melodic head in "Prana," from his Outskirts (CD, OA2 22050)—sounded rich and metallic, with perfect overtones and transient bite.