Rega RP-1 record player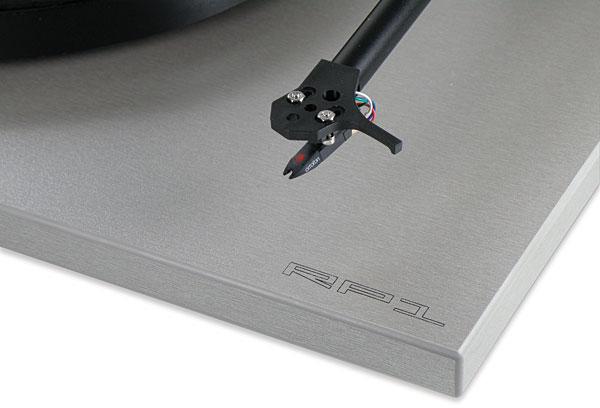 I tried to name a high-end audio product that's been recommended more often than the
Rega Planar 3
turntable. I failed.
The closest I could come was Rega's own RB300 tonearm, surely the best-selling perfectionist tonearm of all time. After that came the Rega Planar 2 turntable, a sample of which I owned and loved in the early 1980s. Next on my list was the original Rega Elys, a moving-magnet cartridge that sounded as chunky and direct as it was cheap and magenta.
All the products on my list were simple, purposeful, cost-effective things lacking in pretense and filigree; much the same could be said of Rega's latest record player, the entry-level RP-1 ($445). And while the greater good may come from long production runs and stable product lines, I was nonetheless encouraged by this replacement for the scarcely-four-year-old Rega P1: At a time when most manufacturers of high-value gear are either chasing the bigger profits they think exist upmarket or throwing in the towel altogether, Rega Research seems more dedicated than ever to the giving of more for the taking of (relatively) less.
Description
The austere RP-1 appears to have nothing up its sleeve: a simple, oblong plinth—a board, really—with a plain-looking platter, a plain-looking tonearm, and a plain-looking on/off button. Like a rowboat or a pair of pliers, if the thing were any simpler, it simply wouldn't work.
But the board turns out to be of a well-chosen wood composite, with a nice looking—and presumably vibration-damping—outer skin. And the RP-1's suspension turns out to be the same simply made yet cleverly designed rubber feet that have supported Rega turntables since time out of mind. Rega must've bought a million of those things.
At the approximate center of the plinth is a sign of Rega's precision-engineering pedigree: a platter bearing that wouldn't seem out of place on a $1000 turntable. It's a beautifully made thing, with a brass well, a small steel thrust ball, and a 0.32"-diameter steel spindle, its bottom machined flat (not unlike that of the larger and ball-less Garrard 301). The bearing spindle is pressed into a 4"-diameter molded hub that serves as a subplatter—another of those things that Rega seems to have bought in bulk.
Using a small rubber belt of round cross-section, the molded subplatter is driven by a 250rpm synchronous motor, a nice-looking Dutch component apparently not too different from the ones used in Rega's more expensive turntables—or the Linn LP12, for that matter. (Until the late 1990s, Rega used a second rubber belt in each turntable, forming it into a suspension "cradle" for the motor.) The bottom of the motor is cushioned with self-adhesive foam strips, and its axle is topped with a molded pulley, with separate "steps" for 33.3 and 45rpm: In this part of Sparta, changing the speed, when needed, is done manually.
The RP-1's platter is molded from phenolic resin, a comparatively ancient sort of thermoplastic that's similar but not identical to Bakelite. (The latter is something you could even make at home, assuming your home is well supplied with formaldehyde and carbolic acid. Look around!) I'm not sure why Rega abandoned the wooden platter of the P1 and various OEM turntables they've made in the past. (Termites?) But, when tapped, the resin platter sounds a bit less thwocky than the wood, and more of its mass seems—there's that word again—concentrated around its periphery: a good thing.
The tonearm is Rega's new RB101: the latest variant/descendant of the tried and true RB300, and a slight upgrade from the RB100 tonearm of the P1. The RB101 uses a simpler version of the alloy armtube casting that was developed for the RB300, with a separate, glued-in headshell and a plainer bearing housing. The armtube's diameter is 0.5", the effective length is 240mm, and antiskating force is applied with an adjustable (and calibrated) magnet. I'm not much of a tonearm-tapper—I consider the practice inconclusive at best, mildly silly and fatuous at worst—but I tried it anyway with the RB101, and heard a sound that was timbrally similar to that of the resin platter. (The platter's sound was a little lower in frequency.) I suspect that these are very good things, but I don't really know.
The cartridge supplied with the Rega RP-1 is an Ortofon OM 5E, a moving-magnet type that weighs 5gm, tracks at 1.75gm, exhibits a compliance of 20µm/mN (which is on the high side of acceptable for a decidedly medium-mass arm such as the Rega), and puts out 4mV at 1kHz, 5cm/s. (The Rega P1 came bundled with an Ortofon OMB 5E cartridge, which was said at the time to be an OEM-only item; by contrast, the OM 5E is part of Ortofon's regular product line; replacement styli should be available from any Ortofon dealer.)
Setup and installation
Unpacking the RP-1 was like seeing an old friend. I've unpacked and repacked many dozens of Rega record players over the years, and this one was no different: Neither Rega's packing materials themselves—three Styrofoam inserts, some cardboard bits, a few strips of translucent red tape—nor the way they're put together have changed in over 30 years. The review sample arrived in perfectly good shape, despite one or two of the Styrofoam pieces being a bit crumbly.