Mytek Liberty D/A processor Page 2
That first recording was a 44.1kHz file of Clarence and Roland White and colleagues playing Merle Travis's "Nine-Pound Hammer," ripped from the Kentucky Colonels'
Appalachian Swing!
(CD, Rounder SS31). Clarence, on guitar, plays some passages with a crosspicking pattern in which two downstrokes are played in rapid succession, followed by a similarly rapid upstroke; the first note in each pair of downstrokes is played as a rest stroke—the plectrum comes to rest, however briefly, against the adjacent string as the note is played—giving that note a distinctive attack. (Clarence sometimes combined that right-hand technique with rapid hammer-ons from his left hand, staggering the timing and making the phrase even more distinctive—a sound that was his and his alone.) Through the Liberty, those passages had the right bubbling, percussive feel: I've heard no other digital sources, and surprisingly few phono products, that reproduce the sound and the feel of those phrases so explicitly and enjoyably.
No less remarkably, this explicitness came without undue brightness or other treble penalties: The Mytek's sound was clear and wide open, with zero darkening of timbres or rounding of edges—yet note attacks, however believably sharp, were never overcooked, and textures never became gritty.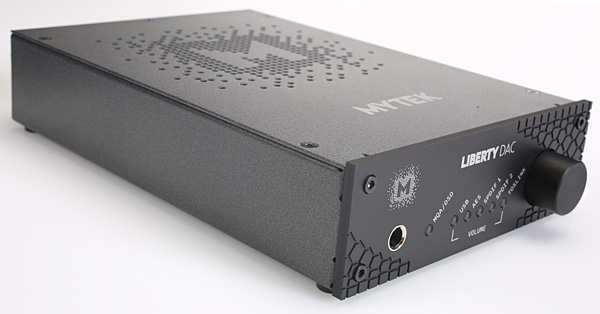 Although most of the recordings stored on my laptop are 16/44.1, I used the Liberty to play a number of high-resolution files as well, including an MQA of male vocal ensemble Cantus performing Eric Whitacre's Lux Aurumque, from their While You Are Alive (original CD, Cantus CTS-1208). It seemed to me to achieve a sort of playback ideal: Yes, the voices came across with clarity and without coloration, the physicality of the singers believably suggested, the recording space seemingly reproduced in both sound and scale. But what won me over was that, even at low volumes, this recording was musically convincing, and satisfied me—yet the DAC (and the rest of my system) also rewarded me when I wanted to hear it played loudly, for the simple pleasure of doing so.
Some of my time with the Liberty was spent streaming music from Tidal HiFi (16/44.1), usually with agreeable results. "Sloth," from Fairport Convention's Full House (Hannibal), sounded really fine, as tonally well balanced as from the LP (if not as well textured: the late Dave Swarbrick's electric viola still sounds better on vinyl), with as much wallop from Dave Mattacks's drums as I've ever heard from that recording. Dave Pegg's electric bass sounded full yet tuneful, his rhythmic style already distinct from that of his predecessor, the no-less-talented Ashley Hutchings (Full House was Pegg's recorded debut with the band). I also enjoyed the recording of Chopin's Nocturne 13 in c by Youra/Yura Guller—the same recording, first released in 1956 on Ducretet-Thomson, was reissued last year on a 10" LP by the Electric Recording Company (now sold out). Via Tidal and the Liberty DAC, some of the hoped-for atmosphere came through, although the LP experience is far more generous with die-away—in the sounds of the piano and the room—and the forcefully played bass lines that begin just after the halfway mark had less weight and force in the digital realm. Still, via this DAC and a $20/month Tidal subscription, I got more than half of what I needed to hear from this and other similar old, weird, mono piano recordings—and that's still an awful lot.
Streaming MQA files from Tidal proved a mixed bag—though here I advise the reader that all of my stated praise and blame may have less to do with the Liberty DAC than the MQA files themselves. Comparing the MQA and 16/44.1 versions of "Since I've Been Loving You," from Led Zeppelin's III (Atlantic), I thought the latter sounded more dynamic/less compressed, and altogether more involving; in particular, the kick drum in the MQA version sounded less like a drum than someone tapping his thumb on an open mike. And comparing the 16/44.1 and MQA versions of the title track of Sonny Rollins's Tenor Madness (Prestige) was like comparing two different kinds of awful: In the former, peaks were harsh in Rollins's sax solos and the hardest struck notes from pianist Red Garland; the latter was just muddy and veiled and muddy. My beat-up LP—it came from a college library, for God's sake—made both digital formats sound ridiculously bad.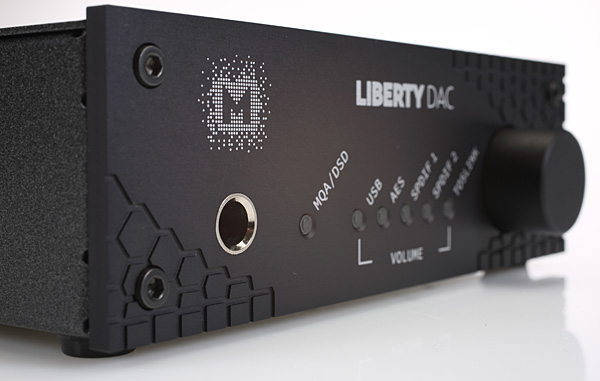 But when I compared different Tidal streams of David Bowie's The Rise and Fall of Ziggy Stardust and the Spiders from Mars—a landmark album, and easily one of his five best—the MQA version was wildly superior: Mick Ronson's electric guitar roared, Mick Woodmansey's drums sounded less compressed than ever, Trevor Bolder was revealed as one hell of a bassist (with a Bruford-esque restraint in some numbers), and Bowie's voice and acoustic guitar sounded just perfect. "Five Years" was cry-worthy, as it should be, and it wasn't until the last violin notes at the end of "Rock 'n' Roll Suicide" had faded away that I noticed I was standing up, and probably had been for a while.
Similarly, through the Liberty DAC, the streamed MQA version of Kanye West's Ye (Def Jam) was so superior to the 16/44.1 files that I couldn't help wondering why anyone with access to the former would waste time on the latter. In the 16/44.1 version, the synthesized bass in "Yikes" wasn't as menacing as that in the MQA version; likewise, the MQA version of "Wouldn't Leave" turned the front end of my room into a big, airy (but not pallid) soundscape in which West's dead-center, grainless lead voice was flanked by the slightly more distant but no less real-sounding voice of supporting singer Jahron Anthony Brathwaite (aka PartyNextDoor). I was enchanted.
Of the time I spent playing CDs through the Liberty's S/PDIF input—using my Sony SACD/CD player as a transport, bypassing its own DAC—I can say only: Assuming that the Liberty's performance is indeed typical of Mytek DACs, I regret having waited so long to try one in my system. In terms of overall tonal balance, the Mytek and the Sony—the latter with its default PCM filter engaged—were similar, yet the audible contrast between the two was striking: neither bettered the other in terms of momentum and musical flow, but the Sony's output was flat as wallpaper compared to that of the timbrally, texturally, and spatially nuanced Mytek Liberty. Listening through the Liberty to Pieter Wispelwey play the Saint-Saëns's Cello Concerto 1, with Daniel Sepec and the German Chamber Philharmonic Bremen (SACD/CD, CD layer, Channel Classics CCS SA 16501), I heard more vivid colors and more vibrant instrumental textures, plus much more physical space between soloist and orchestra. And in "Quite Rightly So," from a 2009 reissue of Procol Harum's Shine On Brightly (CD, Salvo CD018)—a somewhat bright and gritty recording, even at its best—vocal sibilants were unexaggerated and sounded more natural, the highest notes from Matthew Fisher's Hammond organ less keening: the song was much more listenable, without sounding less lively or vibrant.
A few words about the headphone amp
My headphone experience is meager, and while I'm pleased by the apparent good health of that segment of our industry, I have no interest in listening to music that way. But I keep on hand a borrowed pair of AudioQuest NightHawks 'phones, for reviews such as this. Driven by the Mytek Liberty, the NightHawks sounded much the same as when driven by other contemporary DAC-headphone amps—a little darker than neutral but very well detailed—and certainly no worse.
Conclusions
It was while driving the Liberty DAC with my Sony "transport" that I realized: I really didn't want to send the review sample back to Mytek.
Were money no object, I'd have a hard time choosing between the Liberty and the even more natural-sounding HoloAudio Spring "Kitsuné Tuned Edition" Level 3 DAC ($2499, footnote 1). And the Mytek's performance was less limpid, the music it produced less beautiful, than that of the Métronome Kalista DreamPlay One CD player ($43,000), a product that seemed capable of turning every recording it played into the sonic equivalent of a Maxfield Parrish painting.2
My regard for the Mytek Liberty has as much to do with what it is as with what it does. What it is is an intelligently engineered, well-made, pleasant-to-use DAC that performs near the state of the art and carries a three-figure price tag. Ten times out of ten, that's the sort of thing that captures my interest and wins my heart. Very highly recommended.
---
Footnote 1: See my Follow-Up in
July 2018
.