Kalista DreamPlay One CD player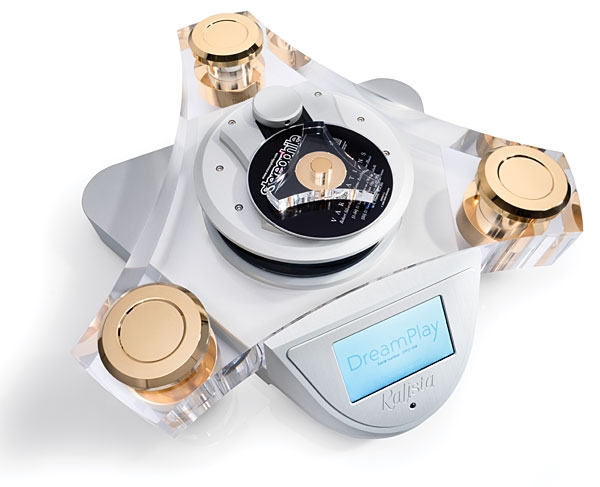 Some of my reviewer colleagues would have you believe that negative reviews are the most difficult of all to write, and that positive reviews fairly write themselves. What nonsense!
As I write this, my copy deadline is three days away, yet I've succeeded at crafting little more than my heading (easy enough: it's just the product's name, followed by my name) and my Associated Equipment sidebar (also easy), leaving a great expanse of nothing in between. That's mostly because the Kalista DreamPlay One, a two-box CD player whose $43,000 price might once have kept me from even considering it as a real-world product, has stunned me into a sort of paralysis: I feel that anything I write will be inadequate to the task. Indeed, in a field of endeavor where, for some, the ultimate praise boils down to little more than This product is the least flawed, adequately describing and putting into context such a beautiful-sounding thing as the DreamPlay One is the most daunting chore I can imagine.
But I'm getting ahead of myself.
The Kalista
My experiences with the Kalista division of the French manufacturer Métronome Technologie began at the end of March 2018, at the Montreal Audio Fest. On my last day there, I was captivated by what I referred to in my report as "the best sound I heard at the show": a sound produced by a system, assembled and demonstrated by the Toronto distributor and retailer Wynn Audio, that had as its source the combination of Kalista DreamPlay CD transport with Elektra power supply ($CAD56,800) and Kalista D/A processor, also with an Elektra power supply of its own ($CAD58,500). The sound of that four-box front end, combined with Goldmund amplification and Tidal loudspeakers, was so compelling that an unfamiliar CD, which began to play as I was on my way out the door, coaxed me back to my seat. After that, I further delayed my exit by speaking with Métronome's CEO, Jean Marie Clauzel, who mentioned the imminent release of their less expensive two-box alternative, the DreamPlay One ($43,000 US), in which transport and DAC are combined in a single unit with standalone power supply.
I asked—no, begged—for the opportunity to write about the DreamPlay One. A sample arrived here in May in two large cartons of identical size: one each for the player and its companion Elektra power supply.
The CD-playing portion of the DreamPlay One has an exotic appearance, owing to both its distinctive shape and the materials used in its manufacture. It comprises two structures, both triangular in the broadest sense of that word, juxtaposed so that the player's overall shape is more or less that of a hexagram: the lower structure is a machined-aluminum enclosure for the electronics, while the upper structure is made of clear methacrylate, with conical steel feet at the bottoms of three gold-colored cylindrical supports, apparently machined from aluminum. Clauzel told me via e-mail that the DreamPlay One's appearance was determined in part by sonic concerns: "[T]he choice of materials and their mix makes a real difference. In particular, aluminum, methacrylate, and steel don't absorb and transmit vibrations the same way, so their combination results in a very efficient decoupling."
The Kalista's methacrylate structure holds the aluminum enclosure just clear of the user's equipment shelf, and also supports a cylindrical tower some 7.5" in diameter, also machined from aluminum, which supports the disc transport. Attached to the front corner of the player's lower, aluminum enclosure is a separately machined aluminum structure that houses a slanting digital display measuring 3.75" by 2.25" (more about this later). The DreamPlay One is big—17.72" wide and 18.11" deep, its support feet describing an equilateral triangle with 13" sides—yet its appearance is graceful, not imposing. It weighs 52.9 lb.
In light of the DreamPlay One's exotic good looks, the Elektra power supply, whose aesthetics might impress in a different context, can't help appearing just a bit dowdy: a box 17.72" wide by 4.13" high by 17.13" deep and weighing 33.1 lb, its center-front panel describing a gentle concave curve. It, too, has a display window of sorts, albeit one limited to bearing a silkscreened logo and telling, by means of a blue LED, whether or not the unit is switched on. But it's what's inside that counts, and Clauzel told me that the Elektra contains three toroidal transformers generating seven independent lines of DC. Clauzel said that the Elektra also contains "specific ultra-low-noise regulation" dedicated to the player's DACs—a dual-mono pair of Asahi Kasei Microdevices AK4497 chips, implemented without digital oversampling.
The player's disc transport, a Philips CDM12PRO (v.6.8) modified with a precision-machined and altogether more robust drive hub, is exposed: CDs are secured to the hub with a Perspex and aluminum puck that looks like a miniature version of the player's methacrylate support structure. (There may also be a slug of steel or even tungsten steel in that puck—it feels heavier than it looks.) As for the Philips drive itself, which is no longer manufactured, Clauzel says that Métronome maintains a stock of them, "together with spare parts in order to maintain our actual and [past] products based on it."
Installation and setup
The Kalista confounded whatever expectations I had that complexity and difficulty of setup are directly proportional to price: Once I'd succeeded in dragging the two large, heavy cartons into my listening room, it took no more than 15 minutes to go from lugging to listening. Installing the CD player itself was a simple matter of fitting the undersides of its support columns with the supplied conical feet—as with the Métronome CD8 S, which I reviewed in March 2016, those feet are held in place with magnets—and then, with the DreamPlay on the top surface of my auxiliary Box Furniture rack, slipping into place three black acrylic pucks, also provided. A 1m-long, 16-conductor umbilical goes from a socket on the rear of the player to an identical socket on the rear of the Elektra power supply (I put the latter on the bottom shelf of said rack), and the supply connects to the household AC with a provided cord: simple. I used my well-loved 1.5m Audio Note AN-Vx silver interconnect to take the signal from the Kalista's single-ended output jacks to my Shindo Laboratory Monbrison preamp.
On the front of the Elektra supply are two small toggle switches: one for power, the other for floating the unit's ground connection. Flipping on the power toggle elicited from the Elektra a sequence of six relay-like clacks (I expected seven), after which the screen of the DreamPlay One itself displayed "DreamPlay," the product's serial number, and the Carrollonian suggestion "Touch screen to continue." When I did so, the main option screen appeared, with counters for track number and timing, and (very!) soft-touch control icons for Play and Stop, Next or Previous track, and selecting Shuffle and Repeat modes. When a CD is first clamped to the drive hub, it spins and an animated orange bar offers graphic confirmation that its Table of Contents is being read—this takes but a few seconds, which is approximately one week less than is required by my Sony SCD-777 SACD/CD player—after which the user can activate soft-touch icons for the usual disc-playback functions. I found the well-illuminated screen easy and pleasant to use.
There is also a Settings option screen—one gets to it by touching a picture of gears—by means of which you can select among three output levels (1.4, 2.5, and 3.0V RMS) and six digital playback filters: Sharp Rolloff, Slow Rolloff, Short Delay Sharp Rolloff, Short Delay Slow Rolloff, Super Slow Rolloff, and Low Dispersion Short Delay. Because an owner's manual wasn't packed with my review sample, I didn't know about those filters until a couple of weeks into the review, before which time I did all of my listening with the default Sharp Rolloff filter (a subject I'll return to below). The DreamPlay One arrived with its output set to 2.5V, which is how I used it for the duration. Changes made on the Settings option screen were retained, apparently indefinitely.