Klipsch Forte IV loudspeaker Page 2
Reproduced by this system, the voices of female vocalists sounded full and natural. Listening through the circuslike production and extreme dynamics of St. Vincent's "Pay Your Way in Pain," from
Daddy's Home
(16/44.1 MQA, Loma Vista/Tidal), bass drum and toms were rock-solid and tight and electric bass was oily and deep. St. Vincent's vocals imaged beautifully within a wide, immersive stereo spread: The IVs imaged better than the IIIs, no doubt about it.
Daddy's Home
was detailed and colorful through the IVs—although this album's production is much too slick and processed for my tastes. Equally glossy but seeming more genuine, Becca Stevens's "Low On Love" from
Wonderbloom
(16/44.1, GroundUP Music, Tidal) combined silken vocal textures, tactile synth bass, and ear-tickling harp images within a big soundstage.
The Forte IV's high end was explicit but not harsh; the midrange was clear and full; low end was full and weighty and, in my room, sometimes lacked a little definition. That would improve in a larger room where bass waves generated by a 12" woofer and a 15" passive radiator could develop fully. The IVs didn't play with the richness, definition, or soundstage depth of my DeVore Fidelity O/96s, but they got closer than their $7500 difference in price would lead you to expect.
The IVs rocked dynamics and visceral textures like every Klipsch model from time immemorial (or from 1946, to be precise). Tom Petty's "Running Man's Bible" (16/44.1 MQA, Reprise/ Tidal), from Mojo Tour Edition, had potent snap and punch, as if my head was locked down between Steve Ferrone's Gretsch bass drum and Ron Blair's Fender Jazz Bass. k.d. lang's "Lifted by Love," from her surprising electronic-remix dance album Makeover (16/44.1 MQA, Tidal/Nonesuch), whirled through my head hyper-real textures, senses-saturating drums (including the sampled hide of a classic Roland TR-909 bass drum), and her soaring, luxurious vocals. I felt fully in touch with Tom and k.d.'s beating hearts, their power emanating their mouths to my heart. Klipsch speakers do "live" better than any speaker I've had in my madman Greenwich Village digs save Volti's Rival.
The Roon/Ayre/LKV Research Veros PWR+/Forte IV streaming setup gave a final blast of visceral music reproduction with I Percussionisti della Scala's performance of Karlheinz Stockhausen's "Zyklus" from Percussion Masterpieces (16/44.1 FLAC, Tidal/Stradivarius). I collect percussion albums, and this one is a stunner in its performance and its natural sound. After an opening gong strike that resonated through my cranium and washed over my body, the IVs presented every mallet strike, drum-head palm rub, metal brush stroke, bell, marimba, and timpani enunciation with touchable textures, rich tones, and dreamy note decays. As I upped recording quality, the IVs upped their game.
Switching to vinyl brought increased naturalness, even better dynamics, and an improved sense of presence from the IVs, with a slight loss of image specificity and treble smoothness. The IVs were very transparent to both recordings and equipment, exposing the character of every amp I used, from the LKV Research Veros PWR+ to the Parasound Halo Hint 6. The IVs didn't play with quite the full scale of my Thorens TD 124/Jelco TS-350s/Denon DL 103 vinyl front-end is capable of, but they did reproduce music as gutsy and natural-sounding.
The Enigma Variations, from Variations, Op.31 (LP, London Records CS6984) with Sir Georg Solti conducting the Chicago Symphony Orchestra, charged out of the IVs with churning dynamics, practically knocking me out of my padded IKEA Poäng. Though the stage was no larger in dimension than when I was streaming digits, notes had better depth, complexity, and density. The orchestra was reproduced with force and solidity. On the Great Jazz Trio's Direct from L.A. (LP, East Wind EW 10005), Tony Williams's drums had great weight, and Ron Carter's bass had deep traction. Jo Jones's dancing brush strokes on "Sweet Georgia Brown" from Jo Jones Trio (LP, Fresh Sounds FSR-617) were real and physical, as if "Papa Jo" was slapping stiff wire brushes on my head, not the drumhead.
Parasound Halo Hint 6
Inserting the Parasound Halo Hint 6 integrated amplifier (160Wpc into 8 ohms) brought further surprises. The soundstage was smaller than with the LKV Veros, but now everything on stage was more precise. I heard more top-end air, giving ride cymbals dimensional resonance and "ping," and acoustic bass notes sounded more concentrated, hence more emphatic. Richard Davis's acoustic bass intro to "Short Story" from tenor saxophonist Joe Henderson's In 'N Out (LP, Blue Note 80 Vinyl Edition 00602508027734) was punchy and powerful. I detected a glint of hardness in the climaxes of Elgar's Enigma Variations, but overall I thought the neutral-sounding, $2995 Parasound amp a better fit for the Forte IVs than the Veros had been. Which is surprising, since the Halo Hint 6 never worked that well with the IIIs.
Shindo Allegro and Haut-Brion
Old school cognoscenti insist you use a tube amp to drive horn-loaded speakers, so I wired in my Shindo Allegro preamp and Haut-Brion power amp and gently lowered the spherical stylus of the Denon DL-103 into the spinning black grooves of the Great Jazz Trio's Direct from L.A.
Herb Reichert says "tube watts are not the same as solid state watts," and that proved true. The 20Wpc Shindos were easily, profoundly better with the Forte IVs than the solid state amps had been. The life-affirming jazz swing pumping out of the Fortes had more impact, tonal beauty, force, and weight, and the images were larger. I was floored by the wall of sweet-toned sound coming at me like a warm music wave. With the Shindo/Forte IV pairing, all was flesh and blood, texture and tension. Hank Jones's piano glistened, Tony Williams's drums had terrific tone and weight, and Ron Carter's bass was upfront and present—all rich and first-row palpable.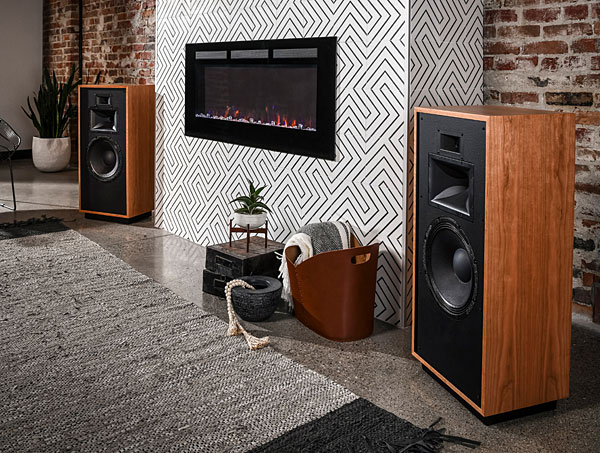 IVs meet IIIs
With much grunting and huffing, I swapped out the IVs for the IIIs, rejuiced my system, and placed my 1961 mono "New York NYC" Blue Note deep-groove pressing of The 3 Sounds' Feelin' Good (Blue Note BLP 4072) on the Thorens platter. I turned on the clunky power switch, lowered the stylus, and scurried back to my listening perch.
The 3 Sounds are perhaps Blue Note's only lost jazz act. No one cares for them outside of rappers looking for samples; their records go for a pittance. But between 1958 and 1971, pianist Gene Harris, bassist Andrew Simpkins, and drummer Bill Dowdy performed and recorded with an old school swing pulse that was engaging and relentless. They recorded nearly 20 albums for Blue Note and more for the Riverside, Mercury, and Limelight labels.
Feelin' Good is prime 3 Sounds. Through the IVs, it captivated with rich, sparkling piano, tactile, snappy drums, and deep-rumbling acoustic bass. The IVs were coherent from midrange through the treble; the IIIs sounded more disconnected. Gene Harris's piano sounded harder through the IIIs, and if Bill Dowdy's drums seemed more integrated with the soundstage via the III, it was because the snare drum and cymbals were pushed forward and not because the drums were deeper in the stage.
Summing Up
The Forte III is a fine-sounding loudspeaker, but for an extra $500, the Forte IV is more coherent, sweeter, smoother, and more refined, with a better-defined top end, a warmer midrange, and the same trademark dynamics and low-end weight as the previous Forte version.