Listening #110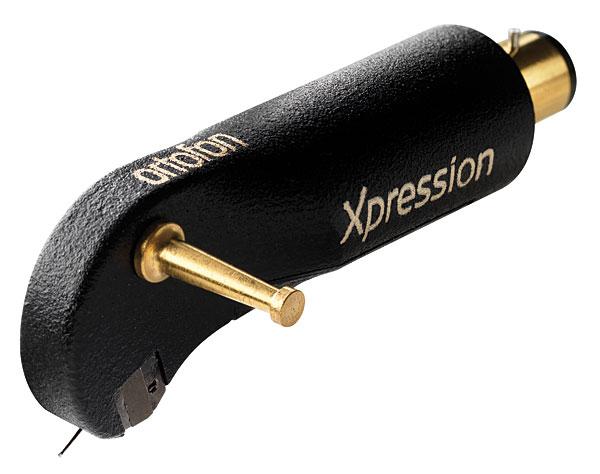 Phono cartridges—along with mothballs, hobnails, laundry bluing, hot-water bottles, lighter fluid, fur coats, and typewriters—are among the most outdated of consumer goods: To most people who make their living in the world of consumer electronics, every new cartridge that hits the shelves is little more than a coughing spasm from the death-room down the hall. You can imagine, then, the welcome accorded new samples of the even more anachronistic
pickup head
, which combines phono cartridge, headshell, and barbell into a product one seldom sees outside the school librarian's junk drawer. New pickup heads, which tend to look the same as old pickup heads, are manufactured in pessimistically small quantities, and seldom get much attention.
Ortofon, the Danish firm that's been in business longer than any other manufacturer of phono gear, has confounded all that with the Xpression ($5399): an entirely new moving-coil pickup head designed from the ground up. It has surprised even me.
The Xpression derives from the Ortofon MC A90, a technically advanced moving-coil cartridge that our own Mikey Fremer has called revolutionary. That limited-edition product combined a number of innovations, including a tiny cylindrical field-stabilizing element (FSE), to counteract disturbances the magnetic field; and a wide-range damping (WRD) system, made of tiny rubber and platinum discs, said to enhance both tracking and timbral neutrality. But the A90's real calling card was the manufacturing process used to create its body: selective laser melting (SLM), whereby individual particles of stainless steel are welded together, one layer at a time, to create a complex, homogenous structure in which density and self-damping ability are more than merely random.
Lest you think that SLM is just another initialism cooked up by a manufacturer or its advertising agency, I can assure you that it isn't. This computer-driven manufacturing technique, though still in its infancy, has already gained a foothold in the manufacturing of titanium-alloy orthopedic appliances, where the need for precision and consistency is obvious (footnote 1).
Thus the Ortofon Xpression is a unique blend of the new and the old. Its compliance is on the low side, and the pickup head's 28gm mass is commensurate with that. The recommended downforce is a substantial but not scary 2.6gm. Impedance and output are lowish, at 4 ohms and 0.3 mV, respectively, and the stylus profile is among the most advanced on the market: a highly polished sample of Ortofon's Replicant 100.
This new Ortofon is designed and built as a drop-in replacement for any G-style pickup head. (I measured a collet-to-stylus dimension of precisely 52mm.) It has an SME-standard four-pin connector at one end and an axial finger-lift at the other, both gold-plated. The Xpression looks decidedly equine from some angles, but when viewed directly from its left side it resembles the head and neck of a friendly, googly-eyed Brontosaurus.
Used in either my EMT 997 or Schick tonearm and loaded with my Auditorium 23 step-up transformer, the Xpression proved itself to be much more explicit than my original SPU—more detailed, more open, more tactile, more revealing of nuance and technique—without sounding the least bit hi-fi. The new Ortofon sounded every bit as solid, colorful, dramatic, and forceful as the old one. (I admit, I wouldn't normally have expected such solidity, such lack of fussiness, from a pickup with other than a spherical stylus tip.) The Xpression offered insights at which my Bakelite-bodied SPU has only hinted. The one that stands out in my memory—chiefly because I'm still listening to the record as I write this—is the manner in which drummer Dave Mattacks draws out his more broadly spaced cymbal crashes throughout Fairport Convention's House Full (Hannibal HNBL 1319): difficult to describe, easy to appreciate and enjoy.
Playing Ravel's Ma mère l'oye, with Ernest Ansermet and the Suisse Romande Orchestra (LP, Decca SXL-2062), the Xpression astonished me from the first few measures. Each orchestral swell came across with a degree of force and impact suggested by no other cartridge I've owned: It was almost as if the Ortofon were magnifying the dynamic contrasts within the recording—an effect not unlike that of the Hommage T1 and T2 phono transformers I've written about in past columns. Tonally, the Xpression was more extended in its treble range than my SPU, but not to the point of brightness, nor at the expense of low-frequency richness. The contrabassoon that makes its entrance during the Prelude was just as deep and weighty with the Xpression as with the older SPU—and was better defined in pitch and presence.
The Ortofon Xpression was so outstandingly dynamic and communicative that I began to mistrust my senses: During its first day in my system, did I select, by chance, recordings that just happened to show it off? I stopped that afternoon, and swapped back in my standard Ortofon SPU. The difference was real: Love my older Ortofon though I do, the Xpression was clearly more dramatic, with no penalty in texture or color.
Bear in mind: While the Ortofon Xpression found more and wider dynamic contrasts within otherwise average-sounding records, it did not improve the sound of records that were poor to begin with. (File under: This shirt will not make you fly.) Many selections on Crosby, Stills & Nash's debut album remained dense and woolly. Fritz Reiner and the Chicago Symphony Orchestra's The Reiner Sound still sounded dull. Eno's delightful Taking Tiger Mountain by Strategy still had a little too much bite in the treble. Sir Colin Davis's recording, with the English Chamber Orchestra, of Mozart's Symphonies 28 and 38 still had a peculiar and hard-to-define congestion and midrange glare. But the Xpression's high-tech stylus profile was as quiet in the groove as anything else I've tried, making it easier than usual for me to enjoy heavily worn samples of otherwise good recordings.
The Xpression confounded more than my expectations regarding new-vs-old technologies (see "As We See It" on p.3): Delighted though I am to see and hear such a product in the second decade of the 21st century, the Xpression brings with it a certain disregard for convention and for the staid logic of commerce—not unlike the best music. That such a technologically advanced company can still take a chance such as this is a blessing.
A Haut with a heart of gold
The products of Shindo Laboratory occupy an uncrowded space in the audio market: not quite mass-produced, not quite bespoke. Virtually all of Ken Shindo's amplifiers and preamplifiers are designed around parts from his extensive collection of vintage tubes, capacitors, resistors, and the like, and of the necessities that remain—especially the distinctive steel casework, made to order for each model—Shindo orders only 10 or 20 at a time. Subsequent production runs are determined by a combination of consumer demand and sufficient reserve supplies of vintage parts.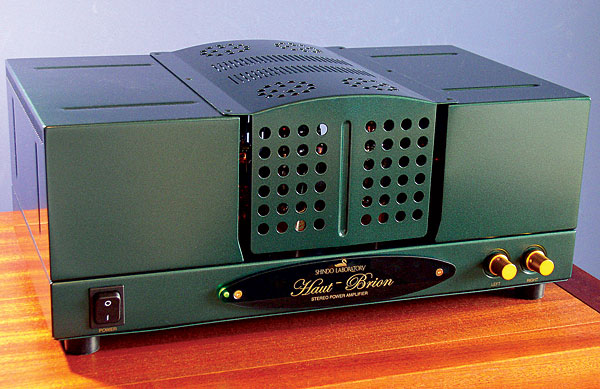 That approach brings with it the opportunity for Shindo-san to revise every model virtually at will. Those changes can be major or minor—a single-ended amplifier called the Lafon, which has been built with three very different power tubes over the years, is a fine example of the former—and the designer appears to regard them as artistic variations rather than as improvements per se. Just as there are different sonic and musical characteristics to every Shindo amplifier model—many of which would otherwise seem similar, based solely on power output—so there are often distinctions between different samples of the same Shindo model.
---
Footnote 1: For evidence of this, search YouTube for university student Joel Miller's very clever video,
Microstructure-Property Relationships in Ti2448 Components Produced by Selective Laser Melting: A Love Story
.