Gramophone Dreams #45: T+A Solitaire P headphones & HA 200 DAC-headphone amplifier Linear Tube Audio Z10e
Linear Tube Audio Z10e (A Follow-Up)
In Gramophone Dreams #36, I wrote a rave report describing how well Linear Tube Audio's Z10e 12W power amplifier/preamplifier/ headphone amplifier (footnote 1) drove my high-sensitivity Zu Audio Soul Supreme and DeVore Fidelity O/93 floorstanding speakers. I was especially dazzled by how effectively the Z10e drove the Stax SR-009S and Dan Clark Voce electrostatic headphones. I was equally impressed by how well the Z10e played the relatively insensitive 88dB/mW JPS Labs AB-1266 Phi TC headphones. My only disappointment was the Z10e's lack of power and gain driving HiFiMan's glorious—but insensitive (83dB/mW)—Susvara.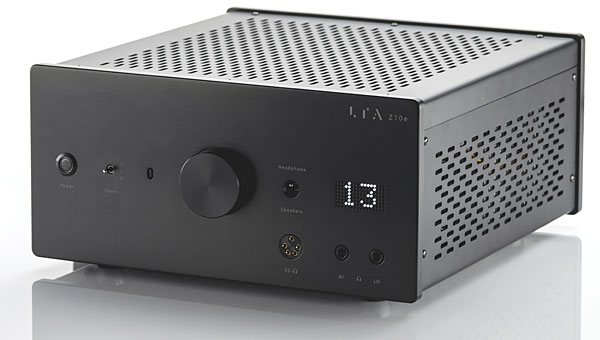 I wrote, "It did let the Susvaras play most of my difficult, bass-heavy program with reasonable clarity and élan. Unfortunately, there was zero punch, instrumental weight, or get-up-and-go energy. Clipping was noticeable especially on deep plucked or synthesized bass, where the Z10e would occasionally choke completely. I was disappointed by the Z10e's apparent lack of power, so I ran to the LTA website to see how much power they specified for the headphone outputs.
"I could not find a listing for 50 or 300 ohms, so I wrote LTA's PR guy, Nicholas Tolson, asking for facts. He reported back: 'Into 50 ohms the Z10e makes 500mW from the HI power output, and 77mW from the LO. Into 300 ohms, it can generate 220mW from the HI jack, and 19mW from the LO.' Which is fine for most headphones, but not for one of the world's finest planar magnetics."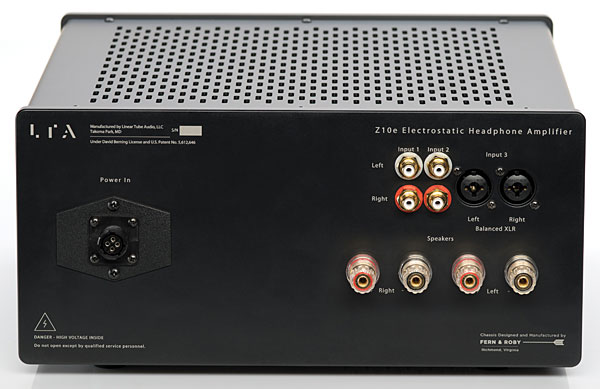 I concluded the Susvara section by saying, "While I listened with the Susvaras, I kept shaking my head in disappointment: Why can't Linear Tube Audio give the headphone output the same power and gain it gives the speaker output?" After the review was turned in, Nicholas Tolson from LTA wrote in his manufacturer's comment, "Since sending Herb this amp for review, we have heard the same from our customers. So, we reworked our original, conservative headphone outputs to be more powerful. The 'HI' output now puts out the same voltage and gain as the speaker outputs, about 3W into 32 ohms. We are certain that this is ample power for the Susvara and other hard-to-drive headphones. The 'LO' output provides 240mW to 32 ohms." A significant upgrade.
In late October 2020, the revised LTA Z10e entered my system for a comparison with the original. I listened to the British avant-jazz group Sons of Kemet's politically antagonistic Your Queen Is A Reptile (24/96 FLAC, Impulse/Qobuz). With the HiFiMan Susvara plugged into the Z10e's HI output, Theon Cross's tuba, marking the beat on the first track, "My Queen Is Ada Eastman," set itself in a fierce, hard-swinging counterpoint to Joshua Idehen's vocals, bandleader Shabaka Hutchings's saxophone, and Seb Rochford's and Tom Skinner's drumming. Densely packed bass detail, in the form of subtle low-level, low-bass tuba textures, bounced forward in the spaces between sharp drumming and saxophone bursts. The LTA Z10e–Susvara combo missed no beats, showed no weaknesses, and kept my head bopping to Your Queen's morphing Afrobeat-grime-soca rhythms. The Z10e amp displayed no hesitations, dullness, or clipping; no smoke from the tires, no engine stalling—only full-traction, high-torque engagement.
I did not have the easy-to-drive (35 ohm), high-sensitivity (106dB/mW) Focal Stellia when I first reviewed the Z10e, but now I do, and I was excited to try LTA's amp driving these deluxe beryllium-domed, dynamic closed-backs. Listening to the sixth track, "My Queen Is Nanny of the Maroons," on Your Queen Is A Reptile, the bottom octaves are packed with urgent puffing tuba sounds and large drum harmonics, but the Stellia, powered by the revised Z10e, kept them rich-of-tone, well-focused, and quick-moving. The top octaves were alive, extended, and well-described.
Both times Linear Tube Audio's Z10e power amplifier/headphone amp/preamp was in my system, it felt as though, if I weren't a reviewer, this could be the only audio amplification I would ever need. That I could retire happily with it, and maybe only a dozen electrodynamic, electrostatic, and planar-magnetic headphones, and of course, the Klipsch RP-600M, Falcon LS3/5a, Zu Audio, and DeVore Fidelity loudspeakers—all of which it drives with notable ease. Headphone devotees can rejoice! Linear Tube Audio's Z10e is now a full-service pleasure provider.—Herb Reichert
---
Footnote 1: Linear Tube Audio, 7316 Carroll Ave., Takoma Park, MD 20912. Tel: (301) 448-1534. Web:
lineartubeaudio.com