Gramophone Dreams #45: T+A Solitaire P headphones & HA 200 DAC-headphone amplifier Page 2
The standard earpads are 13/16" thick and covered with gray microfiber suede. The UWE earpads are the same thickness, but their foam is firmer than the standard pads and encased in perforated artificial leather on the inside and microfiber suede on the outside where the pad touches the head.
These perforated pads do what Mr. Shannon said they do, thinning out the upper bass and adding a few dB around 2kHz. The effect is to make muddled movie dialogue more intelligible while reducing midrange tone saturation. With Erich Leinsdorf conducting the Royal Philharmonic Orchestra (1972) playing Mahler's Symphony No.1 (16/44.1 FLAC, Decca/Qobuz), the Solitaire P's alternate earpads played extra-clear and distinctly articulated, but bright, lacking the rich harmonic underpinnings I prefer for a satisfying orchestral music experience.
All the listening observations that follow were conducted with the Solitaire P's standard, nonperforated earpads—which to my ears played the Leinsdorf Royal Philharmonic's Mahler Symphony No.1 with balanced, saturated tone and spacious, fluent clarity.
T+A HA 200 amp/DAC
T+A's HA 200 amplifier/DAC costs $8900. Its finely finished, machined-aluminum chassis just screams "Made in Germany," emanating an aura of precision and manufacturing prowess. Its sides are lined with shallow, artfully sculpted heatsinks that emanate modest heat and the message "solid-state class-A amplifier inside." That class-A amplifier utilizes T+A's "HV" technology: Amplifier stages are operated at higher-than-usual voltages so that devices operate in their most linear region. Like tubes. Also inside, DSD and PCM data are handled completely independently, each in its own optimized pathway.
A study of the back panel reveals that, in contrast to, eg, T+A's DAC 8 DSD D/A processor, the HV 200 has only headphone outputs: It's purpose-built for headphones and headphones only. On the front panel, below the stereo, multipurpose front-panel VU meters—to the left of a display that does what displays do—are three button-selected output jacks: a balanced 4.4mm Pentaconn, a balanced 4-pin XLR, and a standard 6.5mm (¼") jack. These outputs allow parallel operation of two headphones simultaneously as long as each headphone has an input impedance of at least 20 ohms.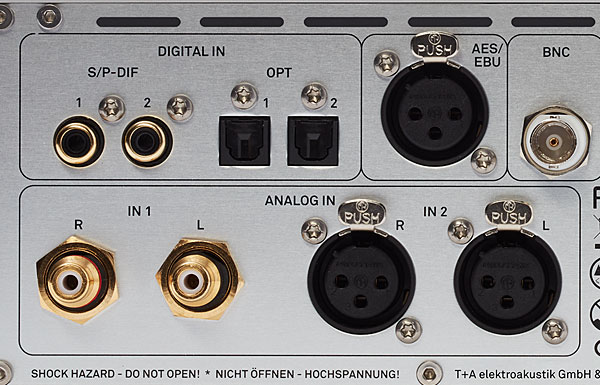 Hidden among countless digital inputs are two that are analog: one single-ended (RCA) and one balanced (XLR). The digital inputs consist of two RCA S/PDIF, two TosLink, one AES/EBU, one BNC, and two USB inputs. One of the USB inputs accepts PCM sampling rates up to 768kHz and DSD up to DSD1024. (Above DSD256 requires a Windows or Linux-based source.) The second USB input is for "possible future extensions."
An optional HDMI module ($600) adds two HDMI inputs and one ARC (Audio Return Channel) HDMI output. With this module installed, DSD audio delivered over HDMI can be decoded natively by the HA 200 via its dedicated DSD signal pathway.
Besides tone, balance, and loudness, the user may adjust the HA 200's output impedance for each headphone output, choosing between 8, 12, 18, 25, 40, and 80 ohms. (I used the 8 ohm setting for all of these comparisons.)
T+A and Mytek
I reviewed Mytek HiFi's $5995 Manhattan II DAC/headphone amplifier/preamplifier in the August 2017 Stereophile. Since then, the Manhattan II has anchored my daily-driver desktop system. Every day, I am impressed with its relaxed neutrality and how forcefully it presents musical rhythms. The Manhattan II uses the popular Sabre ES9038 sigma-delta chips but displays no symptoms of amusical chip-itis.
The $8900 T+A HA 200 costs almost 50% more than the Manhattan II, but the HA 200 and Manhattan II both aspire to being "as good as it gets" in their category, so I figured a comparison was called for. I was especially curious to compare the sound of T+A's Solitaire P headphones: first through the Manhattan II, then through the HA 200.
When I plugged the Solitaire P's into the Manhattan II, I heard life-affirming music! I started with the kind of jazz that amps me up—the kind with mesmerizing forward momentum that makes it impossible for me to divert my attention. I just closed my eyes, let go, and rode the hysterical buildup of a Roscoe Mitchell composition called "Chant" played live at the Chicago Jazz Festival in August 2013.
At this point, I had logged weeks of hours listening with T+A's Solitaire P headphones, so I already had a pretty good sense of their sound character. But playing Jack DeJohnette: Made in Chicago (24/48 FLAC, ECM/Qobuz), featuring Roscoe Mitchell, Henry Threadgill, and others, made one thing very obvious: the Solitaire P's were never confused, blurred, or tonally challenged by this harmonically complex musical program. They were as microdetailed and meticulously organized as HiFiMan's Susvara, but the Solitaire P's seemed to add something extra to the sound. I deemed this extra a good thing but could not pin down what it was. Mostly, my brain kept noticing an unusual amount of textural density that appeared to extend equally through all 10 octaves.
This enhanced textural density seemed good because when I've experienced it before, it indicated that the transducer was tracking the signal like a race car with fresh, sticky tires. These vivid, newly excavated textures made every image more corporal and believable.
Most importantly, this effect caused the T+A headphones to separate themselves from a pack of headphones that included the Audeze LCD-3 and LCD-X, the ZMF Vérité, plus the HiFiMan HE6se and HE1000 V2, all of which I auditioned for comparison and none of which equaled the Solitaire P in this regard.
Playing Live in Chicago again, this time with T+A's headphone driven by the HA 200 using its upsampling Bezier 2 filter, wide-bandwidth setting, 8 ohm output impedance, and loudness level set to LOW, the sound was more "digital" (less relaxed and more mechanical) than with Manhattan II using Mytek's SRLP (slow rolloff, linear phase) filter.
Those cursed filters
At this point, I stopped and took a close listen to the HA 200's four choices of reconstruction filters—FIR Short, FIR Long, Bezier 1, Bezier 2—plus NOS (footnote 2). The four options sounded ridiculously different from each other, forcing me to realize that such filters dramatically modify and color the sound of every recording in its own peculiar way. At first, I didn't like any of them. Then, for a while, I leaned toward NOS—but the HA 200's NOS seemed soft compared to my HoloAudio May DAC. When the NOS's softness started to bug me, I began alternating between Bez1 and Bez2, seeking a little more clarity and grip. Bez2 had the best bite and also seemed the least fatiguing, so I chose it. Better than the other filters, it preserved the reverb on Lou Reed's guitar during his Brooklyn Academy of Music collaboration with John Cale, Songs for Drella (24/96 FLAC, Warner/Qobuz). After realizing that, I conducted all of my HA 200 auditions with the Bez2 filter, on the wide-bandwidth setting and the lowest (8 ohm) output impedance.
While auditioning filters with Songs for Drella, I began to get a better feeling for the Solitaire P's "extra density" and realized that it reminded me of the slight "extra weight" I experience with closed-back headphones. As an experiment, I covered the P's earcups with my hands. The change in sound was almost undetectable. On some open-back headphones, like HiFiMan's HE-1000 V2s and Audeze's LCD-3s, for example, covering the backs while playing music will dull the sound dramatically. Interestingly, while driven by T+A's HA 200 amplifier, the sound of the Solitaire P headphone was brighter, fresher, more open, and airier than that of the LCD-3 or the HE-1000 V2.
This was the moment I started to fully grasp the T+A headphones' unique virtues. When I replayed one of my 2021 R2D4 picks, the Chernobyl soundtrack (CD, DG 483 7225) through the Solitaire P's, I not only reveled in the aforementioned textural density; I was also taken aback by what I now (finally) recognized as the Solitaire P's look-inside-the-recording transparency, which, despite its superior relaxed quality, the Mytek couldn't match.
It was time to try the Solitaire P's through the Pass Labs HPA-1 amplifier.
HA 200 vs Pass Labs HPA-1
I have not been to a movie theater in 2020. The closest I get to those loud, dark rooms is listening in the dark with headphones to big-production soundtracks like Chernobyl. With the HoloAudio May DAC feeding the $3500 Pass Labs HPA-1 preamplifier/headphone amplifier, T+A's Solitaire P headphones sounded slightly softer, gentler, more spacious than they did with the HA 200 with the Bez2 filter. With the HPA-1, the P's retained their textural density, but it became slightly blurred and less obvious. Sounds were less distinctly outlined with the HPA-1, but the soundfield felt more of a piece, the music more relaxed.
HA 200 vs Benchmark HPA4
I was a little surprised, but, compared to the HA 200, the Chernobyl soundtrack sounded flat and dreary with the Benchmark HPA4 driving the Solitaire P's. No atoms-buzzing pizzazz. Also surprising was how the running water Foley sound on the Chernobyl "Pump Room" track sounded more like real water running with the T+A HA 200. Driving the Solitaire P's with the HA 200 (with its 8 ohm output impedance) was even more clear, tight of bass, and well-defined in the lower octaves than the HPA4 (with its "near zero" output impedance).
The biggest surprise of all was how the expensive German amp beat the moderately priced American amp at its own force, clarity, and specificity game.
Conclusion
My experience with other products by mainstream amp and speaker manufacturers "getting into headphones" has been mostly disappointing. French loudspeaker company Focal is the shining-star exception: Their best headphones are as good as any other company's best headphone. After spending a couple of months with the Solitaire P and HA 200 amplifier/DAC, I think T+A has beat the odds: Their first-try headphone products played with the best of the world's best, at the uppermost point of the gold-tipped asteroid. Bravo T+A!
---
Footnote 2: You can find the measured behavior of these filters
here
.—
John Atkinson