Gramophone Dreams #42: Sunvalley Audio SV-EQ1616D phono equalizer Page 2
Every image in the SV-EQ1616D's construction manual is life-size and in full color. But if I were making this kit, I would rely heavily on making my work match the photos you see with this article. If you make a mistake, no worries, because Sunvalley's exclusive North American distributor, the honorable Victor Kung of VK Music, and his cross-country crew of technicians are here to help.
The Sunvalley SV-EQ1616D uses a simple, conventional, capacitor-resistor (CR) RIAA equalizer with two switchable inputs and six selectable presets to match the various equalization curves used in past and present recordings. Its output is switchable between Stereo and Mono. There is, in addition to the 36dB-gain moving-magnet stage, a FET head amplifier that adds another 25–32dB gain with fixed 50 ohm loading for use with low-output moving-coil cartridges. The basic SV's tube complement is two 12AX7 dual-triode voltage amplifiers (one per channel) and one 12AU7 dual-triode cathode follower output stage—plus any tubes used in the power supply.
The Sunvalley kit is a lot like the RCA tube manual phono stages I built back in the day. Part of what drew me to review this totally unpretentious preamp was the two features I thought made my home-built preamp better than the Marantz: its passive EQ and its octal-base rectifier tube.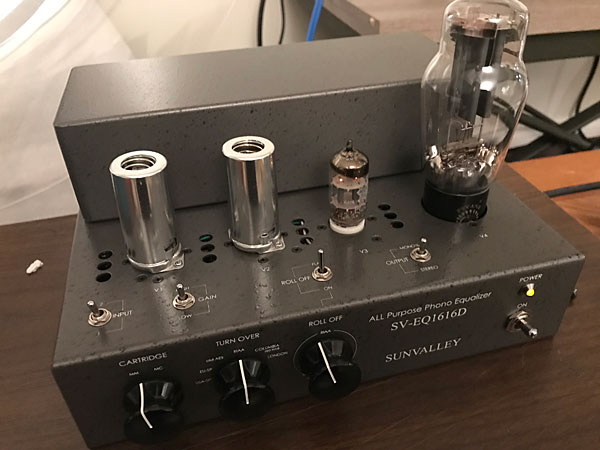 When it comes to rectification, the Sunvalley gives the builder a choice. The standard, included-with-the-kit rectification is a solid-state module that the builder must construct. Optionally, any of the 5AR4, 274B, 5R4 family of octal-based rectifiers can be used. The solid-state rectifier module fits into the same tube socket as the tube rectifiers, so builders can build the solid-state module and try tubes and decide which rectification option sounds best to them. My review sample came with Psvane 274B rectifier tubes.
Besides its playful, old-school looks and its big tube rectifier, what sets the Sunvalley SV-EQ1616D apart from most under $2k preamps is its nearly infinite battery of old-record equalization possibilities, which make it especially attractive to record collectors.If you collect 78s or play a lot of old "Long Playing" microgroove records pressed before the stereo/RIAA era, this equalizer, like the Sentec EQ11 I reviewed in October 2014, will allow you to easily adjust the frequencies above 1kHz to what's appropriate to the recording, or to your liking.
Listening to 78s
There were no 78s before the introduction of long-playing 33.3rpm microgroove records in 1948. Those heavy black discs everybody owned were simply "records," and much of the greatest music of the 20th century still exists only in their grooves. A unique breed of music-loving record collector seeks out the traditional jazz, classical, blues, country, and gospel captured on those heavy, brittle shellac discs. Old-school, fundamentalist 78 collectors use only one speaker—often a corner horn—and typically rely on some sort of equalizer to adjust the sound of each record.
Whenever I choose to play a 78, I do it as a mindful ritual that begins by choosing a disc to play and then a cartridge to play it with. Currently, I am experimenting with two new, affordable cartridges optimized for 78rpm playback: an Ortofon 2M 78 and a Grado Prestige 78E. Both are high-output mono cartridges with spherical diamond tips. The Ortofon uses a 2.5 mil diamond and is specified to track at l.8gm (like its 2M Mono stablemate). The Grado uses a 3 mil diamond with a special, 78-friendly suspension designed to track at 4–5gm.
With the Grado 78E, that blue-label Brahms Columbia I mentioned at the beginning (MM 603-8) played with minimal groove noise and enough sonic refinement to let me forget, for moments here and there, that I was playing a 78. (I couldn't forget for too long because 10" 78s only play for three minutes, and 12" 78s play for five minutes, max.)
If you have never experienced a 78rpm record, I should warn you: On modern turntables, 78s will often sound like the disc is running at the wrong speed. That's because it is. Most of these discs were cut at speeds ranging from 75 to 80rpm (or worse). In 1925, 78.26rpm became the standard for motorized (60Hz) record players in the United States. In Europe, for 50Hz motors, the standard became 77.92rpm. Therefore, adjustable-speed turntables, like the Technics SL-1200 or SP10/SP15, or one of the "GL-series" Goldring-Lenco turntables, are typically favored by 78 collectors. Also, because early 78s were cut on dry, brittle shellac resin, the listener will always hear the needle scraping through the groove. But that's okay; it's part of the youtube.com/watch?v=i9J0bopd4W4 and 78rpm mystique.
The best thing about playing and collecting 78s is this: There are no rules. Just put on a disc and enjoy the damn music. Other than a little tone or speed adjustment, there isn't much to get fussy or tweaky about or to spend money on. Music comes off these fast-spinning, short-playing discs with a superintense dynamic force that makes long-playing audio seem dull, canned, and restrained.
With long-playing records
I advise all audiophiles just starting out to avoid listening for audiophile checklist things like detail, high-frequency air, imaging, soundstage depth, etc. Instead, try to feel and observe the sound energy in the room. Does the energy coming from the speakers seem to convey the shape and spirit of the original performance? This is important because, in the attempt to achieve all that checklist stuff, density and life force are usually the first things sacrificed. What made the Sunvalley preamp so unusually exciting was how it excelled at all the normal checklist stuff and juiced up and amped up the sound of my records.
During my first month with the Sunvalley, I used only the moving-magnet input. With the Hana ML moving-coil, I used a Bob's Devices SKY 20 step-up transformer. With the Koetsu Rosewood Signature Platinum and the My Sonic Lab Ultra Eminent Ex cartridges, I used my EMIA SUT. With the Etsuro Urushi Cobalt Blue, I used its matching Excel Sound ET-U50 SUT. With the SV-EQ1616D, each of these combinations generated the most vivid and nuanced analog sound I've had in this apartment.
I used these cartridges with SUTs because I've never met a head amp as quiet, natural, or microdynamically charged as a properly matched step-up transformer. To my ears, transformers tend to disappear, moving-coil head amps less so.
But what about the SV-EQ1616D's head amp? I ran the Koetsu Rosewood Signature Platinum into the Sunvalley's MC input, and by the end of Miles's "Shhh/Peaceful," I was smiling. My expectations were low, but the Sunvalley's head amp impressed me with its ability to boogie, recover substantial 3D spaces, and not shame this venerable Japanese cartridge.
My Dr. Feickert Blackbird turntable has provisions for two tonearms, which is perfect, because my current ambition is to fit the Blackbird with a 10.5" Thomas Schick tonearm for stereophonic moving coils and then, on the Blackbird's rear arm mount, use my Sorane/Abis SA-1.2 tonearm for mono and 78rpm cartridges. The SV-EQ1616D might work well with this plan because it has two inputs: MM and MC.
In that spirit, I tried Hana's excellent $750 SL Mono moving coil cartridge direct into the Sunvalley's MC input. The Hana SL Mono generates 0.5mV, and its internal impedance is specified as 30 ohms. The manufacturer suggests a load of >400 ohms. I wondered how it would fare into the SV-EQ1616D's fixed 50 ohm load.
"It's only a paper moon sailing over a cardboard sea. ..." I played a forever favorite high-fidelity mono recording: Gene Norman Presents Mel Tormé at the Crescendo (LP, Bethlehem BCP 6020), and dang, people, this 1957 record played surprisingly well through the Sunvalley's MC input. It was a bit blunt, and the reverb tails on the bongos and double bass were attenuated enough to be a distraction. Don Fagerquist's trumpet sounded too much like a toy for my taste. High frequencies would occasionally scream out. But applause sounded like real hands clapping.
This Bethlehem LP is a superb mono recording with an apparently precise realization of the RIAA curve. Running the Hana SL Mono through the $850 Bob's Devices SKY 20 SUT into the SV-EQ1616D's MM input solved all the MC input's screech and dullness—that is, all its loading issues. Plus, it reminded me how much I love Hana cartridges and the sweet-sounding Alnico magnets that power them.
Don't forget
Now might be a good time to remind readers that all musical performances recorded between 1925 and 1967 were captured with tube electronics. Like today, record producers, recording engineers, and performers crafted their creations to be enjoyed with the loudspeakers and home audio of the time. The question now is, when these historic recordings are converted to digital, remastered, oversampled, and played back via solid-state amplification, what is left of their original character? Or their creators' intentions?
Audiophiles who collect long-playing microgroove discs are not only the founding fathers of our hobby; they remain its core constituents. Tube amplifiers, preamps, phono stages, and exotic phono cartridges still fuel the "audio-on-acid" wing of our beloved pastime. Even if you can't afford, or don't want, a $52,000 phono preamplifier, you can still experience massive doses of the extramundane by setting a needle on some black discs. The inexpensive Sunvalley SV-EQ1616D could be part of that experience. But I warn you, if you start using the Sunvalley, it could lead to harder drugs.