Recording of July 2003: Vivaldi: La Stravaganza
VIVALDI: La Stravaganza
12 Violin Concertos, Op.4
Rachel Podger, violin; Arte dei Suonatori
Channel Classics CCS 19598 (2 CDs). 2003. Jonathan Freeman-Attwood, prod.; C. Jared Sacks, eng. DDD. TT: 102:59
Performance
*****
Sonics
*****
Happily long gone are the days when those who should know better (Stravinsky, for one), as well as the hoi polloi, claimed that, rather than writing more than 500 concertos, Vivaldi wrote one concerto 500 times. Now we know that, in addition to the instantly recognizable The Four Seasons and the choral Gloria, he was a superb composer of opera, and that his many, many concertos, composed for a splendid array of instrumental combinations, are in fact masterworks. Furthermore, now that historically informed performance practice is a welcome fact of musical life rather than an eccentric option, one also hears the concertos for solo violin, of which there are more than 200, in a brand new light. Many of these works, which seem workaday only when played in a workaday fashion, have turned out to be thrillingly alive concertos that challenge and fascinate with their originality.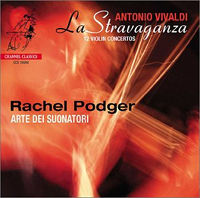 That said, the 12 violin concertos that make up La Stravaganza, Op.4, inspire confidence in neither a particularly broad tonal palette nor in any breakthrough format possibilities. All but one are in three movements, fast-slow-fast, and scored for solo violin (with the occasional echoing second violin and, in No.7, a true additional solo violin and a solo cello), the usual quartet of strings, and a continuo section of archlute, guitar, theorbo, harpsichord, and organ (this combination probably decided on by the players and adding nice a flavor). There is a sameness of texture and format; besides, Vivaldi is Vivaldi and is easily recognizable. But we wouldn't want Sinatra to sound like Tony Bennett, so what's wrong with Vivaldi endlessly reminding us of Vivaldi?
Then again, if you were to begin listening to these concertos with No.8, in d, its weirdly jagged, angry, seemingly random solo-violin part might make you wonder just what you'd walked into. The 90-second first movement slows down unexplainedly at its very end, then segues into the middle movement for a few seconds before a furiously fast midsection that seems to pass out emotionally into a v-e-r-y s-l-o-w Adagio for a minute before ending peacefully. The last movement is a solid Allegro of great classical formality that, despite its bright colors, has a dark, angry core. All of this takes place in less than seven minutes.
Not all of the concertos of Op.4 are up to this level of inspiration, and with the concerto that follows we're back on far more familiar turf. But even here, the chug-chug-chug final movement is played with such verve that it catches us up despite our knowing just where it's going.
Elsewhere are similarly unexpected joys: The slow movement of No.10, without a particularly interesting tune, is underpinned by the archlute and organ with remarkable gravity; No.3's slow movement, while somewhat reminiscent of The Four Seasons, is of unsurpassable beauty and simplicity; the last movement of No.6 is so busily virtuosic and has such a great beat that you'll need a rest after you listen to (and move along with) it. And after the rather ho-hum first movement of No.4, still played masterfully, the harmonic flights of the final movement keep throwing us off before bringing us back to a familiar Vivaldian cadence.
Rachel Podger is in a class with Andrew Manze—neither is afraid to riff wildly, and both have a spectacular innate rhythm and sense of the arc of a movement, which allows them to embellish a line without ever distorting it. In addition, they refuse to treat even more routine music routinely, invariably finding, say, an inner dissonance or quirk in scoring to emphasize. Both can be aggressive, and both can opt for true sensitivity; Podger's take on the opening of No.2 is positively dainty.
Arte dei Suonatori is a Polish period-instrument band that is apparently conductorless; they and Podger manage a give-and-take that defines teamwork and joy in musicmaking, and each member of the band is more than up to his or her task. With the group's string balance of 7-2-2-1, I was afraid the recording would be top-heavy and shrill; but whether it's the engineering or the venue (a church in Poland), this is not the case. The bottom is rich and full, and the clarity with which the archlute, guitar, and theorbo are recorded add mightily to the experience; at just the right volume level, the room practically vibrates.
These 12 concertos were not intended to be listened to in one sitting, but I've found it easier to take a bunch at a time from this recording than from any other. The two CDs are offered at a bargain price. It's easy to take Vivaldi for granted; here, it's impossible.—Robert Levine