Recording of June 1995: Train a Comin'
STEVE EARLE: Train a Comin'
Steve Earle, guitar, harmonica, vocals; Peter Rowan, guitar, mandolin, mandola, vocals; Norman Blake, guitar, dobro, fiddle, Hawaiian guitar; Roy Huskey, acoustic bass; Emmylou Harris, vocals
Winter Harvest WH 3302-2 (CD only). Steve Earle, William Alsobrook, prods.; Wayne Neuendorf, Mike Elliot, engs. ADD. TT: 40:01
Steve Earle has taken a mighty rough road. Though Guitar Town gets my vote for Best Country Record of the '80s—the songwriting genius of Hank Williams Sr. with a twang-stomp punk edge, and a fine protest album of redneck rant to boot—thereafter Earle's career seemed to coast downhill with a dreamy, brakeless momentum. Exit 0 was damn good, but on Copperhead Road Earle's country-metal tendencies began to get the better of him. Never a favorite of the Nashville establishment to begin with—he sings anything but cleanboy country—by The Hard Way a tortured-sounding Earle was wallowing in just how hopeless and contrary a cuss he was, and how much trouble it all brought this pore ol' good ol' boy as he became the cliché of a thousand bad-boy ballads (including a few of his own).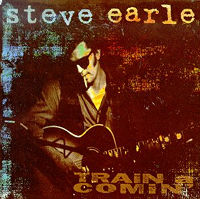 As rumors of self-indulgent concerts, arrests for D&D, and a galloping smack habit began to spread, Earle's only unimpaired talents seemed to be his abilities to party and make enemies. Then came Shut Up and Die Like an Aviator, a surly, joyless live album whose title summed up the self-loathing dripping from the tracks. A lethal touring schedule had taken its toll: Earle sounded as if he had about a week's worth each of life and voice left in him. One of the most depressing, burnt-out, desperately unhappy albums I've ever heard.
But that was four years ago—these days Earle's vices of choice are cigarettes, Dr. Pepper, and music. Train a Comin' is a lotta new all at once: new album, new band, new label, new sound, and what sounds like an entirely new Steve Earle. Not only is it his first-ever analog recording, it's also Earle's first wholly acoustic album. "This ain't my unplugged record!! God I hate MTV," he says in the liner notes. When producer William Alsobrook told him he'd be recording in 30ips analog, Earle replied, "You're a dinosaur, motherfucker!"
The album sounds fantastic: like four guys (with Emmylou Harris singing on two tracks) sittin' around at a late-night Nashville pickin' party. The guitars, mandolin, dobro, and bass don't just sound real'n'right by themselves—they sound like they're all being played in the same room at the same time. Turns out Earle was cooped up in the iso-booth, but the rest of the players were all playing together with natural mike-bleed in a small room (at Nashville's Magic Tracks studio) chosen for its warm, intimate sound. There are only a couple overdubs on the whole album, and no tipped-up, chiming guitars, no hormones added to Roy Huskey's bass. EQ was flat throughout, with only a touch of compression and reverb via an EMT 250. In other words, mighty real sound.
But that's just the sound. Train a Comin' is a collection of older, previously unrecorded Earle originals, some going back more than 20 years. No one captures the heartbreak of the decaying American heartland better than Earle, whether on "Guitar Town," "Hillbilly Highway," or "Good Ol' Boy," all from ten years ago, or on this album's "Hometown Blues": "I wish I'd never come back home / It don't feel right since I've been grown / I can't find any of my old friends hangin' 'round / Won't nothin' bring you down like your hometown." Nostalgia ain't what it used to be.
More heartbreak: Earle counters the downright stupid bonhomie of "Mercenary Song"—ne'er-do-wells with nothing better to do going down to fight for Pancho Villa for regular pay—with "Ben McCulloch"'s starkly unromanticized Civil War: "I killed a boy the other night who'd never even shaved / I don't even know what I'm fightin' for—I ain't never owned a slave."
But Earle remains a die-hard romantic about women—his I'm-nothing-you're-everything love songs have always been more naked than the usual country boilerplate. He uses his muscular Texas twang to sing it like he means it; simple lyrics like these (from "Nothin' Without You") sound almost too vulnerable in Earle's throat: "I'm a hero in your eyes / I'm a comfort when you cry / When you hurt me I'm your fool / But I'm nothin' without you // I'm a poet just the same / Every time I speak your name / I'm just a shadow when I'm blue / But I'm nothin' without you." And consider how the speaker in "Sometimes She Forgets" came by his knowledge: "If she tells you she don't need a man / She's had all the comfort she can stand / You'd best believe every word she says / But don't give up 'cause sometimes she forgets."
There are four covers: a loose, happy "I'm Looking Through You," which Earle returns to its country roots; a campfire version of "Rivers of Babylon" with Harris; Townes Van Zandt's bitter ballad, "Tecumseh Valley," in which Earle sounds like Dylan singing "North Country Blues"; and Norman Blake's solo-guitar "Northern Winds" (Earle's liner note: "Shut up and learn something.").
Earle describes the Beatles' "I'm Looking Through You" as "the stuff I cut my teeth on—Middle Class White Boy Roots Music." Funny thing—that's how I feel about Guitar Town—and Train a Comin'. Welcome back, Steve Earle.—Richard Lehnert