Outlaw Audio RR2150 stereo receiver
Wilson Audio Specialties' David Wilson likes to say that you should build a stereo system from the speakers down. Of course he does—he sells speakers. But that doesn't mean he's wrong. So recently, when offered an inexpensive new product for review, I decided it would be a good test of Wilson's theory. I tried driving Wilson's $45,000/pair
MAXX2
speakers with Outlaw Audio's RR2150, a $599 stereo receiver.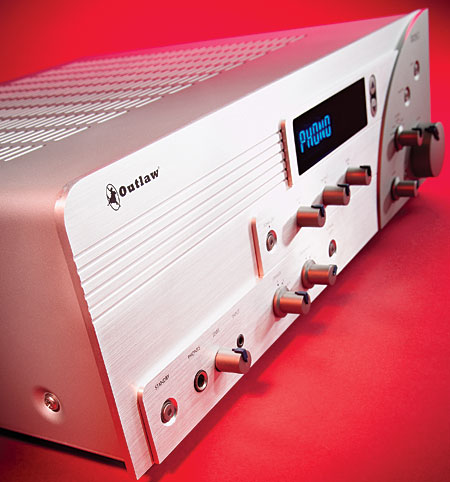 A few days later, as I write this, I'm still listening. While I was at it, I switched to some long lengths of speaker cable and sidled the receiver up to the foot of the Continuum Audio Labs Castellon turntable stand ($24,999), on which stood Continuum's Caliburn turntable with Cobra tonearm ($65,000). I then hooked up the Cobra's RCA plugs to the Outlaw's moving-coil/moving-magnet phono input. That's $89,999 into $599, and $599 back out into $45,000. Not a real-world scenario.
Despite its low price, the RR2150 harks back to a time when stereo receivers were taken seriously. Sherman, set the Wayback Machine to 1973, when the giants Yamaha, Kenwood, Marantz, Sansui, and Pioneer ruled the audio landscape. The Japanese wanted in on the US audio market and tried to design products and build them to the standard of McIntosh Labs. When I find those receivers at garage sales for $5 and $10 a pop, I buy them and give them to friends' kids.
Today, cheap multichannel receivers rule the market; the few available two-channel receivers are bottom-dwellers of low cost and low performance. The online outfit Outlaw Audio saw this opportunity for a high-performance, modestly priced stereo receiver, and thus was born the RR2150.
Old-world looks, new-world functionality
Despite the RR2150's low price, Outlaw has paid attention to its appearance. It looks stylish, with a sculpted, two-tone, deco-like faceplate that sports a full range of controls. From right to left along the bottom are a Standby button, a headphone jack with its own volume control, a front-panel auxiliary minijack input, a Speaker selector (A/B/A+B/Off), and a Speaker EQ switch that can apply a bit of bass boost at 55Hz, 65Hz, or 80Hz (should you choose to augment the low-end performance of the typical bookshelf speaker likely to be used with such a modestly priced receiver). Then there's a button for an external processor loop, should you wish to use the receiver as part of a multichannel system now or later. The controls in the row above comprise a Tone Off button and Bass, Treble, and Balance knobs. Already, that's an impressive amount of functionality packed into an inexpensive receiver.
There's more. Within the graceful curve on the right side of the front panel are the Volume knob, a Mute button, the Source selector, a Record selector so you can record from one source while listening to another, and Function and Enter buttons. The last two are associated with the AM/FM tuner, which has 39 programmable presets. In the center of the faceplate is a large fluorescent screen and Up and Down tuning buttons. A full-function, programmable remote control is included.
There are even more features on the RR2150's rear panel, including a Subwoofer Out jack and a switch for the two channel electronic bass-management system lifted from Outlaw's Integrated Controlled Bass Manager (ICBM), which they developed for SACD and DVD-Audio players' 5.1-channel analog outputs. The switch can be set to BP (for Bypass), or you can choose crossover filters of 60Hz, 80Hz, or 100Hz.
You can remove a pair of straps and use the RR2150's amp or preamp sections separately. There's even a USB jack on the rear panel so you can connect your computer and play your iTunes collection. There are also the aforementioned MC/MM input (both offering 47k ohms loading only), and two high-level inputs, plus tape and processor loops. Add to these the AM and FM antenna inputs, a 12V trigger to turn other gear on and off, infrared controls so you can use the remote while keeping the receiver behind closed doors, two pairs of five-way speaker binding posts, an IEC AC jack, and a master On/Off switch. Whew!
All of this would be wasted if the RR2150 didn't pack a powerful amplifier section. Outlaw claims a frequency response of 20Hz–20kHz at less than 0.08% total harmonic distortion, both channels driven at 100W into 8 ohms or at 160W into 4 ohms. Outlaw's Peter Tribeman assured me that the power and distortion ratings were "conservative," and that John Atkinson's measured results would be better. For $599, just meeting the specs Outlaw has claimed would be impressive enough.
Setup and use
Except for programming the tuner—and for audio novices—setting up and connecting the RR2150 is self-explanatory. The instructions (still in rough draft as I write this) are in plain, declaratory English and effectively tell the full story. The RR2150 was easy to use, and everything worked as promised. My only quibble was that the Source selector's small size made it too easy to turn past the desired selection.
Sources were my reference Musical Fidelity kW SACD player and the Roksan Radius turntable ($1500) with Roksan cartridge (the Radius is up for review). First, I listened to the radio. Using the supplied folded dipole FM and loop AM antennas, I received all the expected major AM and FM stations in the New York metropolitan area. Despite being below ground level (my listening room is in the basement), the RR2150's tuner managed to receive the elusive WFMU as well as my favorite AM station, WLIB, which has a fairly weak signal.
Without hearing my reference sources, it was impossible to assess the FM tuner's sonic performance in absolute terms, so I slipped Mickey Hart's Planet Drum (CD, Rykodisc RCD 10396) into the SACD player and checked out the ability of the RR2150's amp section to drive and control the Wilson MAXX2s' bass bins. The Wilsons are sensitive but require lots of current to drive effectively.
You know what? This little receiver delivered the deep bass on that gut-punishing record far more effectively than I could have imagined it would. The extension and punch were there, and while the control wasn't quite up there with my $23,000/pair, 1kWpc reference Musical Fidelity monoblocks, the RR2150 didn't embarrass itself. If you want deep bass, this exercise proved Dave Wilson's point: put the money into a speaker that can produce it (of course, that speaker needn't cost $45,000/pair) and go with modestly priced electronics, then upgrade as your budget allows.
Playing a number of CDs through the RR2150 demonstrated that, no surprise, the RR2150 couldn't match my reference electronics in terms of macrodynamic nuance, image specificity, or harmonic completeness. The overall sound was somewhat opaque and not fully fleshed out, but the dynamics were credible, and the amp controlled the speakers well enough to deliver satisfying rhythm'n'pace. That's why I left it plugged into the system and listened for more than a few days.
Running the Roksan Radius into the RR2150, I found the Outlaw's MM phono input quiet, and quite competent at reproducing a Mobile Fidelity Sound Lab pressing of Frank Sinatra's Nice and Easy. The sound was open, focused, well organized, and on the rich, warm side—not at all hard and strident. Later I plugged in the Continuum Audio Labs Caliburn turntable and switched to MC—a coupling as ridiculous as Don Knotts and Anna Nicole Smith. But it worked, thanks in part to the Lyra Titan's moderately high (0.5mV) output. Some outboard phono sections costing as much as the entire RR2150 aren't as quiet, and don't sound any better. This built-in phono preamp of a $599 receiver is no mere afterthought.
Back in the real world...
Once I'd proven to my satisfaction that the Outlaw RR2150 could survive as the weakest link in an expensive, high-performance audio chain, I took it upstairs (along with the Roksan Radius turntable) and set up a real-world system driving Revel Concerta M12s ($648/pair)—small, two-way, stand-mounted speakers I was using as surrounds in a 5.1-channel Revel system I was reviewing for UltimateAV. Just for the hell of it, I pulled out my RadioShack Optimus CD-3400 portable CD player, which had long been gathering dust, and plugged it in as the CD source.
With the Revel speakers on stands well out into our quite large living room, spread about 8' apart and toed in slightly, this combo made absolutely beautiful music—especially when I tipped up the bass a bit using the Outlaw's Speaker EQ adjustment. By any standard, this system provided genuine high-fidelity performance. It played at reasonably high SPLs without strain or dynamic compression and provided well-defined midbass, as well as surprisingly deep, punchy, well-articulated bass into the middle of the 50–60Hz range. Male and female voices were credibly presented, and while I wouldn't recommend such a small system for symphonic music, small jazz ensembles and even rock (at moderate volumes) were pleasingly presented.
Using the bass management to filter at 60Hz and connecting a recently installed Sonus Faber subwoofer took the system to another level. It also raised the price by $2600, so that sort of defeated the purpose—but it sure sounded good!
What impressed me most about this little system was its lack of etch, glare, grain, hardness, and other mechanical artifacts often imparted by inexpensive electronics. Of course, the presentation couldn't compare to what I get downstairs—but then, that system can't compete with this one's price.
Conclusion
Priced in the neighborhood of budget phono preamps and cheap, underpowered, mechanical-sounding multichannel receivers—and well below the cost of even a moderately priced audiophile cable—Outlaw Audio's RR2150 receiver combines a full range of features (including some not found on most receivers or separates at any price) with two powerful channels of amplification reasonably capable of driving all but the least efficient loudspeakers. With its front-mounted minijack and rear USB port, it makes a great intro to hi-fi for a younger generation weaned on iPods and MP3s. Add a budget CD player and turntable as sources, and a pair of today's small, high-performance, two-way bookshelf speakers, and for about two grand you'll have a 21st-century high-fidelity system at a mid-20th-century price.
Give a listen to this $599 receiver. You'll be in for a big surprise—especially if you have megabuck electronics. If this was sold through the usual channels instead of exclusively online, it would cost twice as much and still be worth every cent.