VPI Nomad LP player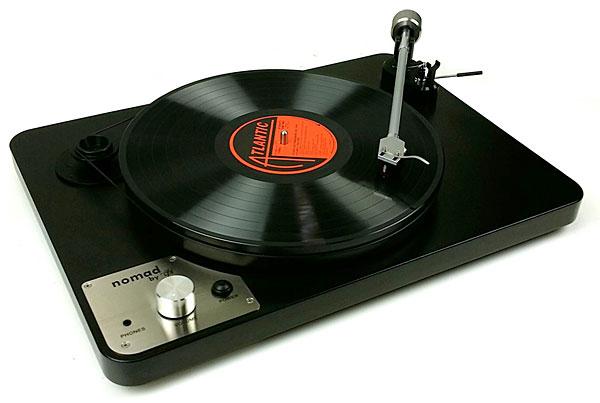 I wish I'd had a VPI Nomad when I was in college. I was in a fraternity, and for most of my time there I had to rely on others' sound systems to play my music. My sophomore and junior years, some freshmen were rotated through my room, and several of them had nice sound systems and were accommodating about letting me play my music. When I wanted to really crank it up, I visited the stoners, who had the best systems and were happy to spin my collections of King Crimson and ELP, assuming I could get them to stop listening to Jefferson Starship for five minutes (footnote 1).
By my senior year, however, as my taste in music gravitated toward the Mahavishnu Orchestra, Bartók, and John Cage, I became less welcome in the house's stereo dens. Fortunately, by that time the frat had moved to a new house whose rooms were mostly singles—it was time for me to spend some coin on my first serious stereo rig. I sprang for a Thorens TD-160 turntable with Shure M91ED cartridge, SAE Mark XXX preamp, and Sennheiser HD 424 headphones. The sound was great for its day, but, as the SAE was about the size of my Audio Valve Eklipse line stage, this rig took up a lot of space on my desk and bookshelves.
When Harry Weisfeld and his son Mat set out to design the VPI Nomad, they sought the same functionality as my old college rig: an entry-level combination of turntable, tonearm, and cartridge with a built-in moving-magnet phono stage and headphone amplifier. They had three goals: 1) create the best sound, 2) keep the price under $1000, and 3) provide a user-friendly experience for the turntable tyro. Initially, the Weisfelds wanted to include a pair of Grado headphones, but demurred when, at the last minute, Harry devised some upgrades that would improve the Nomad's sound—and increase its cost. VPI was adamant about keeping the price under $1000, and also concluded that people tend to be picky about which headphones they prefer (footnote 2). They dropped the headphones, and kept the package's price at $995.
Rather an audiophile turntable, the Weisfelds designed the Nomad as a lifestyle product aimed at young people who've never bought a turntable. They included an Ortofon 2M Red moving-magnet cartridge (footnote 3) and a phono stage so buyers won't have to deal with additional purchases to play LPs, and a headphone amp for those who live in small apartments—or dorms, or frat houses—and lack the luxury of being able to use speakers all the time. The Weisfelds also designed the Nomad to be unusually rugged, assuming that turntable neophytes would not take as much care in handling a turntable as a seasoned audiophile. When I removed the review sample from its box, I realized that it was the most rugged turntable I've had in my home, with the exception of my VPI TNT. The Nomad also includes a 10" tonearm that features a gimbaled yoke bearing with a steel rod through it, to make it nearly impossible to break.
The Nomad's platter is machined from MDF and the belt drive provides speeds of 331/3 and 45rpm—to change the speed, you move the drive belt from one pulley to another. A set of robust RCA jacks and a grounding post are on the rear. Cables and ground wire for hooking up the turntable to the line inputs of a preamp or integrated amp are not provided, and the built-in phono stage is not bypassable. The Nomad doesn't come with a dustcover, but the cover designed for VPI's Classic models fits the Nomad perfectly and is available for $369.
The Nomad's solid-state phono stage, designed by Harry Weisfeld and the VPI team, features an integrated circuit that's electrically matched to the impedance and frequency resonance of Ortofon's 2M Red cartridge. Mat Weisfeld claims that the Ortofon 2M Red, which costs $100 if bought separately, will sound better on the Nomad than will any similarly priced cartridge from another manufacturer.
Setting up the Nomad couldn't have been more plug'n'play. Everything is ready to go except the counterweight, and for this, VPI has marked the back end of the tonearm with red tape. You scoot the counterweight up to the edge of the tape, tighten the setscrew with the supplied tool, and the arm is set to the Ortofon 2M Red's recommended tracking force of 1.8gm. I checked this with my Shure stylus pressure gauge, and it was spot on.
Listening
The first thing that struck me about the Nomad's sound was its rich, voluptuous, uncolored midrange. I mined my vocal recordings and reveled in Cassandra Wilson's appropriately chesty-sounding low alto register in "Strange Fruit," from her New Moon Daughter (LP, Blue Note 8 37183 1); Joni Mitchell's pure, crystalline soprano in the title track of Clouds (LP, Reprise 6741); and the angelically seamless blend of the Roche sisters on The Roches (LP, Warner Bros. BSK 3298). Male voices also impressed me. Bob Dylan's voice in "Blowin' in the Wind," from The Freewheelin' Bob Dylan (LP, Columbia CL 1986), were rich, supple, and holographic. The Nomad's lower-midrange performance made it a good match for jazz guitar—and Joe Pass's solo take on John Coltrane's "Giant Steps," from Pass's Virtuoso #2 (LP, Pablo 2310-78), let the rich woodiness of his instrument shine through in the lower-register passages.
High frequencies were also clean, uncolored, and extended. Kraftwerk (LP, Vertigo UK 6641077) predates that band's use of electronic instruments, and on "Megahertz," Florian Schneider gives his flute a workout throughout its entire register—on the Nomad, the woodwind sounded airy and biting, but without a trace of harshness or brittleness. I was also impressed with the bass end of the Nomad's range—all recordings sounded punchy and tight. In Cassandra Wilson's cover of "Strange Fruit," Lonnie Plaxico's double bass is forward in the mix, with a touch of midbass emphasis. The Nomad revealed the bass's thick forwardness in this track, but Plaxico's lines were perfectly clean and uniform, the instrument's woodiness shining through. And when I cranked up "Smells Like Teen Spirit," from Nirvana's Nevermind (LP, Geffen DGC 24425), Chris Novoselic's bass guitar was rich, punchy, and shook the room.
The Nomad resolved an impressive amount of inner detail for so inexpensive an analog rig. It was clearly able to separate the phrasings of the unaccompanied pianists, Bernard Ringeissen and André Gorog, in Stravinsky's Concerto for Two Pianos (LP, Adès 7074). And with Arvo Pärt's Passio, performed by the Hilliard Ensemble conducted by Paul Hillier (LP, ECM New Series 1370), the room sound of St-Jude's-on-the-Hill, London, was clearly delineated, and it was easy to distinguish individual singers in the a cappella chorus.
The VPI's detail resolution made it easy to analyze studio recording techniques with many recordings. With The Manfred Mann Album (LP, Ascot AM 13015), I found it easy to distinguish the overly processed vocals from the more naturally recorded instruments. Speaking of overprocessed studio reverb, even surf guitarist Dick Dale went a bit too far in processing his axe on his Calling Up Spirits (LP, Dick Dale DDLP 184)—I found the album unlistenable on the Nomad. Other turntables resolve more inner detail; for example, the reverb on Mick Jagger's voice in "Lady Jane," from the Rolling Stones' Aftermath (LP, London 820 050-1), was less prominent on the Nomad than I've heard elsewhere.
---
Footnote 1: One psycho in our house continually played the Who's
Who's Next
during all waking hours for about a year. To this day, if I hear as much as one minute from this album, I have a
Clockwork Orange
revulsion reaction and have to leave the room.
Footnote 2: I agree. In a recent altercation, I begged my 13-year-old daughter, Caitlin, to do some more research before plunking down serious cash on the pair of headphones she'd chosen for their looks and comfort. "At least read Stephen Mejias's articles before you buy," I pleaded. Her reply was succinct: "I don't care about Stephen Mejias!"
Footnote 3: The Ortofon 2M Red moving-magnet phono cartridge costs $99 when purchased separately. Ortofon, Denmark. US Distributor: 500 Executive Blvd., Suite 102. Ossining, NY 10562. Tel: (914) 762-8646. Fax: (914) 762-8649. Web: www.ortofon.com.