Rotel Michi S5 power amplifier Page 2
The S5, and its companion preamplifier, the Michi P5, which Ken Micallef reviewed in our
November 2020 issue
, arrived fully broken in. (I only had time for a brief listen to the P5, which I'll discuss in a follow-up review in a later issue.) Orth assured me that 20 minutes was sufficient time to warm up the S5 from its standby temperature of 22°–23° C to an ideal temperature in the mid-40s. My S5, though, never got above 38°–39° C. The right channel was invariably 1° warmer than the left, for reasons that John Atkinson may discover in his measurements.
I powered the S5 through one of the same high-current outlets in the AudioQuest Niagara 7000 power conditioner that I use for the D'Agostino Progression M550s. All front-end components received stable battery power from a Stromtank S 1000. (See my review elsewhere in this issue.) Supports, cabling, accessories (footnote 1)—everything was identical to my reference setup except a shift from 20-amp Nordost Odin 2 power cable to a 15-amp Nordost Odin 2 power cable. Music was sourced from either USB sticks or a wired stream of Tidal and Qobuz using the Roon Nucleus+ server/streamer and the dCS Rossini DAC and Clock.
And away we go
Given my assignment schedule, I thought I'd ease into the S5 universe with chamber music. I chose Le monde selon: George Antheil, a recording by violinist Patricia Kopatchinskaja and pianist Joonas Ahonen that I review elsewhere in this issue.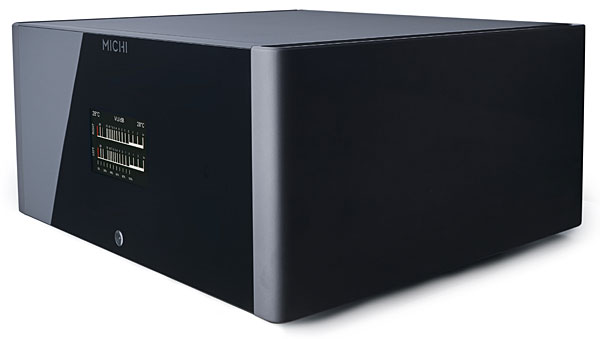 Silly me. Not only is Kopatchinskaja a "take no prisoners" musician with a sometimes-aggressive sound; the recording's centerpiece is Antheil's relentlessly mechanistic, furiously paced, intentionally infuriating Sonata No.1. This 99-year-old WTF music will send you either cheering or running to the garden hose to douse the flames rising from your brain cells. As long as I have the emotional bandwidth available, I love it.
By the time I'd finished listening to the first track, Morton Feldman's two-minute Piece for violin and piano, the Michi S5's absolute authority, natural timbres, and ability to convey acoustic space realistically were confirmed. When the duo played hard and furious in Anthiel's sonata, every strike and stroke came through hard and furious, and when they played softly with subtlety and grace, I felt the contrast. Ahonen's keyboard was unusually full and sonorous, with plenty of undertones. I felt confident that I was hearing what producer/engineer/editor/mastering engineer Marion Schwebel hoped I would hear.
Once my nerves had calmed, I turned to the tried and true. When the velvet voice of soprano Véronique Gens, from her album Nuits (24/96 FLAC, Qobuz), lent itself to music by Hahn and Messager, her voice was set back beautifully, surrounded perfectly by the sounds of piano quintet I Giardini. I could smell the scent of love and romance as Gens waltzed her way through notes. I love equally the color contrasts and liquidity in Debussy's Trio for flute, viola & harp as performed by Emmanuel Pahud, Gérard Caussé, and Marie-Pierre Langlamet on Debussy: Sonatas and Piano Trio (24/96 MQA, Tidal), and the Michi delivered everything I admire about this recording.
Enough of romance. On our January 2022 Recording of the Month, Sofia Gubaidulina: Dialog: Ich und Du; The Wrath of God; The Light of the End, the bass and darkness at the start of the composer's violin concerto for Vadim Repin were profound. Distant brass was especially convincing because the S5 highlighted the space differential that's central to the composer's struggle between darkness and light. When everything got going at once, every instrument in Gubaidulina's fabulous clatter was discernible.
That first successful test of the S5's ability to convey pounding bass with authority led me to Yello's "Electrified II" from Toy (24/48 MQA, Tidal), and for an even greater challenge, the opening of Richard Strauss's Also Sprach Zarathustra performed by Andris Nelsons and the Leipzig Gewandhausorchester on our June 2022 Recording of the Month, Strauss: Andris Nelsons (24/96 WAV, Deutsche Grammophon 486 2049). I could feel the vibrations of the organ's deep bass beneath me; they must have been shaking the springs in the vintage couch. (The floor of our converted garage is concrete; when it shakes, I know that The Big One, or at least A Smaller One, will have hit the Pacific Northwest, and the music will cease to play as a shattered Serinus goes unwillingly on his way.)
After huge bass pounds, Leipzig's fabled silken strings came to the fore. For a sunrise to remember, give this rendition of Strauss's beloved tone poem a whirl and follow it with the spectacular Sunrise, Ascent, Storm, and Summit of Strauss's "Alpine" Symphony. Fabulous stuff sounding fabulous on a fabulous amp.
I played lots more music. A month after Scott introduced me to the irresistibly smooth jazz of Grant Green's Idle Moments (24/192 MQA, Tidal), he seduced me again with Hugh Cornwell's warm voice on The Stranglers' "Golden Brown," from their 1981 album, La Folie (Tidal 16/44.1 MQA FLAC). Edward DeVito of Seattle-area retailer Audio-Ultra introduced me to Terje Isungset's Winter Songs (Icemusic) and the ridiculously deep bass on the track "Fading Sun." Even the little subwoofer in my desktop audio system rattled during that subterranean foray, but the Rotel Michi S5 held a firm grip on the Wilson Alexia 2s.
I was too busy enjoying myself to record in words my joy with the Rotel Michi S5. Why bother writing down the details of how well the S5 spotlit the mediocre engineering of some of this year's pop Grammy winners? Contrasting Leslie Ann Jones and Michael Romanowski's Grammy Award–winning engineering and mastering of Chanticleer Sings Christmas to—well, what passes for good sound on some of the other winners is not worth describing in detail. Best to listen to what deserves accolades.
Comparison
Even though the Rotel Michi S5 frequently sounded like the end all/be all of high-end amplification, I couldn't turn in this review without a comparison to my reference, the far more expensive D'Agostino Progression M550 monoblocks. As is usually the case with monoblocks, with the Progressions the soundstage was wider and a bit deeper. Bass was even stronger and more controlled, and treble was either more extended or a bit hotter (or both). The S5, in turn, sounded more transparent, with blacker blacks. As I thought back to all the times I've heard the Progressions, I realized that the S5 never quite overwhelmed me with the detail and clarity the Progression M550s delivered on Nelsons's recordings of Richard Strauss's Suite from, eg, Der Rosenkavalier. But if I'd never heard them or the other great amp I've reviewed recently, the Accustic Arts AMP V, I would have been thoroughly convinced that the Rotel Michi S5 had delivered everything that artists and engineers could hope we will hear.
Parting is such sweet sorrow
"I'm really going to miss the Rotel," Scott said when he came over to help pack it up. I could only nod in agreement before adding, "I hear you. Now, let's bend our knees carefully and lift."
The biggest challenge in writing a review of a superlative, heavyweight stereo amplifier that goes for under five figures is to avoid clichés. Each time I was tempted to type "stupidly good," I reminded myself that some readers would invariably extend the phrase (as it is often extended in reviews) to "stupidly good for the price" (footnote 2) and interpret my praise as a two-faced put-down.
Damning with faint praise is not something the Michi S5 deserves. What it deserves is a Class A listing in Stereophile's Recommended Components with $$$ (for value) beside its $7499 price. Even if you can afford much more expensive monoblocks and loudspeakers, you should hear the S5, or maybe the similar but even more powerful M8 monoblocks, for a solid point of comparison. It's that good. Music lovers who end up welcoming it into their homes are destined to enjoy music for years without end. The S5 is an engineering and musical triumph.
---
Footnote 1: I won't call it "Frisco" if you don't call them "tweaks."
Footnote 2: Or the common variation, "stupid good."