Rega Research Apollo CD player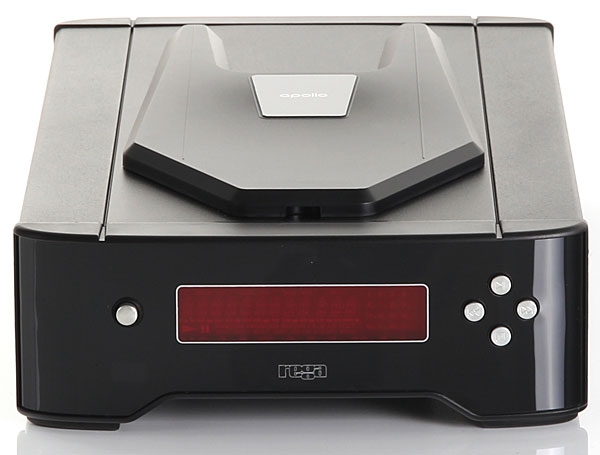 I've been looking at this all wrong.
My recent informal survey of ca $10,000 CD players has been based on two assumptions: that the people reading those reviews would be looking for their last-ever CD player, and that such a purchase would require Serious Money.
In addition to such things as the best available design and parts, the most luxurious enclosure, and the utmost in reliability, Serious Money is presumed to buy durability of value: Any appliance that costs $10,000 today had damn well better be worth more than nothing in five or ten years.
Beyond that—say, 20 or 30 years from now—durability of value is what determines the difference between vintage and merely used. Vintage means good then, good now, good tomorrow. If for no reason other than most manufacturers' failure to invest in inventories of parts sufficient to keep their machines running longer than a hamster's lifespan, there is no such thing as a vintage CD player. There are just new ones and old ones, and a lot of the old ones no longer work and are not repairable.
On one hand, that's a reality we have no choice but to accept. On the other hand, that's a reality that may dampen most people's enthusiasm for spending, in 2018, a five-figure sum on a CD player.
As I said: I've been looking at this all wrong.
Description
Into this breach steps Rega Research's newly revised Apollo ($1095), the UK company's entry-level CD player. Priced at just $100 more than the original Apollo, the new player employs a similar means of loading CDs—you raise a hinged lid to expose a top-mounted, manual-load disc bay—but, at 8.7" wide by 3.5" high by 13.5" deep, it's only about half the width of its predecessor.
For the original Apollo, Rega used a Wolfson WM8740 sigma-delta DAC chip and a Sanyo transport; in the new version, the DAC has been upgraded to Wolfson's WM8742, and the Sanyo transport remains. I asked Steve Daniels, president of Rega's US distributor, The Sound Organisation, if Rega had sufficient stocks of the Sanyo transport to guarantee service well into the future. After checking with Rega, he replied by e-mail that they have "a shed load" of them, and that the very popular mechanism "is still supported by both the manufacturer and third-party suppliers for the foreseeable future."
According to Daniels, other improvements over the first Apollo include additional and/or improved power supplies for the player's digital electronics, and an improved printed circuit board layout, the latter a byproduct of redesigning the player to fit inside a half-width case, apparently to make the Apollo a visually better mate for Rega's similarly sized Brio integrated amplifier.
If you're still wondering how Rega has managed to make the Apollo as small as it is, consider: In recent years, I've looked inside the enclosures of a goodly number of full-width CD players, and what filled many of them were generous amounts of nothing. On some occasions I was left shaking my head in wonder at the reasons for wrapping a two-quart enclosure around two pints of parts, then jumping through hoops to apply damping materials to all that empty space.
Having said that, I can't comment on the Apollo's interior build quality because it proved impenetrable by any reasonable means: The bulk of its case comprises a single aluminum extrusion, finished in black textured paint and featureless save for a cutaway on top that gives access to the transport. The front endcap, which includes the front panel, is made of plastic and is attached by means unseen; on the rear endcap, also plastic, are two cap nuts that may or may not hold it in place, thus binding together the entire Apollo—but in past reviewing experiences I've made bad guesses about similar such fasteners, once with embarrassing results. (No one wants to say, or to hear, "There will be a delay in the return of your product while I figure out how to put it back together.")
I thought the Apollo was handsome in a compact, tidy sort of way. Ironically or not, its fanciest part is the one that is, arguably, the most functional: its transport cover, which lifts away from the top panel on four damped struts, and is shaped vaguely like the Starship Enterprise, seen from above. The serenely pretty front panel is a smooth expanse of glossy black interrupted by only a digital display, an illuminated Rega logo, and five small pushbuttons: Power on the left and, on the right, four more in a diamond formation, for Play/Pause, Next Track, Previous Track, and Stop. Perhaps thankfully, money was not wasted on a stylist for the rear panel, which contains left and right analog output jacks (RCA), an optical digital output, an S/PDIF coaxial digital output (RCA), an IEC power-cord socket, and a fuse.
Installation and setup
As with so many other CD players, there really isn't a great deal to say here about the Apollo: I removed it from its spartan but smartly designed packaging, connected it to the AC with its included power cord, and to my Shindo Laboratory Monbrison preamp with a 1m pair of Luna interconnects, and placed it on the middle shelf of my Box Furniture D3S equipment rack. According to Rega, lifting the Apollo's transport cover to its full height requires 6.7" (170mm) of headroom; in my system, it had a more-than-generous 8.1" (205mm).
The Apollo ran warm to the touch but never hot, and was a breeze to use. Its Sanyo transport eschews a magnetic clamp in favor of a hub in which three tiny, spring-loaded metal balls hold the disc in place. Pressing a disc into place is slightly easier than prying it back off, though the latter procedure was never too great a challenge, and grew easier with practice. The player takes seven or eight seconds to read the contents of a newly loaded CD, before which pressing Play has no effect, and after which the controls work as advertised: My time with the Apollo was entirely glitch-free.
I relied almost entirely on the Apollo's front-mounted control buttons, avoiding for the most part Rega's included remote-control handset, which is a compact 5.75" long by 2" wide, and so flimsy that, when I pressed the latch to open the battery compartment—no easy feat, incidentally—it felt as if the whole thing was about to cave in on itself. Anyway, I hate remotes.