Recording of September 2013: Jazz in the New Harmonic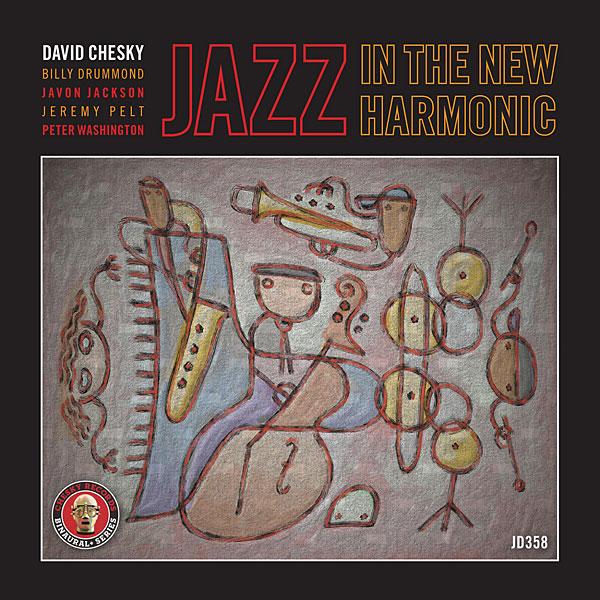 David Chesky: Jazz in the New Harmonic
David Chesky, piano; Javon Jackson, tenor saxophone; Jeremy Pelt, trumpet; Peter Washington, bass; Billy Drummond, drums
Chesky JD358 (CD). 2013. Norman Chesky, exec prod.; David Chesky, prod.; Nicholas Prout, prod., eng. DDD.? TT: 69:15.
Performance ****
Sonics *****
If there's a word that describes the feeling, the vibe present throughout Jazz in the New Harmonic, it's trance. Pianist and session leader David Chesky even uses it without prompting when asked how, among all his music endeavors—an album of difficult non–Joplin-like New York Rags in 2012, a children's ballet later this year, not to mention running Chesky Records—he found the time or inspiration to make a straight-ahead jazz record.
"It's two things. First, this is my therapy group, because my main thing is doing the symphonic music, and that's like a deep, delayed reaction. You write an orchestra piece and, three years later, you fly somewhere in the world and you get to hear it. There's kind of no real connection. But this, you can play and you can get off—it's a great thing. It connects you, so I enjoy this a lot. And I want to keep continuing with it so I can play. The other thing is, musically, it's basically taking the language I use in classical music, modern harmony and dissonance, and fusing it with a groove, making it swing. So instead of playing tunes like 'My Funny Valentine,' just tunes over and over in an antiquated harmonic language, we did that. I'm just trying to, as Emeril [Lagasse] says, kick it up a notch—make it a little spicy, with atonality and awkward intervals and clusters, but at the same time make it organic. And it has to groove. It has to have that groove thing. It's like a trance—you just go into trance mode, and you wander, and it envelops you."
Wandering and enveloping certainly are the keys to this low-key, very-cool-to-the-touch session. The band of peerless talent meander through Chesky's minimalist compositions, darting in and out for economic solos, and yet there's a coherence to the material and a panache to the playing that make this wispy, subtle set a soothing listen.
Nothing here is faster than Chesky's mid-tempo groove. There are no cookers, and no forceful blowing from either Javon Jackson or Jeremy Pelt, two of the finest young horn players working in jazz today. In "Grooves from the Underground," perhaps this record's most representative tune, the solos spin out lazily over Billy Drummond's insistent cymbals. In "Duke's Groove," Jackson, staying in his tenor's lower registers, leads the tune, while Pelt rides high above, his muted trumpet adding effective counterpoint to Jackson's understated groovin'. Bassist Peter Washington and Drummond, both of whom are also audiophiles, are the infallible basis to everything on Jazz in the New Harmonic.
"Peter and Billy together just lock in so well," Chesky says. "It's something I can't verbalize, but you just know it. It's like they're connected to the earth. They have roots. Where they are coming from is way down, it can't be learned or contrived, it's just part of them. It's like a guy who dribbles great basketball or something.
"I look at it like teams. You have the rhythm thing happening with Peter and Billy, and they lock in and they like to work together. I went to Javon and said, 'In a perfect world, who do you want to work with?' and he said, 'Jeremy.' We rehearsed the music, and Javon said, 'Jeremy's gonna bring something to this.' And those guys bring something nice, they have a soul. So it's like these forces intersecting, because Billy and Peter are getting a nice groove, and Javon and Jeremy are playing these soulful solos, and then I'm throwing in my curveballs, taking the harmony out so they have to be on their toes and use a different language to construct their solos, while at the same time keeping it a New York hip jazz type of thing."
Despite all the musical talent present, the biggest star is the sound. The latest in Chesky Records' Binaural+ series, Jazz in the New Harmonic was recorded, as are most of David Chesky's projects, at the Hirsch Center, in Brooklyn. The sonics are astonishingly spacious, detailed, and multidimensional—in most ways, absolutely flawless, and nearly everything you can expect or dream about from well-recorded sound.
Asked how this album connects to the lineage of jazz, Chesky does not hesitate. "It's not Ellington, but it's coming from that place. If you reach way down into the bag, yeah, there's Ellington in there, we're just taking it and continuing that line. If you draw a line of jazz, how it evolves, we're just taking it and saying, 'Hey, it's 2013, let's add on to this line.'"—Robert Baird