Recording of November 2015: Hommage à Eberhard Weber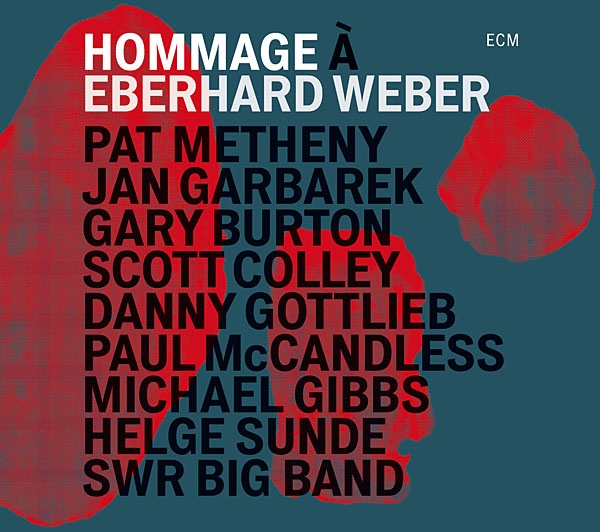 Various Artists: Hommage à Eberhard Weber
Pat Metheny, Jan Garbarek, Gary Burton, Scott Colley, Danny Gottlieb, Paul McCandless, Michael Gibbs; SWR Big Band, Helge Sunde, conductor
ECM 2463 (CD). 2015. Martin Muhelis, concert prod.; Doris Hauser, Volker Neumann, Boris Kellenbenz, Pete Karam, Manfred Eicher, engs. DDD? TT: 69:48
Performance *****
Sonics *****
There once was a joke about how technology would someday replace troublesome musicians: Instead of putting up with drummers being late to gigs, keeping irregular time, and stealing everyone else's girlfriends, a trouble-free robot could take over. It seems that some of those predictions have come true. This single disc documents two concerts held in Stuttgart, Germany, in January 2015, to celebrate the 75th birthday of hometown German jazz electric bassist Eberhard Weber, who has been unable to play since suffering a stroke, in 2007. Via tape loops and video samples of Weber playing, he nonetheless played a large part in his birthday celebration, particularly in the concerts' centerpiece, Pat Metheny's 30-minute "Hommage," a rare example of Metheny writing for big band and a tour de force of Weber's distinctive playing.
The disc opens with a massive bass chord from Weber, soon augmented by long, lean lines on soprano saxophone from Weber's former bandmate Jan Garbarek, with whom he played for over 25 years, in a Weber duet called "Résumé Variation." Then comes "Hommage," which although composed by Metheny especially for this project, is not an entirely new idea, but is built on recordings of solo improvisations by Weber, orchestrated later by Metheny.
Metheny, who played with Weber as a part of Gary Burton's band in the 1970s, and speaks in the liner notes about Weber "crystallizing a sonic footprint" that remains unique, saw a way of using the recordings to take the next step. "It came to me that it would be interesting to take the idea of sampling one step further; to find video elements of Eberhard improvising and then reorganize, chop, mix and orchestrate elements of those performances together into a new composition with a large projection of the Eberhard moments that I chose filling a screen behind us as we performed. It seemed like a new way to compose for me that would almost take the form of visual sampling."
While Weber's bass playing is the primary voice in "Hommage," Danny Gottlieb's fabulous, dexterous stickwork, particularly on cymbals, provides a strong complement, as does double bassist Scott Colley, who has the enviable/unenviable task of playing in the foreground as a large projection of Weber haunts a screen behind him. The piece moves with fast, splashy tempos, and Metheny's writing is full of lively colors and varied textures, often from the trumpet and trombone sections of the SWR Big Band. Early on, vibraphonist Burton adds a measured, every-note-counts solo. Rather than regretful or elegiac—which would not have been surprising, considering Weber's illness—the mood of "Hommage" is primarily upbeat and triumphant. Near the halfway point, a bluesy riff leads to a section of bass notes and trombones in unison, before Metheny soars off in a rising, inventive solo with his characteristic ringing tone, rich in keyboard-like effects.
Following a climax at midpoint, "Hommage" again features some fascinating interplay between Weber's recorded bass and Colley's live playing. Two-thirds of the way through, Metheny begins simply strumming the uneffected electric guitar before the piece settles into the vital rhythm of human breathing. The work's central, triumphant theme appears again in the brass, now surrounded by Weber's bass mixed with Metheny's guitar, and softly drifts down into an intertwining of echoes that fades into silence. Metheny's vision for this very successful, very strongly realized work—to celebrate the still-vital work of Weber as a bass visionary—is clear throughout. The concerts concluded with several Weber compositions, including the delicate "Maurizius" (arranged by Michael Gibbs), which revolves around a theme played by the flutes of the SWR, as Burton on vibes and Oregon's Paul McCandless, on oboe, add tasteful if meandering solos. As is standard for all ECM projects, the sound is resonant and incredibly detailed throughout.
The idea for using recordings of Weber came from the bassist himself. In a 2013 interview with John Kelman published on AllAboutJazz.com, Weber talks about losing his ability to play because the stroke he suffered on the right side of his brain paralyzed the left side of his body. In the years just preceding his stroke, in concerts with the Jan Garbarek Group, Weber often played improvised solo-bass interludes between tunes. When he'd recovered enough to work, Weber edited these interludes, mixed them with keyboard parts he played, as well as newly recorded parts by Garbarek, Michael DiPasque (drums, percussion), and Ack van Rooyen (flugelhorn), and built from a new work, Résumé, released in 2012. Encore, a second collection of new works based on older samples, was released earlier this year.
"If I remember correctly, the earliest [solo] is from the late '80s, 1989 or something from around that time," said Weber, "and the last is from 2007. It's kind of interesting because it's the last track on Résumé, and it's the last recording that exists for me because the solo was recorded about two weeks before my stroke, and there are no other recordings. So this track, 'Grenoble,' is the last recording that exists anywhere of me playing bass."
Forget about replacing that errant drummer. Hommage à Eberhard Weber is convincing proof that if a musician regularly records, a once-silenced voice, aided by technology, can be heard again.—Robert Baird