Recording of June 2012: Krzysztof Penderecki/Jonny Greenwood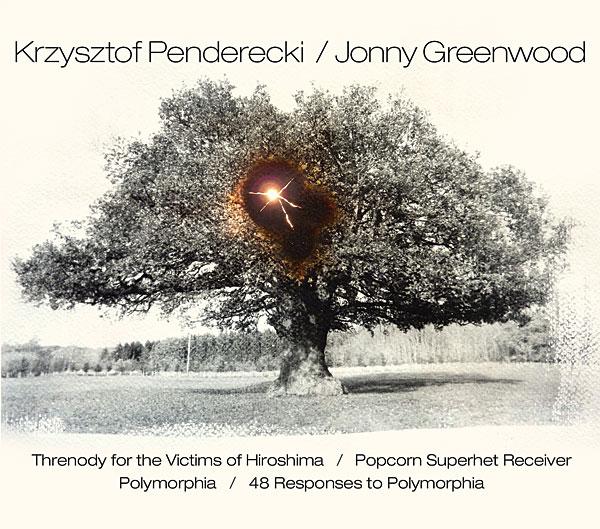 Krzysztof Penderecki/Jonny Greenwood
Threnody for the victims of Hiroshima
,
Popcorn Superhet Receiver
,
Polymorphia
,
48 Responses to Polymorphia
Aukso Orchestra, Penderecki, Marek Mos, conductors
Nonesuch 530223-2 (CD) Filip Berkowicz, Michal Merczynski, prods. Barbara Orzechowska, associate prod. Ewa Guziotek-Tubelewicz, Pitor Witkowski, engs. Performance ***** Sonics *****
For the past two decades, the "C" word in classical music— crossover—has been a bone of both hope and contention. Lured by the supposed riches that lurk amongst classical fans who want to slum it and popular music fans with upscale intellectual curiosities, artists from Caruso to Domingo to Joshua Bell have given in this concept in search of a success to mostly disappointing results. And then of course there's humble Gordon Sumner (aka Feyd Rautha Harkonnen) who blithely smeared his meager powers onto the work of poor John Dowland in Songs From the Labyrinth—an apt title if ever there was. In 2010 the great Renee Fleming, no stranger to taking risks and a jazz singer during her college years, dipped her toes, fairly disastrously it turns out, into the classical/rock crossover pool with Dark Hope, a record whose title again seems to carry a less than promising message.
Yet, despite this less than envious history, in the right hands rock musicians and classical composers can play nice, and highlight each other's peculiar vision as this exquisite sounding collaboration between Radiohead's classically-inclined guitar player and Poland's greatest living composer so forcefully demonstrates.
The pairing of Greenwood and Penderecki grew out of the younger man's admiration for the work of the older composer whom he first met at a concert several years ago. In a recent interview with the UK's Guardian newspaper the 81-year old composer, who heard Radiohead courtesy of his 11-year old granddaughter who is a fan said, "I like it very much; it is very soft, very musical." Greenwood, the bashful rock star, waxed even harder right back, "His pieces make such wonderful sounds...It's not like listening to feedback, and it's not dissonant. It's something else. It's a celebration of many people making music together and it's like—wow, you're watching that happen" According to the liner notes for this release both have "several big ideas in common," the biggest of which is that they view the orchestra as "not a polite, aristocratic, eighteenth-century institution, but a messy, physical, occasionally anarchic collision of individual musicians playing together in a room, each asserting their voice and right to be heard—rather like a rock band."
Greenwood's compositional skills are real and on this disc the four pieces, two by each composer, have the feel of being an exercise in a fulfilling, call and response between student and teacher where the younger composer tries to push forward the ideas that the older man began. Opening with the tense, keening strings of Penderecki's most famous piece, Threnody for the Victims of Hiroshima (1960), this fittingly jarring anxious and occasionally eruptive elegy to the atomic holocaust is a classic example of Penderecki's famed abilities to create and then tame swarming, discordant, uneasy stringed forces and asking musicians not to read music by notation but to play for a certain set duration.
Greenwood seizes this mood, and turning the prism in his most famous piece, Popcorn Superhet Receiver which is heard throughout the film, There Will Be Blood, he follows many of Penderecki's leads, the odd yet affecting mix of solemn and convulsive, pensive, menacing glissandos, insectine drones, his gift for lush atonality with ominous rising modulations that echo the warnings implicit in Penderecki's song of mourning. The similarities are so striking and obvious that Greenwood's Popcorn can almost be heard as a second movement to his Penderecki model.
Turn up the volume and turn out the lights and it's chillingly easy to hear why Pendercki's music fit so brilliantly on the soundtracks of The Exorcist (1973) and The Shining (1980). Polymorphia, scored for 48 strings, is as its name suggests a variety of musical textures and forms some of which were famously inspired by the brain wave charts recorded when mental patients at a Krakow hospital listened to a recording of Penderecki's Threnody. The percussive effects of string players slapping their instruments with their bows—as well as using pencils as bows—all favorite Penderecki devices, is very prominent here. Greenwood in his 48 Responses to Polymorphia, begins with the closing C major chord of Polymorphia's finale and proceeds into variations like "Ranj" where the entrance of low strings adds a formality that is instantly dispersed by a mass of string textures that separate and condense, with much pizzicato playing, into what the liner notes call, "an angry, toxic cloud of acoustic noise."
Recorded in Poland after a concert there featuring these compositions, the sound quality here is superb throughout: detailed, spacious and breathtakingly transparent, the hushed passages with a remarkable resonance, while the signature torrents of pensive strings are formidable gales of pure sound. Overall, a classical/rock project that more than exceeds expectations. —Robert Baird