Recording of July 2017: TajMo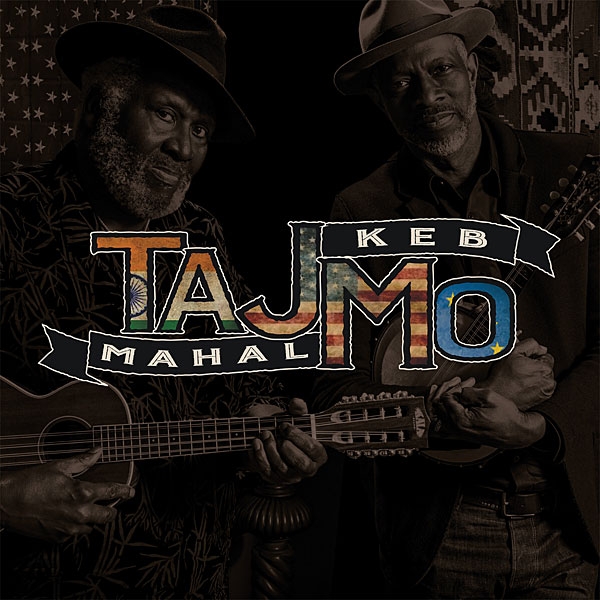 Taj Mahal & Keb' Mo': TajMo
Concord CRE00432 (LP). 2017. Taj Mahal, Keb' Mo', prods.; Zach Allen, John Caldwell, Alex Jarvis, Jesse Nichols, Casey Wasner, engs.; Ross Hogarth, mix; Richard Dodd, mastering; Bernie Grundman, vinyl mastering. AAA? TT: 45:20
Performance ****
Sonics ****
The blues, that wonderful basis of so much American popular music, has for many listeners grown a bit stale and old-fashioned. It's not much of a draw outside bar bands, and other than Alligator Records, most of the biggest blues labels have folded or gone dormant. Losing many of the music's first- and second-generation practitioners hasn't helped.
So when you combine the wide-ranging talents of Taj Mahal and Keb' Mo', two players whose singing and playing are rooted in the blues but who, for artistic and financial reasons, have built wider-ranging careers (particularly Mahal), what kind of music should they record? Does the world really need another middling blues-rock session, even from talents this considerable?
The answer is a tasteful and beautifully balanced album, TajMo, now also the name of a tour, a website, and perhaps a profitable side project for both men.
First, to keep the faithful on board, Mahal and Mo' had to record something traditional. Their version on side two of the great Tennessee bluesman Sleepy John Estes's "Diving Duck Blues," which Mahal recorded on his 1968 self-titled debut with Ry Cooder and Jesse Ed Davis, is masterful. With both men singing, Mahal on acoustic guitar, and Keb' Mo' on resonator guitar, this is very quiet, traditional acoustic blues played by two of the very best, and Mahal clearly relishes singing it again.
But lest anyone get too settled, the musical horizon immediately expands with the next track: a snappy, very successful version of Pete Townshend's "Squeeze Box." With Shelia E. adding a variety of percussion, from Vibraslap to guiro, and Joe Walsh guesting on guitar, this is a very intelligent attempt at attracting adult listeners to a tune that was a big hit 40 years ago. Again, both men seem to be having a ball singing this outta-left-field choice.
The stylistic range is stretched even further when a spirited guitars-drums-and-bass cover of Piano Red's "She Knows How to Rock Me," a jumpy rock'n'roll number made famous by Carl Perkins, is followed by Keb' Mo's "All Around the World," an attempt to lure adult ears from another angle. The album's biggest production number, it makes beautiful use of eight female background singers. While it treads perilously close to being too produced for its own good, it stays on the right side of good taste and gets in a memorable groove, and happily, the sound is neither too loud nor too compressed. After a few listens it sticks with you, especially the girls singing the title refrain over and over in the choruses. It's the classy, grown-up hit this album was clearly seeking.
For another flavor, "Soul" has a world-music vibe of the kind that Taj has occasionally made a part of his act. The tune is powered by the largest band on the record—including a brass section, a B3, and a Fender Rhodes—and the return of Shelia E. "Soul" is one of two tracks co-written by Mahal and Mo'. The other, "Don't Leave Me Here," opens the album—with Billy Branch's harmonica licks and Keb' Mo's always tasty electric-guitar work, this mid-tempo electric blues is gritty and right.
Although they appear together on the album's cover, these two fantastic singers and players have busy schedules; making TajMo happen took a good two years of recording whenever possible. Most of the guests contributed their parts from afar, yet the album's sound is fairly consistent throughout. Some details are fumbled; for example, it would have been nice to hear Bonnie Raitt's voice louder in the mix in the cover of John Mayer's "Waiting on the World to Change."
And speaking of sound, TajMo's impending summer tour may be the catalyst for another recording. The quotes in the press kit confirm that the making of TajMo has been a life-changing experience for both men, a fact that happily is also audible on the final product.
"Taj is a stellar human being, just a brilliant man, and I learned a lot working with him," said Keb' Mo'. "It's an honor to have that kind of person in your life, and there was a lot of trust that developed between us."
"It was a lot of fun," added Taj. "We'd been thinking about collaborating for a little while, but once we actually got in there, I was really impressed. Keb's really good at keeping the ball up in the air. He's a hell of a guitar player, and I'm just amazed at some of the stuff that he put out there."—Robert Baird