Recording of December 2013: The Grateful Dead's Original 13 Studio Albums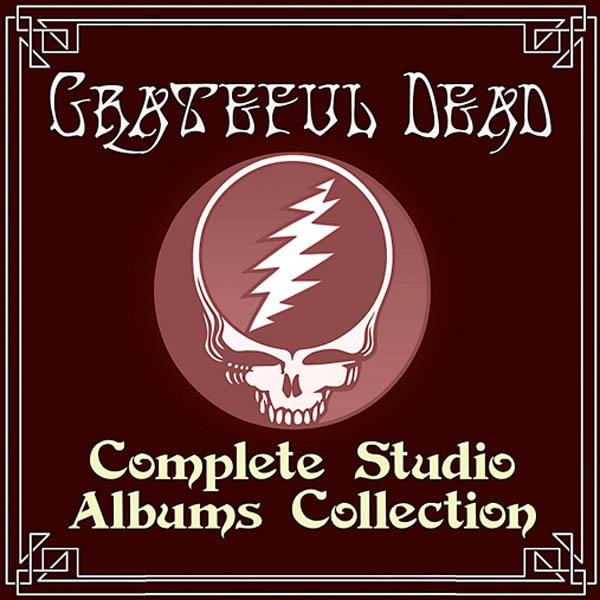 The Grateful Dead: Original 13 Studio Albums
Grateful Dead Productions/HDtracks Hi-Rez Downloads, 24-bit/96kHz or 24-bit/192kHz, 2013. David Glasser, remastering eng.
Perfomance ****½
Sonics ****½
Deadlines and the Dead don't mix. Let me explain . . .
Back when I was a cub reporter, green as ivy, I was, in retrospect, suckered into volunteering to review a Grateful Dead concert. I dutifully drove to the venue for the 8pm show, abstained from intoxicating substances, and was on track—until I realized that, after two hours, the band was still on just the third song. Jerry was deep into an epic, 2000-bar solo that was gaining rather than losing momentum. In Deadspeak, it was one of those nights. A dash to a pay phone (a pay what?) triggered a full-blown anxiety attack as my crew-cut, old-school editor confirmed that, no matter what the hell this band was doing onstage, I had to be in the newsroom, finishing my review, by 11pm. Just then, my watch struck half-past ten.
This story did not end happily. From that point on, I've had my issues with the live Dead experience (though the glorious Dick's Picks series has softened that a lot). The band's studio recordings are another matter entirely.
Much as I've kvetched about long guitar solos over the years, the Dead's blend of Americana was inimitable—a word I do not use lightly. Now, for the first time, their 13 studio albums have been remastered for download by the band and are available as 24-bit/96kHz or 24/192 files via HDtracks.com in a variety of formats, including FLAC, ALAC, AIFF, and WAV. The albums covered are from Grateful Dead (1967) through Built to Last (1989). The band's first three live albums are not included.
The only catch: For the moment, you can't buy individual albums—you must download the entire catalog, for either $199.98 (24/96) or $249.98 (24/192). I downloaded a 24/192 ALAC version to my work computer over a Metro Ethernet connection at 10MB/second. The final file size was 17.6GB, and it took about nine hours. Neither liner notes nor cover art are available.
I listened to the classics: American Beauty, Workingman's Dead, and then In the Dark. The new remasters, while not the equal of the original vinyl pressings, have more presence and sharper detail than the most recent CD reissues found in the boxed sets The Golden Road (2001) and Beyond Description (2004). The dynamic range is wider, the soundstage is more spacious, and, like the 2009 remastering of the Beatles' catalog, there's a new, lively intensity.
These versions were remastered by David Glasser, at Airshow Mastering in Boulder, Colorado, using an Ampex ATR with the Plangent speed stabilization process to a Prism ADA-8XR A/D converter into a Sonic Studio soundBlade digital audio workstation (DAW). Airshow's monitor speakers are Dunlavy SC-Vs driven by Ayre Acoustics amps. Equalization was done with either a solid-state PrismSound Maselac MEA-2 or API 5500, or a tubed Pultec EQM-1A3. A Fairman TMC compressor was used sparingly.
Glasser knew the gravitas of the project from the outset. "Yeah, it was mine to screw up," he said recently from Boulder, "and I was really, really careful, and cognizant that this might be the last time that these tapes are released commercially. When I put [the tape of] Workingman's Dead up on the machine and pushed Play, and 'Uncle John's Band' came out of the speakers, I cried. It was that moving."
Glasser has worked on a number of Dead projects, including The Grateful Dead Movie, the Sunshine Daydream boxed set, and Europe '72: The Complete Recordings. He says that for the new remasterings he used no peak limiting, and only a little compression, just as a tone shaper. He came away from the project a big fan of the Plangent processing software.
"It's basically a way of eliminating all the detrimental mechanical effects of the tape machine by using the latent bias signal that's still there on the tape, using that as a reference to speed-correct the tape. It requires some special analysis equipment, some wide-bandwidth heads and electronics, but I'm really sold on that process. Even tapes that you think sound excellent, you get rid of those little microscopic speed variations, scrape flutter, and it's like peeling more layers off the onion. More detail is revealed. The stereo image has more stability."
It took Glasser two months to complete the project, and he says that, after hearing the 24/192 files, the surviving band members and their management didn't ask for revisions. In most cases, because the sound quality of the original tapes was so high, they were transferred flat, with no additional processing. Only one album needed a bit of work.
"Surprisingly, it was American Beauty. There must have been some EQ done at the mastering stage, when they cut the LPs, and it was mostly in the low end, to shape that a little bit. But it wasn't difficult to reverse. I think that was the most that was done for any of the LP releases."
Overall, this is a monumental project for HDtracks that should have Deadheads swooning. Stay tuned for these 13 albums to be made available for individual download.—Robert Baird