The Paramount Records Cabinet of Wonders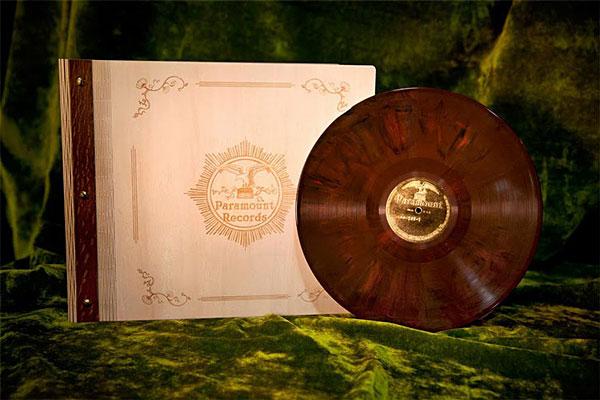 Party like a rock star!
Or not.
Damned rock stars! Those useless black voids of overweening ego who spend their days wallowing in unfulfilling, sybaritic cycles of mass adoration, endless wealth, and meaningless sex with hard bodies—what do they add to the greater good, to the advancement of human understanding, to the furtherance of art? In most cases, the answer is: Nothing. Zip, zilch, zot.
Yet on a back street in Nashville, Tennessee, in a former warehouse and auto-repair garage, Jack White, of the White Stripes, has, with his Third Man Records complex, fostered a creative oasis that includes a film studio, a performance venue, a direct-to-disc recording facility, and a mail-order fulfillment center. Painted in bright splashes of gold, black, and royal blue, and filled with stuffed African animals, this rarified environment where the employees wear uniforms—women in intricate black lace stockings and Braniff-like dresses, men in black shirts and skinny black-and-gold ties—is that rare instance of a rock star doing good things with his money. And now his good has gotten even better.
For the past two years, in collaboration with Revenant Records—the Austin, Texas–based label founded by John Fahey and run since his death, in 2001, by attorney Dean Blackwood—White has been spending his hard-earned arena-rock dollars funding the process of hunting down and remastering 1600 78rpm tracks originally released by the legendary Paramount label. The first result, The Rise & Fall of Paramount Records 1917–1932, Volume One, comprising 800 tracks by 172 artists, was released October 30, 2013. Volume Two will released in November 2014.
The first set is housed in what is called a "wonder-cabinet" which contains lavish packaging and printed materials, a USB drive containing all 800 tracks and six LPs with 87 tracks. The LPs in particular are a mix of the obscure like the sermon, "On This Rock I Will Build My Church," by Son of Thunder, Johnnie Blakey, with more well-known musical tracks like "Mr. Jelly Lord" by Jelly Roll Morton's Steamboat Four. An admittedly esoteric project, the wonder-cabinet is geared towards enthusiasts and lovers of this fertile period in primitive American musical forms.
As American musical tales go, few are this unlikely. In 1914, after his own New York plant burns down, Thomas Edison contracts the humble Wisconsin Chair Company, of Grafton, Wisconsin, to make pecan-wood cabinets for his line of Victrolas. The next year, Wisconsin Chair launches its own Vista line of 78 players. Then, in a move that presages Sony Music's purchase of Columbia Records many years later, it decides to record exclusive content under the Paramount name to help sell the damned things. Maurice Supper is the new label's first general manager, and in 1918, Englishman Art Satherly takes over as recording director. Hoping to capitalize on the appearance of being bigger and more exotic than they were, they name their recording facilities the New York Recording Laboratory, even though they're located in Grafton.
None of their 78 releases, all of them badly recorded and pressed, catches on—until they buy Black Swan Records, a small "race records" label from Harlem whose roster includes blues singers Ethel Waters and Alberta Hunter. In 1923, a remarkable character named J. Mayo "Ink" Williams decides to pay a cold call on the Paramount offices to volunteer his services as talent wrangler. Born in Pine Bluff, Arkansas, but educated at Brown University, in Rhode Island, Williams played in the NFL's inaugural season as a teammate—on the Hammond, Indiana Pros—of famed singer and activist Paul Robeson. A bootlegger who runs gin to the Dreamland Ballroom and other black nightclubs on Chicago's south side, Williams has the crucial connections to musical talent, the cream of which he brings to Paramount Records. In four years, sides by Blind Blake, Blind Lemon Jefferson, Alberta Hunter, Fletcher Henderson, Ma Rainey, King Oliver, Charlie Patton, Louis Armstrong, and Fats Waller all appear in Paramount's successful "race records" series. Paramount's hand-drawn ads in the Chicago Defender would come to influence the style of Robert Crumb and countless other 20th-century artists and illustrators.
In less than a decade, it's all gone. Williams leaves Paramount in 1927, and the Depression does the rest. By 1932, they've stopped recording. In 1935, when the label entirely shuts down, disgruntled employees throw many of the metal parts into the nearby Milwaukee River. (A 2006 search of the riverbed by divers, documented on the PBS TV show History Detectives, came up empty.) Most amazing of all, because Paramount kept no business records, there has never been a definitive Paramount discography. Of the 10,000 different 78 sides they're thought to have pressed, only about 3000 are known to exist today.
"By all accounts, Paramount didn't seem to have any idea what it was doing or who exactly its audience was," says Dean Blackwood. "So for the first five years they worked very hard at going out of business. And then they heard the news like everybody else, and they just happened to be in a position to take advantage of the race-records phenomenon.
"They just kind of happened into this position of world-gobbling power for a minute. Along the way they managed to compile not only the richest treasure trove of performers ever housed under one roof, but one of the singular repositories of American art from the early part of the 20th century."
Blackwood hired his brother Scott, a novelist who lives and teaches in Chicago, to write the set's extensive liner notes. Saying that he was brought in to "reinvigorate" the Paramount story, "to give it a sense of life on the page, give it a narrative arc," Scott says he was most struck by the label's female blues singers.
"The impact of these women early on—Ma Rainey, Ethel Waters, Ida Cox, Alberta Hunter—that became one thing I wanted to bring out," Scott said recently from his home in Chicago. "They are very free, powerful women, and, interestingly, all lesbians or bisexual, which affected how they pursued their careers. It led them to record earlier than some people. They were more daring in a lot of ways. A lot of people held back because people said it [making records] was just a fad."
Produced with the able assistance of Alex van der Tuuk, the world's leading expert on the Paramount story, the Wonder-Cabinet was a collaborative effort of more than 50 people. The project was largely bankrolled by Jack White. "What a partner to have," Dean Blackwood says. "People—jokingly, of course—call him the Willie Wonka of Rock, but there is something to that. His whole business model is all around reacquainting people with wonder. Without blowing too much smoke, it's been the most satisfying creative endeavor that I've been involved in."
The first step in this project was to cast a worldwide net to find the cleanest 78 pressings and/or transfers.
"I'm not one of the canvassers, like my friend Mr. Fahey was; he was out there pounding the back roads to find these things. You have to work with people who have the know-how, operate in these communities, and, lastly, have respect in these communities, because no one is going to loan you a record if they don't respect what you are doing and don't respect you as a player in that space. It's like the ultimate crowd sourcing. The world is your archive."
While a mass of Paramounts were uncovered in Europe and the US, Blackwood sounds a note of caution. "This isn't a completist exercise by any stretch. In fact, I think completists will be quite disappointed. At 1600 tracks over two volumes, this is a disciplined culling," Blackwood says. "As far as Paramount and New York Recording's output, that's probably less than 10% of the masters that were recorded."
The next—and, from a sonic perspective, the most crucial—aspect to the Wonder-Cabinet was the audio restoration. Although clean 78s and transfers came from sources all over the world, many tracked down by van der Tuuk, many of the transfers were done by Chris King, a well-known independent specialist in the restoration of 78s based in Southwestern Virginia. Accepting the limitations of 78s which will never have anything near the dynamic range of modern recordings and too often come with a certain amount of scratchy hiss, the progress made here is very audible. The quality varies widely with the music equaling the surface noise on some tracks while other tracks have little or no audible surface noise.
Even on a track like Blind Lemon Jefferson's, 'Wartime Blues" which comes from a fairly damaged source, the voice has more depth and body than on a previous Yazoo CD release, King of the Country Blues. As expected, "Wartime Blues" also sounds better on LP than it does via MP3. The track next to "Wartime Blues" on LP #4, "There'll Come a Day" by the Dixie-Land Thumpers, is almost completely free from noise. There is that odd quality of sound, what King calls "the deep spirituality" that comes from listening to 78s, pervading the entire project. The track listing for the LPs is only on the USB drive and is not terribly easy to find. In general though, the interface on the USB drive is simple and straightforward.