Moon by Simaudio Neo 340i integrated amplifier Measurements
Sidebar 3: Measurements
I performed a full set of measurements on the Simaudio Moon Neo 340i using my Audio Precision SYS2722 system (see the January 2008 As We See It"). I looked first at the behavior of the optional digital-input board, using either S/PDIF data sourced from the Audio Precision via optical or coaxial links, or USB data from my Mac Book Pro running on battery power. To avoid overloading the power-amplifier section, I switched the loudspeakers off and looked at the signals at the fixed line-output jacks. The TosLink input locked to data with sample rates up to 96kHz, the coaxial inputs to data sampled at all rates up to 192kHz. Apple's AudioMIDI app revealed that the Neo 340i operated with 32-bit integer data at all sample rates from 32 to 384kHz. The USB Prober utility identified the Simaudio as the "MOON USB DSD HD Audio" from "Simaudio Ltd.," and confirmed that its USB input operated in the optimal isochronous asynchronous mode.
The digital input preserved absolute polarity (ie, was non-inverting) at both the line and speaker outputs. A 1kHz tone at 0dBFS gave rise to a level of 1.89V at the line output, though with the volume control set to its maximum, digital data at –12dBFS resulted in a level just below clipping. The impulse response with 44.1kHz data (fig.1) revealed that the Neo 340i's reconstruction filter was a conventional FIR type with a sharp rolloff above 20kHz with 44.1kHz data (fig.2, red and magenta traces). The aliasing product of a full-scale tone at 19.1kHz at 25kHz (blue and cyan traces) is suppressed by 85dB, and the harmonics of the fundamental tone are all very low in level.
Fig.3 shows the digital module's frequency response with data sampled at 44.1, 96, and 192kHz. There is a slight imbalance between the channels, but the responses follow the same basic shape, with a sharp rolloff just below half of each sample rate. With 384kHz data, the response followed the same shape as the 192kHz traces, but with extended output above 96kHz, reaching –10dB at 160kHz. Channel separation via the digital inputs was excellent, at 105dB below 1kHz and still 85dB at the top of the audio band. Noise levels were also low for digital input signals, so that increasing the bit depth from 16 to 24 with dithered data representing a 1kHz tone at –90dBFS dropped the noise floor by almost 20dB (fig.4), implying resolution of at least 19 bits. Some low-level, supply-related spuriae are visible in this graph, but overall the noise floor is sufficiently low that the Simaudio's reproduction of an undithered 16-bit sinewave at exactly –90.31dBFS was essentially perfect (fig.5). With undithered 24-bit data, the result was a well-formed sinewave (fig.6).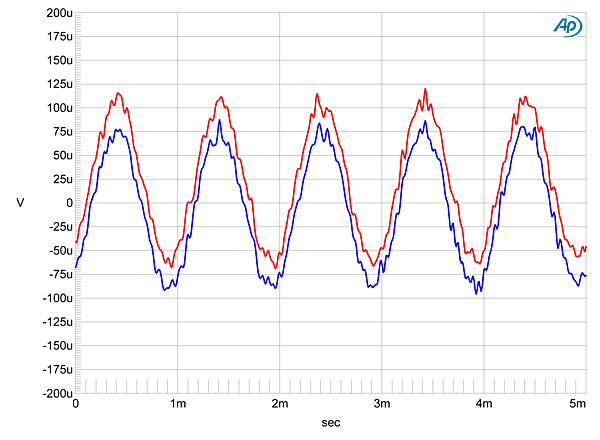 As implied by the blue and cyan traces in fig.2, the Simaudio's digital module produced very low levels of harmonic distortion, with the third harmonic the highest in level, at just –106dB (0.0005%, fig.7). Intermodulation distortion was similarly low, and the digital module offered superb rejection of word-clock jitter via both its TosLink (fig.8) and USB inputs (fig.9).
The optional phono stage offered 39.65dB of gain measured at the fixed line-output jacks when set to MM (moving magnet), 57.65dB of gain when set to MC (moving coil). With the volume control set to its maximum and the phono stage set to MC, a 1kHz tone at 1mV resulted in a level of 4.56V at the speaker outputs; ie, a total gain of 73.2dB. The phono module preserved absolute polarity in both MM and MC modes, and the input impedance at 1kHz was 46k ohms at 1kHz when set to "47k," or 101 ohms when set to "100." The input impedance at the frequency extremes was not appreciably different from that at 1kHz. (For these measurements, the input capacitance was set to "0pF" for both modes.)
The RIAA error was very small (fig.10), though the right channel was very slightly higher in level than the left. Both channels featured a low-frequency response that was down by 3dB at 20Hz. Channel separation via the phono inputs was good, at >60dB, and the unweighted, wideband signal/noise ratios were also good, at 78dB (MM, ref.1kHz at 5mV) and 61dB (MC, ref. 1kHz at 500µV), both measured with the input shorted. The A-weighted ratios were even better, at a respective 86.5 and 75.3dB. (All figures are the average of the two channels.)
At normal levels, the 340i's phono module offered very low levels of harmonic distortion (fig.11) and intermodulation distortion (fig.12). However, while the overload margins were very high at low and middle frequencies, at at least 25dB (MM) and 29dB (MC), these dropped at 20kHz to just 7dB (MM) and 11dB (MC). (All figures referred to 1kHz at 5mV, MM, and 500µV, MC.)
The amplifier as a whole offered a moderate 35.2dB of gain at 1kHz into 8 ohms for both its balanced and unbalanced line-level inputs, and both sets of inputs preserved absolute polarity. While the balanced input impedance was high, at 44k ohms at all audio frequencies, the unbalanced input impedance was relatively low, at 7200 ohms at 20Hz and 1kHz, dropping to just 5200 ohms at 20kHz. (The input impedance was specified as 11k ohms in the online version of the manual, but 22k ohms in the printed manual that accompanied the review sample.) As a result, a tubed source with a high output impedance at low frequencies might sound a little lean.
The output impedance at the line-output jacks was a low 100 ohms at all audio frequencies. Measured at the speaker outputs, it was a very low 0.05 ohm at low and middle frequencies (including the series resistance of 10' of speaker cable), rising inconsequentially to 0.08 ohm at the top of the audioband. As a result, the modulation of the Neo 340i's frequency response by the Ohm's law interaction between this impedance and that of our standard simulated loudspeaker was just ±0.09dB (fig.13, gray trace). The output was down by 3dB at a high 90kHz, meaning that a 10kHz squarewave was reproduced with short risetimes (fig.14), and there was no overshoot or ringing. The 340i's frequency response was the same at all volume-control settings and for both balanced and unbalanced inputs.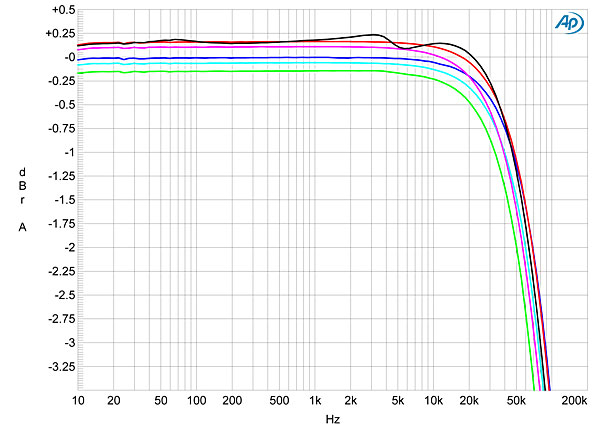 Channel separation for the line-level inputs was an even 74dB R–L, but lower at high frequencies in the other direction. The unweighted, wideband S/N ratio, measured with the inputs shorted to ground but the volume control set to its maximum, was a modest 71.2dB ref. 2.83V into 8 ohms, improving to 87.4dB when the measurement bandwidth was limited to the audioband, and to 90.2dB when A-weighted. These figures were for the left channel; the right channel's ratios were all 2–3dB smaller, due to there being a higher level of spuriae at 60Hz and its harmonics in that channel (fig.15). These ratios and graph were taken with an unbalanced input; with a balanced input, these spuriae were all up to 12dB higher in level, which I suspect is due to the fact that these inputs are carried on a small board connected to the main board with flying leads.
The Neo 340i's maximum power is specified as 100Wpc into 8 ohms (20dBW) or 200W into 4 ohms (17dBW). Figs. 16 and 17 reveal that, with both channels driven, the amplifier clipped at 130Wpc into 8 ohms (21.1dBW) and 200Wpc into 4 ohms, with low levels of distortion at output powers of a few tens of watts. To be sure I was looking at true distortion, I tested (fig.18) how the THD+noise percentage changed with frequency at 12.7V (equivalent to 20W into 8 ohms, 40W into 4 ohms, or 80W into 2 ohms). Other than into 2 ohms (gray trace), there was only a slight rise in THD toward the top of the audioband, and very little increase into lower impedances.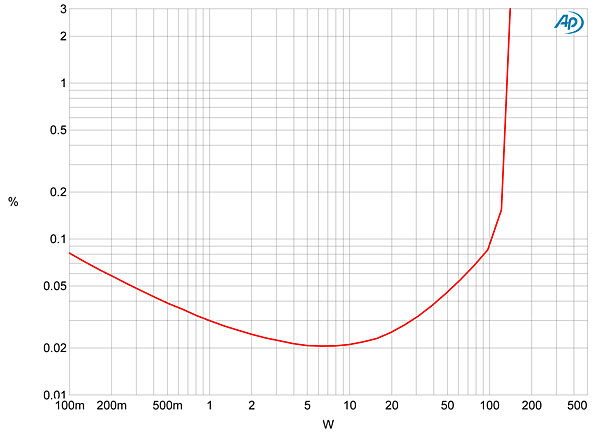 The distortion signature was predominantly the subjectively innocuous third harmonic (fig.19), though there was also some second harmonic about 12dB lower in level when the output power was 3dB below clipping into 4 ohms (fig.20), as well as some lower-level, higher-order harmonics and some supply-related spuriae. When I tested the 340i with an equal mix of 19 and 20kHz tones at a level a few dB below visual clipping on an oscilloscope, the second-order intermodulation product at 1kHz lay at just –96dB (0.0015%), though the higher-order products at 18 and 21kHz lay at –74dB (fig.21).
Finally, looking at the headphone output, this offered the same maximum gain as the speaker outputs and was non-inverting. However, as its source impedance was a high 300 ohms, the headphone output should be regarded as utilitarian.
Overall, Simaudio's Moon Neo 340i offers excellent measured performance; I was particularly impressed by its affordably priced phono and digital modules. One point should be noted, however: The 340i's heatsinking isn't adequate for sustained use at high powers. Before the testing, when I preconditioned the amplifier by running it at one-third power into 8 ohms with both channels driven—the worst case for an amplifier with a class-B or -A/B output stage—its side-mounted heatsinks became too hot to touch after 30 minutes, measuring 160.6°F (71.6°C). Even the top panel was hot, at 111.6°F (41.1°C). This amplifier needs to be used in a well-ventilated location.—John Atkinson