KEF LSX wireless loudspeaker system Page 2
Next, I cleaned, waxed, and rearranged my writing desk, to create an attractive, intimate system. The KEFs were about 36" apart, the centers of their tweeters some 30" away from and 8" below my ears. The sound was fundamentally clean and meticulously detailed. Unfortunately, the bass notes of Amanaz's
Africa
(16/44.1 FLAC, Now-Again/Odk/Tidal) shook my whole desk, making loud, buzzy-blurry-woody noises below 1kHz. I stopped. And thought. Some little IsoAcoustics stands would have been just the ticket, but I had none. Instead, I put a short stack of dense books under each speaker. Now their tweeters were 2" below my ears. This cleaned up the lower midrange and deepened the soundstage.
Then I remembered the Control app, which includes various DSP and equalization adjustments. I selected the app's Expert Desktop Mode and reduced the LSXes' treble output by 0.5dB. Later, I switched in Phase Correction. This all helped: The bass was now relatively clean and moderately solid. For the moment, I was happy.
While tinkering with this setup, I noticed that each speaker has a brass socket on its bottom, threaded to accept the mounting bolt of a standard-size camera or lighting tripod (1/4-20 UNC). Smart idea.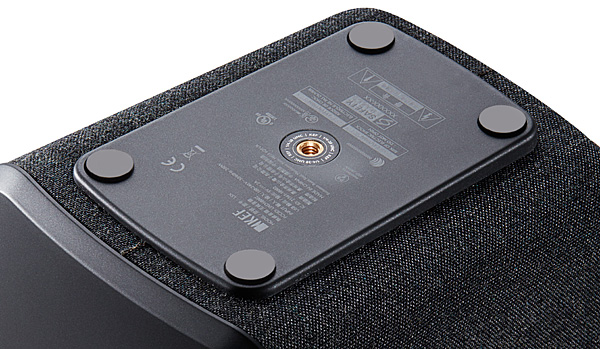 Listening
I did 80% of my listening with the KEF LSXes set up on my 29" by 48" ebony-stained pinewood writing desk—or just above the desk, sitting on an 18"-wide, ¾"-thick wooden shelf. In both positions it was easy to adjust Control's Expert Desk Mode to get satisfying tone and balanced energy.
Now when I played Alexandre Desplat's score for the film Isle of Dogs (16/44.1 FLAC, ABKCO/Tidal), the desk didn't rattle. I was listening at a sound-pressure level of 85dB, with the KEF speakers about 28" from my ears. I was impressed by how precisely these speakers could image. More impressive was the soundstage—really deep, extending past the wall behind my desk.
When I played Thom Yorke's score for director Luca Guadagnino's remake of my favorite Dario Argento horror classic, Suspiria (16/44.1 FLAC, XL/Tidal), the soundstage extended to right and left far beyond the speakers themselves. Within this illusion of space, the aural images of instruments and performers were small but otherwise properly proportioned, and precisely described. Voices sounded distinct and relatively true of tone. The LSX system didn't sound hard, zingy, or overtly mechanical. Its welcoming suppleness and engaging sense of rhythm are rare to find in low-priced digital products.
Listening to "Unmade," from Suspiria, I felt I was looking into a puppet-scaled cinema. The expanse of air vibrating with voices and synths was wider than my outstretched arms could reach, and was maybe 30" high, nicely detailed, and fun to behold. Compared to the big, voluptuous sound of the hardwired Dynaudio Excite X-12 speakers on the shelf above, the WiFi-sourced KEFs sounded a little tiny, tin-colored, and unvoluptuous—but more sharply focused.
The best-sounding album I played during my first week with the LSX system was jazz guitarist Mary Halvorson's Meltframe (16/44.1 FLAC, Firehouse 12/Tidal). The quality and character of timbre of Halvorson's guitar convinced me that, after many experiments, I'd nailed the Desktop EQ/DSP settings in the Control app's Expert section. On my desktop stage, the speakers' octave-to-octave energy balance let instruments and humans sound quite natural. The vibrating body of Halvorson's guitar took up residence behind my desk. My enjoyment of Meltframe put to rest any lingering questions I had about the LSX's sound.
Fine detail and sharply focused images were the most conspicuous aspects of the LSX system's sound. Soprano Dorothee Mields singing John Dowland's "From Silent Night," accompanied by viola da gambist Hille Perl and lutenist Lee Santana, from In Darkness Let Me Dwell (16/44.1 FLAC, Deutsche Harmonia Mundi/Tidal), sounded sweet, tuneful, and exceedingly spacious. All I could ask for was more strong energy in the mid-bass and a greater sense of macrodynamics. Lack of force and dynamic expression were the LSX system's prime failings.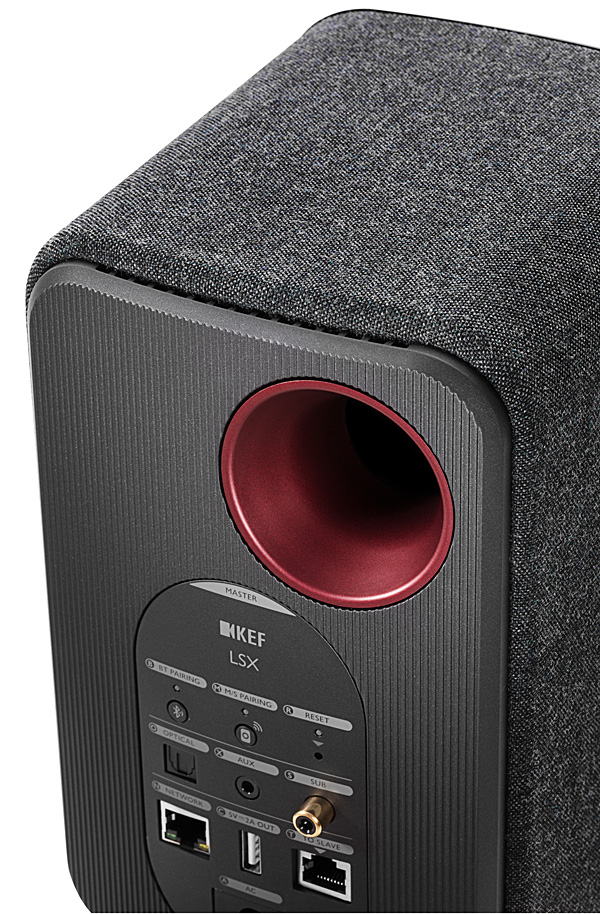 I saw a man from Africa playing a tattered-looking drum on the L-train to Brooklyn. He sat on a stool and massaged soft singing tones from a goatskin drumhead as he explained the 12th-century origins of his Djembe drum. He told everybody the drum he was playing came from his home in Mali; that his father and grandfather had played that very instrument; and the song he was about to perform he learned from them.
When I got home, I typed "African Drums" into Tidal Search and came up with a recording of that very title (16/44.1 FLAC, African Rhythms International/Tidal). I listened first through my big floor system of passive KEF LS50 speakers driven by Rogue Audio's RP-7 preamplifier and Stereo 100 power amplifier and thought, Wow! Dang me! Look how deep that bass goes. I noticed, too, how much the KEF LSX and LS50 shared a family sound.
When the last track on African Drums was over, I put the KEF speakers on the same beads of Blu-Tack on the same 24"-high Sound Anchor stands the LS50s had occupied, 5' apart and 29" from the front wall. Instantly, six heavy black boxes, two turntables, an expensive DAC, and a suitcase full of audiophile wires, all became useless—and the point of wireless audio became totally clear. That whole junkyard mess of steel, copper, sharp points, and dust balls could now be replaced by an equally expensive (but more beautiful and meaningful) work of art—like maybe an African Bakongo Nkondi Nail Fetish. The question now was: How much sound quality would I have to sacrifice to retain my new gilded Buddha feng shui?
The biggest difference between the passive LS50s backed by $30,000 of audio exotica and the little white LSX speakers—out in the room all by their WiFi lonesomes—came down to lush, überclear, and corporeal (LS50s) vs tight, tidy, and processed (LSX). The difference in transparency was dramatic. The LSXes made Frank Sinatra Sings for Only the Lonely/60th Anniversary Edition (16/44.1 FLAC, Capitol/Tidal) sound taut and well sorted—but not as transparent, lush, or corporeal as through the LS50s driven by my main system.
Conclusions
I listened to KEF's LSX system at great length: with the speakers sitting on my desk directly in front of me, on a shelf 21" above that desk, and on the floor perched on 24" stands 34" out from the front wall. The KEF worked equally well in all three locations.
I was surprised to discover how much I enjoyed having the LSX speakers on my desk, 36" apart and at arm's length. Normally, I listen several hours a day with headphones—not because I need to be quiet, but because I like the sound and the feeling of headphones. After the KEFs arrived, I barely touched my 'phones.
Why? Because I've learned to enjoy musicians who are not across the room or inside my head, but right there on the desk in front of me, so close that it seems I could touch them. Yes, I know: That's opera on a table top—but I'm extremely happy to have discovered it. The LSX system delivered such precise imaging that I could, smiling, put my finger on the virtual head of each singer in a large chorus. One night, on my computer screen, I watched Ingmar Bergman's delightfully sensuous Summer with Monika (1953). The sound was articulate, almost analog, and matched well with my 22" LG monitor.
The LSXes sounded pure and resolving. Detail was always exceptional, bass always clean. Soundstage mapping was top shelf. If you've been contemplating going wireless, or already have and want to move up that food chain, KEF's LSX system might be a perfect way to maintain your sophisticated audiophile mojo while embracing Hi-Fi WiFi Coolosity. Highly recommended.