Gramophone Dreams #59: the Ojas System, EJ Jordan Marlow loudspeaker Page 2
The Marlow is just slightly larger than my BBC-licensed
Falcon LS3/5a
(13" × 8" × 7" vs 12" × 7.5" × 6.5")and weighs 6.6lb. Sensitivity is rated at 86dB/2.83V/m. Nominal impedance for the Eikona drive-unit is specified as 8 ohms. Recommended amplifier power is 10–70W.
The standard Marlow I am reviewing is sold direct and costs £1960 ($2626)/pair including free shipping to the US. EJ Jordan offers a deluxe-parts version, the Marlow CE, for £2280 ($3055)/pair. Both are finished in walnut veneer; rosewood veneer is a £160/pair option. Warranty is two years. Disappointed buyers have 30 days to return their Marlows, also with free shipping, for a full refund minus a £30/pair restocking fee.
Listening with LTA's Z10e
When the review pair of Jordans arrived, I made some quick, cursory measurements: In my room, positioned in my small-speaker sweet spot, the Marlows were +4/–6dB from 50Hz to 10kHz. The only anomaly was a 9dB dip at 130Hz. Playing all music genres, including lots of deep-bass dub-reggae and sub-bass ambient jazz, the Marlows went low enough to satisfy my listening needs. Not once during the course of my auditions was my music-listening focus interrupted by a desire for more energy at the frequency extremes.
I had forgotten how much havoc an energy-absorbing, phase-twisting, signal-molesting loudspeaker crossover could wreak. Within minutes of replacing my Falcon LS3/5a Gold Badges with the Marlows, I was stunned by how direct, quiet, and transparent the Jordans sounded. The Marlows evinced a crisp purity that made the Falcons seem a little misty-grainy. Reverb on Areni Agbabian's reverb-drenched album, Bloom (24/96 FLAC, ECM/Qobuz) came through as purer, less homogenized, and more minutely textured with the Marlows than it did through my Falcons.
The Marlow's fundamental character was exposed most clearly while playing Zurich-based composer Nik Bärtsch's composition "Modul 8_11." The last track on Bärtsch and his band Mobile's 2016 album Continuum (24/48 MQA ECM/Tidal), "Modul 8_11" is dominated by bass and percussion. It was recorded by ECM, so there was that special ECM reverb. When I played it through the Marlows, not once, even for a second, did I feel I was being shorted on reverb tails, low-bass information, or treble extension. There was open space in the Marlow's top octave and full, solidly detailed, pounding bass. Leading edges of percussive transients seemed accurately depicted. The Marlows exhibited a pristine, unmitigated clarity that I do not experience with the other speakers in my studio herd. The Marlow sounded dramatically less restrained than my KEF LS50s, DeVore Fidelity Orangutan O/93s, or Falcon Gold Badges. The Jordans delivered free-swinging dynamics with good, Brit-fi– approved pace, rhythm, and timing.
Powering the Marlow, Linear Tube Audio's Z10e integrated/headphone amplifier sounded faster, cleaner, and more sharply focused than it does powering my Falcons or the DeVore O/93s. In my room, the LTA Z10e made a lively, pleasure-inducing, overtly musical match with the Marlow. A recommendable combination.
With Pass Labs' INT-25
This effect is not subtle: Compared to all other amplifiers in my collection, I experience more reverberant energy when Pass Laboratories' famously transparent 25W (into 8 ohms) INT-25 integrated amplifier powers my Falcon Gold Badge speakers. The source signal, the reverberant body, and its decay tail are all well-described. The LS3/5a's ability to reproduce this musically essential phenomenon is one of the chief reasons I've stuck with them for nigh on 35 years.
Playing Hillary Hahn and Hauschka's album Silfra (16/44.1 FLAC, DG/Tidal), with the INT-25 driving the Marlows, the amount of fine-mist reverb seemed reduced, but it wasn't. Rather, that reverb sounded distinctly different through the single-driver Jordans. The Marlows replaced the misty ephemeral tails of the Falcons' expansive reverb with a denser, more tangibly solid rendition. Through the Marlows, all forms of reverb sounded more visceral.
My life experiences with full-range drivers suggest that when we get rid of the tweeter, especially one that operates below 3kHz, we eliminate a layer of fuzzy, splashy, phasey blurring that we didn't know was there. Sans tweeter, the sound is more direct and accurate to the source.
By reducing mistiness, the Marlows exposed more of each recording's dense core, which in turn placed musicians and instruments more affirmatively (than the Falcons or KEF LS50s for example) in an explicitly rendered soundspace. The Marlows excelled at being clear, solid, and specific.
They also excelled at presenting the delicate tonal filigree of the traditional Norwegian and Catalonian songs performed, on Chants du Sud et du Nord (24/44.1 MQA ECM/Tidal), by singer, composer, and harpist Arianna Savall with her group Hirundo Maris, which includes her Norwegian singer-musician-partner Petter Udland Johansen. With the INT-25 powering the Marlows, the performances of these traditional songs, which link the Mediterranean and the North Sea, appeared in a haunting, fully resonant, precisely mapped soundspace that helped trigger a wide range of blood memories.
I idolize Arianna Savall, the divinely talented daughter of early music deities Jordi Savall and Montserrat Figueras (Hespèrion XX). Her diverse recordings represent everything I find beautiful, sensuous, and timeless at this point in my long audio and music-listening journey. The modest scale, saturated tones, and intimate, vibrant energy of Arianna's music mates perfectly with the Marlow's modest 4" drivers powering my small room.
What about the 300B?
Once I realized that these Marlows could play more sweetly, cleanly, and delicately than any other speaker I knew, I had no choice but to try them powered by the Elekit TU-8600 single-ended 300B amplifier, which delivers less than 10Wpc. Switching from the pristine purity of the INT-25 integrated, I immediately noticed a small amount of electronic (second harmonic?) haze between me and my beloved Arianna Savall. A similar haze obscured Fred McDowell: The Alan Lomax Recordings (16/44.1 FLAC Global Jukebox/Qobuz). Accompanying this electronic mist was an enjoyable uptick in vocal texture and tone color. The Elekit-Jordan combo made good tone but weak transients. The Marlows made the fastest, freshest bass on the Elekit's high (8–16 ohm) output tap, but, compared to the Pass Labs and LTA amplifiers, bass was less than full density and slightly rounded on its leading edge.
What about the Parasound Halo A 21+?
All bass-response inadequacy disappeared with the high-watt Parasound A 21+ Halo pouring current into the Jordans' exposed voice-coils. From 50Hz to 10kHz, the Marlows sounded fantastically pure. The sharpness of detail and specificity of images was exciting to observe.
With the dCS Bartók driving the big Parasound A 21+ direct—no preamp—into the little Marlows, Chants du Sud et du Nord was hauntingly spacious; detail was distinct and lace-like. The sound was radically clear, but the medieval magic of Arianna Savall and Petter Udland Johansen's inspired performance was overshadowed, or mitigated, by the Parasound-Jordan's emphasis on mechanical precision and enforced clarity. I preferred the more relaxed and colorful presentations delivered by the Pass Laboratories and LTA amplifiers.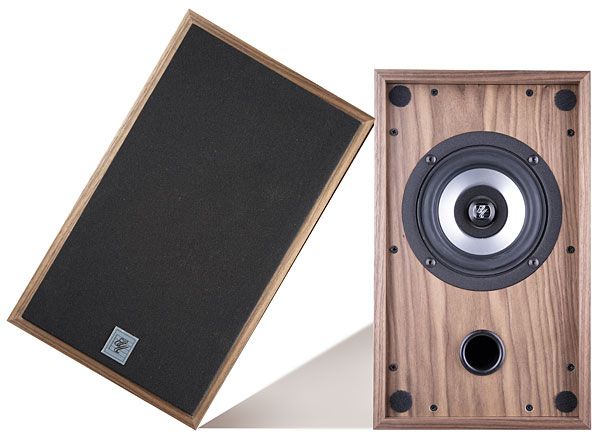 Dear Reader
The above-described EJ Jordan Marlow offers a unique form of unmitigated clarity that will not be easily matched by conventional boxes with multiple drivers and crossovers. Its superfocused imaging and extraordinary transparency made recordings sound unusually direct and unsullied.
Nevertheless, the Marlows will not please everybody. Their unique pleasures are, by design, limited in scope: the Marlow's 4" Eikona driver cannot move enough air to sound big, strong, or real. And of course the Marlow cannot deliver commodious deep bass or play loud (footnote 2). I didn't care. The Marlow satisfied my hunger to peer into recordings as directly and excitedly as possible. I fell in love with its petite, truth-telling charms.
If I were not a professional reviewer, I might marry this fetching full-range speaker, settle down, and live happily 'til death do us part.
Postscript
Earlier in this column, I shared my experiences as Shokyaku in front of a sprawling, gray-painted sound system that is physically larger than most audiophile systems. Devon Turnbull's Ojas system projected a soundfield that was Midwest-stormfront huge. It played music and moved air with a more natural lifelike force than any conventional audiophile system I am familiar with. Better than big, Devon Turnbull's system played sweet, delicate, and thrilling at whisper volume.
I followed this with an expose on a tiny, conventional-looking speaker that played small, never loud, but uber-clear and super-direct with a single 4" transducer.
These two radically different audio systems were more alike than anyone would have expected. Both sounded like fine electrostatic speakers. Both delivered blur-free pictures showing the inner workings of recordings. Both let music stimulate and intoxicate the deeper parts of my brain. Both are supremely well-suited for ceremonial listening.
I could live happily with either. Could you?
---
Footnote 2: The Marlow's measured performance will be published in the May 2022 issue of
Stereophile
.—
Ed.