Fyne Audio F301 loudspeaker Page 2
Paired with the Cary SLI-80HS integrated amplifier and playing Miles Davis's 1969 stereo release
Filles de Kilimanjaro
(LP, Columbia CS 9750), the F301s presented the quintet of Miles, Wayne Shorter, Herbie Hancock, Ron Carter, and Tony Williams in vivid miniature. The F301's treble range gave Miles's trumpet spice and heat, while the mids helped outline the top end of Carter's acoustic bass. The Fynes recreated the rumbling lower notes of Carter's bass—except that instrument's very lowest notes—with convincing weight. Tony Williams's ride cymbal was clean and distinct, surrounded by realistic air, with dryness appropriate to 1960s Zildjian cymbals.
The F301's spatial performance was apparent when playing Igor Stravinsky's The Firebird, performed by the London Symphony Orchestra conducted by Antal Doráti (LP, Mercury Living Presence 478-8318, Netherlands pressing, 2015), with images small but realistic. Whether plucked or bowed, string textures were reproduced with visceral intensity. The F301s sometimes made it difficult to distinguish the sounds of instruments from one another in ensemble recordings, but only to a minor degree, never detracting from the musical content. The F301s were fast, fast, fast, with strong bass reproduction, generating a degree of involvement that let me forget, for a moment, my reviewer's job and flow with the music.
I noted the Fyne's fine transparency while spinning Analogue Productions' 45rpm version of Rimsky-Korsakoff's Scheherazade, by Fritz Reiner conducting the Chicago Symphony (LP, Analogue Productions APC 2446-45). Powering the Fynes with the Schiit Ragnarok 2 integrated amplifier (60Wpc into 8 ohms), I sometimes heard a coarseness in string-section climaxes, which mostly fell on the safe side of the smooth/piercing scale, never crossing the line into forward, spitty, or bright. Flute and oboe were vivid and lifelike, the orchestra's low end was plummy, with good weight, and the soundstage on this recording was both deep and wide.
Sticking with the Fyne-Schiit pairing, I pulled out a guilty pleasure that may excommunicate me from the cool kids' listening party. Growing up as I did with rock, then prog rock, then jazz fusion, then pure jazz, I was all in when I first heard the music of Canadian-Italian belter Gino Vannelli. His Powerful People, Storm at Sunup, The Gist of the Gemini, and Nightwalker albums remain, for me, some of the most smartly performed and crafted, and, yes, over-the-top, macho jazz-rock ever recorded. Just stay away from YouTube: You don't want to see Gino's marionette dancing circa 1975 if you want to continue to live a normal life.
Recorded in 1976 at George Martin's AIR studios in London with Gino and brother Joe Vannelli sharing production with Geoff Emerick, The Gist of the Gemini (LP, A&M Records SP4596) sounds like it was recorded in the smaller of AIR's two large live rooms; it benefits from its natural reverb and long decay trails. A melodramatic love/war protest set to song, the album is a colossal presentation of jazz-rock quartet and full orchestra navigating groundbreaking synthesizer rock ("Love of My Life," "A New Fix for '76"), leading to the second side's "War Suite."
Driven by Graham Lear's creative drumming and the resounding timpani strokes of percussionist Richard Baker, and joined to a male choir, orchestra, and even more synthesizers, "War Suite" is operatic, bombastic, and intimate all at once. The Fynes presented this music in all its overblown glory, giving me chills on multiple listenings. After the marchlike orchestral intro, "Prelude to the War," comes a furious Afro-Cuban rock-to-uptempo-swing blowout, complete with vocal chorus. The Fynes reproduced the song's stomping drums, bellowing choir, and War of the Worlds– worthy synthesizers with power, impact, and '70s studio profundity—it was all there through the powerful F301s. I was greatly entertained. The track concludes with a grinding snare drum and synthesizer duel. Here and throughout The Gist of the Gemini, the Fynes recreated the marathon studio experience with a sense of ease, never bending to the power demands, never flattening dynamics, and never squeezing instruments together.
On Relaxin' with the Miles Davis Quintet (LP, Prestige PRLP 7129, 1958), Paul Chambers's acoustic bass sounded clear and full of tone, sinewy and agile. But piano, trumpet, and tenor saxophone sounded a little dry. The presentation was very good in every other way, but this dryness robbed the record of some of its humanity. JMT Productions was a German jazz label founded in 1985 by Stefan Winter, who currently oversees the Winter & Winter label. JMT issued some 90 releases focused on New York's downtown jazz scene, documenting the early work of Steve Coleman, Cassandra Wilson, Tim Berne, Greg Osby, Paul Motian—JMT lists 10 Motian titles—and others. Though reissued digitally by Winter & Winter, JMT LPs have never been reissued on vinyl. They're worth searching out, both for their music and as documents of a time in NYC when artistic innovation flowed out of East Village tenements, and rents were cheap.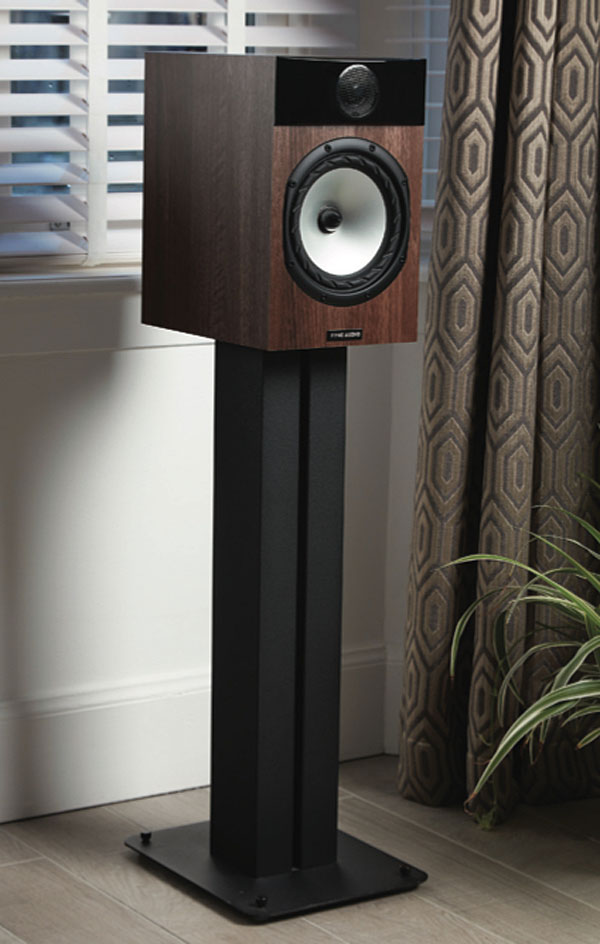 The label's very first issue—Steve Coleman Group's Motherland Pulse (LP, JMT 850001)—joins the trailblazing alto saxophonist with Cassandra Wilson, Geri Allen (RIP), Marvin "Smitty" Smith, Mark Johnson, Lonnie Plaxico, and Graham Haynes for an album of soul-levitating, exploratory jazz. A youthful, playful Wilson graces the buoyant "No Good Time Fairies," which swings in a peculiar way, like old folks ambling across the street at 4am. The production sounds thick, viscous, humid. The F301s, which consistently presented music in first-row fashion, delivered this sultry jazz with extended bass notes, naturally vivid trumpet, willowy saxophone, and appropriate force. The music had drive through the F301s. Tonal balance was tilted toward the dark side, but that worked well with this music.
The Fyne F301s did a good job navigating the extreme micro and macro dynamics of Act 1 of Wagner's Die Walküre, with Georg Solti conducting the Vienna Philharmonic (5-LP box set, London Records OSA 1509). A brief introductory section of churning orchestral textures and extreme dynamics, Act 1 has enchanted and haunted me for months. The little Fynes gripped the music and held on, reproducing the large-scaled soundstage with relative ease, and they didn't totally lose it on the music's grand climaxes, although there was some fleeting, mild dynamic compression. The Fynes' clarity and speed let me enjoy the music; I replayed disc one from the box set a number of times before moving on.
While the Fynes consistently produced finely resolved images, a rich midrange, and very good bass for a speaker its size, I could nitpick their tendency toward dryness in the upper frequencies, sometimes making tenor or alto saxophones, cymbals, strings, and brass sound a bit thin. Careful system matching—perhaps pairing the Fynes with the NAD C 328 ($599), Heed Audio Elixir ($1395), or Outlaw Audio RR2160 ($849) integrated amplifiers—is essential to make these capable bookshelf speakers shine.
Comparisons
The only other bookshelf speakers on hand for comparison were the Quad S2s (87dB at 8 ohms, $999/pair). The Quad is a more refined, harder-to-drive—and more expensive—bookshelf speaker than the Fyne F301. The Quad works great with jazz, orchestral music, female vocals, and all acoustic music. It's a little laid back, a little pipe-and-slippers, but it's sweet and assured. The F301, by comparison, is loads of fun, jumps higher, pounds its chest more fervently, and is as comfortable channeling ZZ Top on "La Grange" as placing Birgit Nilsson singing Wagner.
Conclusion
At $425/pair, the Fyne Audio F301 loudspeakers punch way above their price point. Their ability to cast a wide, deep soundstage with super imaging was as good as any bookshelf speaker I've had in house. Their serious jump factor and meaty bass frequencies were a consistent treat. The speaker's slightly dry upper frequencies demand careful amplifier matching, but otherwise, for a sub-$500 speaker, there's not a lot to criticize. Coherent to their core, they never made me focus on a single aspect of their performance but led me deeply into the whole of the music. Whatever the reason, the F301s are an unmitigated success for the young Scottish company. I can't wait to hear its elder siblings.