Bonnie Raitt's Inexorable Rhythm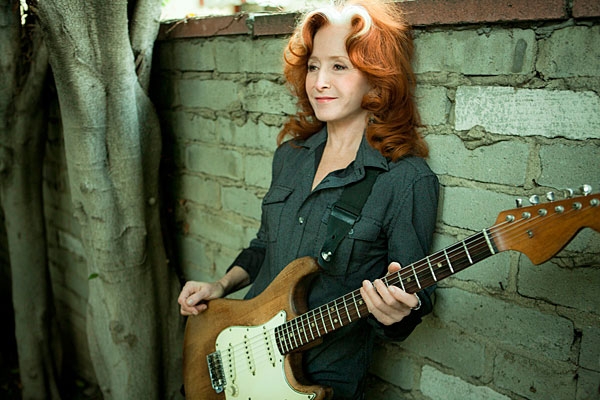 In conversation with Bonnie Raitt these days, one word continually jumps out: groove. She's speaking of her music, of course, but the blues singer and guitarist—her gifts as commanding as ever on her latest,
Dig In Deep
—has also survived some family struggles in the past decade that nearly forced her out of her personal groove.
In 2004, Raitt lost her mother, Marjorie; a year later, her father, Broadway luminary John Raitt, died. Four years after that, her brother Steve died of brain cancer at 61. After a seven-year sabbatical that many fans worried might become permanent, Raitt returned in 2012, sounding re-energized, to release Slipstream, which won that year's Grammy for Best Americana Album. Raitt is now fully back in the cycle of recording and touring, the rhythm that has defined most of her life since she began her music career, in the very early 1970s, when she was barely in her 20s. Raitt has just released Dig In Deep. As is often the case with artists, in Raitt's life tragedy has inspired art—including, in this case, new songs.
"I hadn't written for Slipstream because, at this age, everybody's droppin' and everybody's got families that are dealing with illness. But for me, the last thing I wanted to do was write about that, or spend time going inside. I just wanted to do some music by other people that spoke to stuff that was inside me—but I wasn't motivated to write.
"Then George [Marinelli, Raitt's guitar player] sent me a tune, 'Down to You.' I liked the music so much, but I didn't relate to his lyrics. I asked if could write some of my own. I wanted to do the music to 'Down to You' so badly that it broke my writer's . . . this great time between writing songs. So I was able to bust it open with 'Down to You' on the last record."
After the success of Slipstream and the ensuing two-year tour, Raitt began to think about her next recording project. She knew she wanted to continue writing her own songs, always with an eye to making them part of her live shows—which, today, is the only way musicians can make any money. "I wanted to come up with some specific grooves, and nobody was going to know that better than me. It was a deliberate intention on my part to come up with more of my own songs, if I could. That's a big, all-caps 'IF I COULD.'"
Told that new originals like "If You Need Somebody" and "The Comin' Round Is Going Through" rank among her finest songwriting, she laughs. "Oh, thanks. I'm just starting to talk about it, and you never know. You wonder if people are trying to be nice and diplomatic."
After writing five songs, Raitt cast her usual wide net for work by other writers, and came up with some surprises. Over the years she's recorded tunes by everyone from Tonio K. to Little Jimmy Scott. Like the albums of another star of her generation, Emmylou Harris, Raitt's tend to be impeccably curated collections. "There's always an ongoing search for good material. It is often a function of what the songwriters send me that year that I like. I always go back to people I've connected with before. I listen to my peers. I go back through all my record collections. I've got so many cool world-music artists and jazz, all kinds of music from every continent that I listen to, in case there's a spark and a song that hits. And there are certain songs I have in my back pocket that I've been waitin' to pull out, like the INXS song that I knew I was going to cover, I just didn't know when."
Besides the five Raitt originals, Dig In Deep features a trio of all-stars: Pat McLaughlin's "I Knew"; Michael Hutchence and Andrew Farriss's INXS hit "Need You Tonight"; and "Shakin' Shakin' Shakes," by Cesar Rosas and T Bone Burnett, from the Los Lobos album By the Light of the Moon (1987). In Raitt's hands, the tune includes some of her patented slide-guitar work—it may sound incongruous, but it adds a new dimension to this well-known number.
"Being from L.A.—and the Los Lobos guys are from there as well—we've all grown up looking over our shoulders at the earthquake scourge. And I just thought it was a really clever set of lyrics. Musically, the chance of playing that particular groove with this band and another guitar player, going head to head like that, was irrepressible. I had to do it.
"[The slide guitar] it's really fun. That's the fun part about playing electric guitars, when you just crank it and get those whistles. I think we did one take. I couldn't bear to stop it. I let it go all the way to the end so everybody could ride along with us!"
Once Raitt had assembled the songs, she booked a studio. She brought in her road band of Marinelli, bassist James "Hutch" Hutchinson, and drummer Ricky Fataar, and, as has been the case for many years now, sat in the producer's chair herself.
"I've had a partner in producing, but I was never, quote unquote, produced by someone else. When I worked with Paul [Rothchild] and Jerry Ragovoy [1974's Streetlights through 1977's Sweet Forgiveness] they were driving to a great extent, because I was in my mid-20s and that was kind of how you did it. I respected their work, but it still had to be a mutual decision. And again, I found the songs, and I'm the one that has to like all the musicians we put in the room."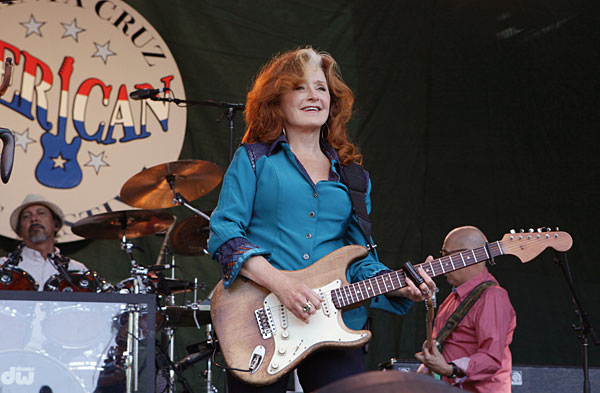 Raitt's partner on Slipstream, and now Dig In Deep, was engineer Ryan Freeland, who for Dig In Deep worked at his Stampede Origin Studios, in Culver City, California, and at Henson Recording Studios, in Hollywood. Freeland tends to work in Americana, having recently cut tracks with Bettye LaVette, Wynonna Judd, and Ray LaMontagne. Raitt met Freeland through another Americana star, Joe Henry. In fall 2010 and the following spring, she ended up cutting a number of tracks with guitar heavyweights Greg Leisz and Bill Frisell, produced by Henry at his studio, The Garfield House, in Pasadena. Five of them made it on to Slipstream. Another, "You've Changed My Mind," is on Dig In Deep. The rest of Slipstream was recorded at Ocean Way Studios, in Hollywood, in summer 2011. Raitt approached Freeland tom join the two halves into a single record.
"Ryan and I have a really great connection, as he does with the band. It's a partnership and another set of ears, and a cheerleader and a pastor: somebody that files the contracts and goes out and talks to musicians when something is not working—is sort of your diplomat, someone who will go out and go, 'Men . . .'
"I told Ryan, I said, 'I love what you're doing, and the way you think about music'—he's also a keyboard player. [For Slipstream], I asked him if he thought he could integrate the sonics of what I recorded in a regular studio [the tracks from Ocean Way], with some of the Joe songs. The results, I think, are seamless."