Bel Canto e.One DAC3.5VB D/A converter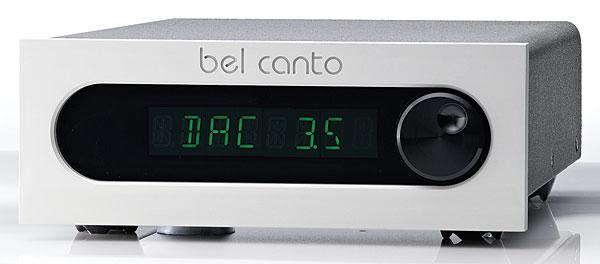 Minnesota pride is a funny thing. As Garrison Keillor points out weekly on
A Prairie Home Companion
, to be a Minnesotan, the first and crucial step to be taken is that of self-effacement. It is unclear to me whether this is the cause or symptom of Minnesotans ability to endure brutal winters, excel at the creation and consumption of hot dish (which the rest of the God-fearing world knows as
casseroles
), or their miraculous lineage from generations of Norwegian bachelor farmers. Whatever it is, Minnesotans tend to quietly get their jobs done with little more fanfare than a cup of coffee and a slice of rhubarb pie.
And yet, Minnesota has a streak of innovation and progressiveness that is something special. The Twin Cities of Minneapolis and St. Paul are home to an amazing arts scene that boasts two professional orchestras, an opera company, a vibrant theater community, two major art museums, and more choirs than there are Minnesotan lakes. Not only is Minnesota home to such big-name innovators as Target, Best Buy, General Mills, and 3M, but also countless smaller tech companies, including the audio brands Audio Research Corporation, Magnepan, Atma-Sphere, and Bel Canto.
Though I was born in Wisconsin (Go Packers!), I have come to love my adopted state of Minnesota. I take a quiet pride in the good things we do here. So when I heard that Bel Canto, a company that designs and builds its products in Minneapolis's warehouse district, was coming out with the e.One DAC3.5VB, a new DAC-preamp boasting a brand-new type of power supply, I jumped at the chance to review it.
Gettin' Off the Grid
The DAC3.5VB boasts a black-painted steel chassis and a beautifully milled faceplate of naturally finished aluminum, making it look like a cross between a modernistic jewelry box and a sample of Scandinavian industrial art. The overall visual vibe is somewhere between elegant and cute.
But what makes the DAC3.5VB a truly innovative product is its use of a newly designed power supply, the VBS1 ($1495). VBS stands for Virtual Battery Supply. It's well known that the sensitive signals involved in digital conversion and preamplification benefit from a very pure and steady source of power. A few companies have designed products that run entirely off the grid, on batteries. Bel Canto's head designer, John Stronczer, loved the sound of these designs, but was unwilling to use such a "dirty" technology as lead-acid batteries: "I set out trying to capture the performance advantages of a lead-acid battery without any of the disadvantages, and the result was the VBS1 and the internal VB power-supply board used in our DAC3.5VB-VBS1 combination. The VBS1 features a switching power supply that provides 12V DC, followed by some heroic LC filtering and energy storage. There is nearly half a farad (500,000µF) of total capacitance and over 100 joules of energy storage in the VBS1. Filtering is near 100dB by 100Hz, and isolation is extremely high because of the small size and parasitic capacitance of the switching transformer. [The] audioband noise of the VBS1 is lower than the output noise of most audio preamplifiers! Our goal is to create the most pristine environment possible for the delicate musical signal."
The VBS1 can power up to three VBS-capable Bel Canto products. Its 12V of DC reach the DAC3.5VB via a stock umbilical power cord or an upgraded VB-REF cord ($495), about which more below.
Ins and Outs
The e.One DAC3.5VB ($3495) accepts a ton of inputs: RCA and BNC digital, balanced AES/EBU digital, TosLink, ST fiber-optic, and a single pair of analog RCA. All of the DAC3.5VB's digital inputs are able to accept signals up to 24-bit/192kHz. It can output its signal via balanced or single-ended terminals, and all of these inputs and outputs are neatly laid out on the rear panel of a box roughly half the width of a normal audio component.
The D/A section of the e.One DAC3.5VB is largely the same as the one found in Bel Canto's e.One DAC3, reviewed by John Atkinson in November 2007. However, the DAC3.5VB's jitter-rejection circuitry is new. "We use an asynchronous approach to jitter rejection with a free-running low-jitter oscillator located near the DAC itself," John Stronczer, told me. "There's a steep 2Hz jitter-rejection filter, so by 10Hz any jitter-derived artifacts are attenuated by more than 20dB (10x), and by 100Hz [by] more than 80dB (10,000x). This process is effective for all digital inputs, no matter the source. Even a very high-jitter source like the [digital output of the] Apple Airport Express can be used for high-performance audio playback, because this way you don't suffer the typical corruption to dynamics and inner detail that jitter produces."
The ST fiber-optic input is meant to be fed from Bel Canto's own Light Link 24/96 USB interface ($349). This converts audio data with up to 24 bits depth and 96kHz sample rate from your computer's USB output to AES/EBU, to be then transmitted via an ST fiber-optic cable. Since a USB cord is good for only about 15', the Light Link can accept a short, high-quality USB cable, then make longer runs possible via an ST cable. Glass fiber-optic cable is specified for a data transmission rate greater than 150 megabits/second over lengths up to 1000m, but since audio's maximum data rate is less than a tenth of that, any jitter induced will be minuscule. Fiber-optics also provide isolation between a typically noisy computer and your audio system, and are immune to RFI, EMI, and other radiated noise.