Aperion Verus Grand Bookshelf loudspeaker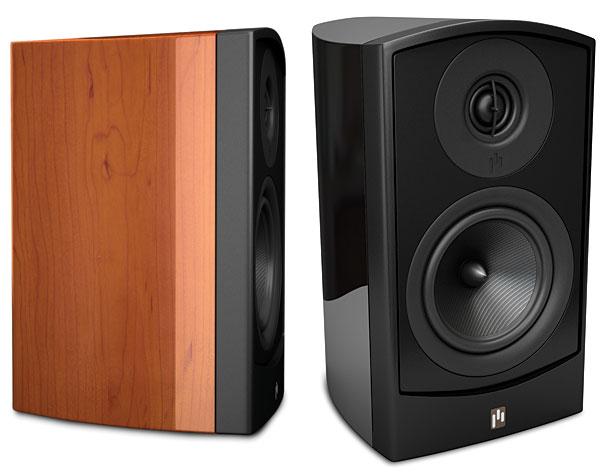 I received a call from Aperion Audio, who wanted to know if was interested in reviewing their Verus Grand Bookshelf loudspeaker ($598/pair when reviewed, $699/pair as of January 2013). I've had good experiences with speakers from this Oregon-based, Internet-only company. I reviewed their Intimus 6T (
January 2009
) and Intimus 533-T (
April 2007
), and felt both provided overall good sound and great value for the money. I was also impressed with the speakers' quality of construction and physical appearance. But those models were floorstanders—what excites me more is finding new bookshelf speakers at low prices . I was anxious to hear the Verus Grand .
Design
The Verus Grand Bookshelf is a stand-mounted descendent of Aperion's flagship model, the Verus Grand Tower ($1798/pair at time of review, $1999/pair as of January 2013). The two-way, bass-reflex Bookshelf features Aperion's Axially Stabilized Radiator (ASR) silk-dome tweeter (patent pending), which has a small plate in front of the dome that appears to support a secondary suspension at the apex of the dome. The woofer uses a black, woven-Kevlar cone. The Grand Bookshelf also shares with the Tower its curved sidewalls and internal bracing. The gloss piano-black finish of the review samples was gorgeous and suggested a much higher price (a gloss cherrywood veneer is also available).
I was quite taken with the ease of installation of the magnetically secured cloth grille with metal frame. I listened to the Verus Grands with the grilles on and off, and heard little difference in the sound, though I ultimately preferred to leave the grilles on: the presentation was then slightly more coherent, and the highs and midrange were better integrated with each other; the only downside was a very slight loss of detail. I placed the speakers on Celestion Si stands with their center pillars loaded with sand and lead shot.
Though there's no substitute for a knowledgeable, trustworthy, full-service audio retailer, you can't beat the terms of Aperion's direct-sale offer: a 30-day, money-back guarantee with free shipping both ways; a 10-year warranty; and trade-in at the full purchase price should you decide within a year to upgrade to one of their more expensive models.
Sound
The Verus Grand Bookshelf's open, vibrant, uncolored midrange gave me a sense of real musicians playing in real spaces with such well-recorded jazz as the title track of Charles Mingus's Pithecanthropus Erectus (CD, Atlantic AMCY-1036). As the Aperions let loose the full, boisterous bloom of Jackie McLean's alto sax and J.R. Montrose's tenor, they sounded like much larger speakers. However, although the Verus quite naturally reproduced the midrange timbres of all the male and female voices I listened to, it also ruthlessly revealed the subtle textures of recording techniques. For example, Col. Bruce Hampton's prominent tenor voice in "Hendon," from the Hampton Grease Band's Music to Eat (LP, Columbia 30581), has a forward, in-your-face quality through a good system. The Aperion revealed that Hampton's voice was a bit too high in the mix, somewhat out of balance with the instruments.
I particularly liked female voices through this speaker: Soprano Elizabeth Suderburg sounded angelic and pure in George Crumb's Madrigals (LP, Turnabout TV-1 34523), and her upper register had an airy, haunting quality. This was largely due to the speaker's clean, extended, uncolored highs, which worked as well with Fender Stratocasters as with classical sopranos. For many years, Jeff Beck has been my favorite rock guitarist, and my favorite of his guitar solos is the tersely concise one in the title track of Stanley Clarke's Journey to Love (LP, Nemperor NE 43). Beck uses a lot of delicately chiming upper-register harmonics, articulated with some tremolo-bar embellishments, before bursting forth with soaring, bending licks throughout the instrument's entire register, Ö la keyboardist Jan Hammer. The Aperion gave every note an airy shimmer that captivated me. A similar quality was evident in Roger Woodward's performance on prepared piano of Toru Takemitsu's Corona (UK LP, Decca Head 4). The upper registers sparkled—every minute transient was intact, with a sweeping and natural decay. However, I did note that, in the highly modulated passages of Chick Corea's solo in Wayne Shorter's "Nefertiti," from Corea, Barry Altschul, and Dave Holland's A.R.C. (LP, ECM 1009), the upper register of his piano did seem a bit forward.
The Verus Grand's articulation of transients made it a natural match for recordings of acoustic guitar. Larry Coryell and John McLaughlin's burning, rapid-fire duels in the Django Reinhardt–influenced "Rene's Theme," from Coryell's Spaces (LP, Vanguard VSD 79435), were reproduced with speed, clarity, and nary a touch of smearing. Not only did both guitars sound natural and resonant throughout their range, whether during solos or comping, but with Coryell in one channel and McLaughlin in the other, the Aperions made it very easy to distinguish each virtuoso's unique picking technique.
One of my favorite Kraftwerk recordings is the early Kraftwerk 2, from 1971 (German LP, Philips 8305117), which predated founders Ralf Hütter and Florian Schneider's use of synthesizers. The introduction of "KlingKlang" features a panoply of delicate percussion instruments played by Hütter and Schneider. Through the Verus Grand, the percussion was delicate and detailed, airy and shimmering. All transients were appropriately fast, with no trace of unnatural sharpness, and each percussion thwack had a long decay with a sense of spaciousness.
At the lower end of the audioband, midbass timbres were especially natural, with an amazing amount of weight for a modest bookshelf speaker, but with no sense of overhang or loss of definition. I listened to many jazz recordings that spotlit the double bass. After focusing on Mingus's opening bass figure in "Jump, Monk," from Mingus at the Bohemian (LP, Debut 123), I scribbled these notes: "woody, earthy, clean, and clear."