Analog Corner #288: I've Been Everywhere Page 2
Not everyone was annoyed by what I said. Timo Hagemeister, the administrator of Berliner Philharmoniker Recordings, later sent me a note. "Thank you for your inspiring and refreshingly controversial insights at the conference," he wrote. He may have been referring to my reaction to something a major label executive said during another panel. After the SACD/DVD-A debacle, he said, labels have given up trying to educate consumers. If they want MP3s, we'll give them to them. Forget about giving consumers higher quality. He didn't acknowledge the industry's foolishness in introducing two competing formats and the confusion it caused, or DVD-A's menu disaster, or the "closed" nature of SACDs, which didn't allow consumers to make copies, among other roll-out mistakes.
When I had my opportunity onstage, I went on a controlled tirade suggesting that the choice was either to "follow the crumbs" off the cliff, as the executive had suggested the record industry do, or to do what vinyl enthusiasts did: lead people to what was better—and succeed!
On Day 2, I ran a morning panel, "In the Right Place at the Right Time," featuring GZ Media's Michal Sterba, MPO's Alban Pingeot, Optimal Media's Peter Runge, Record Industry's Ton Vermeulen, and URP's Mark Michaels. Each had an interesting story to tell about how they ended up in the record pressing business.
In the afternoon, I ran "Mastering & Cutting Masterclass" with cutting engineers Rainer Maillard, Loop-O's Andreas Lubich, and Gearbox Records' Casper Sutton-Jones. We talked about whether vinyl is "accurate" to the original source, whether tape or digital. The consensus was that accuracy is an "overrated" and essentially meaningless term, since recordings are, by definition, not accurate to the live event but if done correctly can end up sounding pleasing and good enough to suspend disbelief. The mastering engineers talked about what must be done to a recording in order to cut a lacquer and whether they are best regarded as technicians or artisans. The consensus: both.
To the plane!
I ran back to the hotel and cabbed it to grubby Schönefeld airport on Berlin's outskirts, which looked like what it was: something out of the old GDR. As we taxied to the runway, the new airport set to open in 2020 came into view.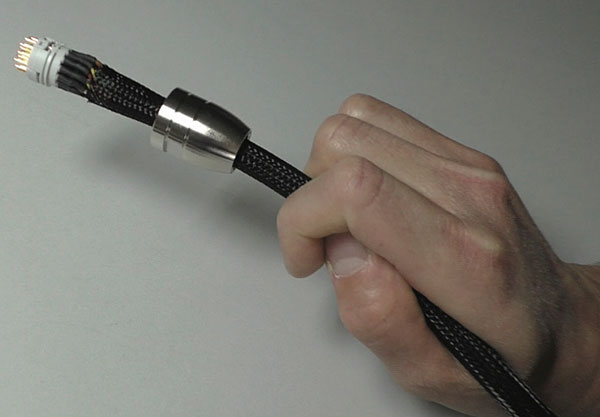 In Geneva, I was greeted by Mr. Pasche and CH Precision co-founder Florian Cossey. I quipped, "What would this encounter be like had I panned the amplifier?"
We had an enjoyable late dinner in a nearby town, after which they deposited me at a small, cozy lakefront hotel that I wished I'd had more time to enjoy. The next morning it was up the mountain to visit CH's CNC machine shop/anodizing/chassis building factory and then back down to its assembly site, offices, and listening room.
Despite the company's many products, including the P1 phono preamp I own, assembly takes place in a relatively small, clean, well-organized shop on a series of tables. Subassemblies are picked as needed, and the finished products are assembled by hand. I was there on a weekend, so I couldn't watch components being built, but I was shown the process by which the multipin cable is constructed.
You see the finished cable with its 20 pin connectors at both ends, and you don't think about how it gets made. Each tiny wire (20 in each cable) is soldered by hand by a woman who places the cable through a retaining loop and then slings it over her shoulder so she can hold it steady enough to solder and shrink-wrap 20 wires to 20 tiny pins located in close proximity to one another and then turn the cable around and do it again, making sure the correct wire goes to the correct pin.
darTZeel's Hervé Delétraz picked me up at CH Precision—they are all friends. We drove to near where he lives close to the border with France, had an excellent "meaty" meal in a charming little restaurant, and then went to his home and listened to records that I'd brought on his vintage EMT broadcast turntable through his big Klipschorns, driven by the new NHB-108 model 2 stereo amplifier. It was the first time I "got" what these speakers do really well: untangle and resolve inner detail in a most "speedy" way. Bass was better than I'd expected, though they're not the greatest in the time domain.
I spent the night in a French hotel just across the border. It snowed overnight and, not too much higher up from where I was staying, it stuck. The day began with more listening—this time to the new NHB-468 monoblocks—and then it was off to darTZeel's CNC facility. In what appeared to be an old wooden barn, some of the industry's most fanciful and distinctive casework is produced. From there, we headed for darTZeel's offices and assembly facilities located in a funky loftlike building with lots of "atmosphere." It's a much smaller facility than CH's, which makes sense since darTZeel's product lineup is smaller.
The 3-hour, late-afternoon train ride to Winterthur on the outskirts of Zurich provided dramatic lake and mountain vistas. HiFiction's Micha Huber met me at the station and took me to another really nice hotel. We shared a very pleasant meal.
I spent most of the next day at HiFiction's sunlit, spacious, "heavily wooded" factory—wooden shelves, desks, tables, and storage cubbies (which looked remarkably like I'd imagined)—watching workers at one end prepare for High End Munich while, at the other, a woman wound cartridge coils and another did delicate hand-soldering.
I watched the delicate, time-consuming assembly of a cueing mechanism and then saw a top-of-the-line Statement tonearm constructed from many fine parts. It's not accidental that the whole process is similar to how fine mechanical watches are made.
Then Micha threw watchmaking caution out the window and allowed me to try adjusting the suspension of a just-rebuilt EMT cartridge, which required me to press the end of the cantilever with my index finger, forcing its back end against the rubber damper, which scared the crap out of me.
I managed to do it and then secure the tiny grub screw—both while looking into a microscope. I felt a great deal of satisfaction—until that cartridge was installed in the test arm and the cantilever collapsed instead of tracking the test record.
I tried a few more times without success. Then I watched Huber, the experienced watchmaker, do it and realized I had not used sufficient force. Better that than snap the cantilever! Huber repeated the process until the test record indicated ideal compliance and excellent tracking. Once I had what I needed in the "video can," it was again time to head for the Zurich airport.
Late Monday afternoon, I flew to Prague, where I was driven to the Hotel Grand in the town of Beroun, which is about 10 minutes from GZ Media. In the morning, CEO Michal Sterba picked me up and we drove to the world's largest pressing plant, in nearby Lodenice. GZ produced its first LP in 1951. In 2018, the company produced more than 100,000 records.
I found a vertically integrated company with a sophisticated mastering operation that can cut both lacquers and copper discs (DMM) from tape or digital files; that manufactures its own vinyl pellets and copper discs; that has its own, top-quality plating facility, builds its own record presses (modeled after Swedish Toolex Alphas) and prints and assembles record jackets and top-quality boxes—some of which you probably own. I like to think this self-sufficiency is a result of Soviet-era supply difficulties.
I got to press an Elton John LP on a semiautomatic press. I had just so much time to pull out a just-pressed record, put a label down, then the warm "biscuit," and then the upper label, before the press slammed shut. It was scary! I missed on the first attempt, pulling out my hand as the press closed but before getting the second label in. Then I got one pressed, but with two upper labels. Finally, I got one correctly pressed. All will be included in the factory tour video.
Like Pro-Ject's original building, GZ Media's factory has a Soviet-era look and feel, but inside it's a state-of-the-art manufacturing facility. Any doubts you might have will vaporize when you see the sophisticated premastering software used to prepare digital files for lacquer-cutting. That, too, should appear in the video.
I returned to the Prague airport in the early evening and flew via Brussels to Berlin's TXL airport, where, late in the evening, Andreas Kohl, Optimal Media's senior sales manager, picked me up. We drove the two-plus hours to Röbel, Germany. I'd met Kohl at Making Vinyl and knew we'd have a fun ride—and we did, even though I left the airport minus my luggage, which didn't make the tight Brussels-to-Berlin connection.
I was put up in Optimal's beautiful guest house and spent the day in the previous day's clothes touring a facility that looked more like a modern art museum than a factory. (Let me put in a good word for Tommy John underwear! It breathes well and on the second day felt fresh!) Optimal has state-of-the-art plating and pressing facilities, too, as well as the most modern printing and packaging equipment, some of which was off-limits to the camera. (The same was true at GZ Media.) Both pressing plant tours were filled with "wow" moments.
Optimal's separate mastering facility, which is in a nearby house, includes five cutting lathes, for both lacquer and DMM. After visiting it, we headed back to TXL Berlin, where, after a few more hours of laughs and great conversation, my luggage awaited. It was a short reunion, as I had to give it up to Lufthansa again for the flight to Munich.
The connection in Frankfurt was tight, and once again my luggage was a no-show in Munich—but at least it was pouring rain and windy! I Ubered to the hotel, arriving after midnight, but you'd better believe I didn't shake a tambourine. The thought of a third day in the same clothes was too much, so I texted my friend Maier Shadi, who owns The Audio Salon in Santa Monica. I knew he was attending the show.
Despite the hour and the wind and rain, Maier took a car to my hotel with both his suitcases and let me choose my next-day clothes. Why did he do that? For the same reason, his customers tell me, he takes excellent care of them. The luggage was in my room when I returned to it after Thursday's dinner.
I'm finishing this column at home, having more than survived the trip. Despite twice losing my luggage, I had a fantastic and energizing time, traveling better, I'm sure, than many people half my age. Retirement? I'm not going anywhere. Wait. I take that back! I'm going everywhere!