Recording of September 2005: Not In Our Name
CHARLIE HADEN LIBERATION MUSIC ORCHESTRA: Not In Our Name
Charlie Haden, bass; Carla Bley, piano, arranger, conductor; Seneca Black, Michael Rodriguez, trumpet; Miguel Zenón, alto sax; Chris Cheek, Tony Malaby, tenor sax; Curtis Fowlkes, trombone; Ahnee Sharon Freeman, French horn; Joe Daley, tuba; Steve Cardenas, guitar; Matt Wilson, drums
Verve B000494902 (CD). 2005. Charlie Haden, Carla Bley, Ruth Cameron, prods.; Gerard de Haro, eng. DDD? TT: 68:55
Performance
****
Sonics
****
In Charlie Haden's distinguished half-century career in music, his recordings as a leader have sometimes been overpraised. But the albums of his Liberation Music Orchestra (LMO) are enduring achievements. They do not come often. The first, self-titled release was in 1970. Twelve years later came The Ballad of the Fallen. Dream Keeper appeared in 1990. Now there is a fourth.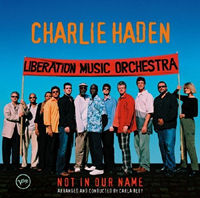 Charlie Haden's politics are explicitly leftist. Earlier LMO albums contained such pieces as "Song for Ché" and "Hymn of the Anarchist Women's Movement," from the Spanish Civil War. (How many current jazz musicians care about the Spanish Civil War?) The new recording, Not In Our Name, is a direct cry of protest against the outcome of the 2004 election in the US and the policies of the current administration.
Any art with a narrowly political message is unlikely to survive the specific issues of its time. LMO recordings are exceptions. One reason is that Haden's causes are in fact not narrow, but broadly humanistic. Some of LMO's most affecting performances are jazz interpretations of secular ("We Shall Overcome") or religious ("Amazing Grace") spirituals whose relevance is timeless and universal. As Haden puts it, "Our opposition to the inhumane treatment of this Universe remains." Another reason is that LMO albums stand on their own as deeply conceived and brilliantly executed written and improvised music.
That concept and execution always start with Carla Bley. Her meticulous, idiosyncratic arrangements have defined both the sharp edges and the rich, complex textures of all four LMO albums. For Not In Our Name, as Haden says, "Carla makes it happen, man." Her 17-minute "America the Beautiful" medley is the most complete example here of how she makes powerful statements through telling twists and juxtapositions. The traditional Samuel Augustus Ward patriotic theme is introduced but interrupted by a Miguel Zenón alto-sax explosion that cries "Wait!" The theme is then reinstated in an altered version by composer Gary McFarland, segues to "Lift Every Voice and Sing," the African-American national anthem, then opens out into Ornette Coleman's "Skies of America" (skies blasted by thunder and lightning), before the circle closes with a return to Ward's ponderous song, now voiced in an aching minor key. The ironic atonality of the ensemble horns scrapes away the last vestiges of complacency to leave a sadder, wiser, deeper beauty that knows dissonance.
This edition of Haden's LMO contains fewer famous names than earlier bands, but it may be the tightest. The group toured Europe for most of the summer of 2004, then went into a studio in Rome and recorded Not In Our Name. The sound is nicely detailed and dynamic, especially considering the challenges of recording larger jazz ensembles.
Several of those not-yet-famous players are extraordinary. Every solo of Miguel Zenón is like fountains of flame. Trumpeter Michael Rodriguez generates luminous breathy poetry. The two tenors, Tony Malaby and Chris Cheek, are very different in level of aggression, but both are compelling. Matt Wilson is one of the most accomplished drummers in jazz. And when was the last time you heard a great tuba solo? Joe Daley strains and moans and triumphs on "Lift Every Voice."
And every individual solo statement here is enlarged in meaning by the orchestral context provided by Carla Bley. She even transforms "Amazing Grace" without killing it, making it throb with fervor and then opening it up for a string of inspired solos, beginning with Haden's dramatic darkness. The two pieces that open the album, Haden's title track and Pat Metheny's "This Is Not America," are targeted and specific (Bley references "Dixie"), but Dvorâk's "Goin' Home" is inclusive. Bley's earth-tone chords prepare for the poignant flickering of Rodriguez's trumpet and the outpouring and release of Zenón's alto sax. The album ends with the Adagio (from Adagio for Strings) of Samuel Barber, a piece that is without solos but whose shifting time signatures and resonant voicings are clearly jazz, and whose somber strength offers closure.
Haden found the title for this album on a European tour in 2003, when he saw the slogan on banners hung from balconies of apartment buildings in Italy and Spain. "Not in our name!" is a fitting proclamation that transcends ideology for all who renounce "the inhumane treatment of this Universe"—be they citizens of the United States who decry the devastating collateral damage inflicted by the policies of the current administration, or Muslims horrified by terrorists who slaughter innocents in the name of Islam.
Not In Our Name is a "Recording of the Month" not only because of its full creative realization but because, in the presence of its seriousness of purpose and its passion, the other recorded music released this month is likely to sound rather frivolous.—Thomas Conrad